Plenty of Liverpool's fans will be cautiously optimistic following their sides second straight win of the 2103-14 Premier League season on Saturday.
Liverpool dispatched Aston Villa 1-0 on Saturday afternoon at Villa Park, that followed on from their 1-0 success at home against Stoke City last weekend.
Cautious optimism aside, are the Reds ready to make a real push for the top four this season?
It's probably far too early to make sweeping predictions like that. Especially after narrow wins against the likes of Stoke and Villa. But it's certainly worth contemplating.
(MORE: Aston Villa 0-1 Liverpool; Reds see out early lead at Villa Park)
The foundations for a successful season are being conscientiously laid by Brendan Rodgers' side, with defensive solidity the way forward for the time being. Steven Gerrard and Lucas Leiva shielding the back four and Kolo Toure marshaling the backline is working extremely well.
But what does Rodgers think about Liverpool's chances this season?
"It's still very early to be honest," Rodgers said live on Sky Sports following the win over Villa. "What was important for us, was to get a good start. You know, we didn't have a good start at all last year. It took us until the end of September for us to get our first win. But I just think that since the turn of the year, since January, we've been getting better and better and hopefully better than we were today at times."
A good start for any team is crucial, look at the likes of West Brom and Swansea last season. Okay, Liverpool will be aiming much higher than those two teams but the aforementioned duo got off to fliers and remained in the top 10 throughout the 2012-13 season. A great stat popped up before Liverpool's game on Saturday; the last time Liverpool won their opening two matches of the season was back in 2008-9.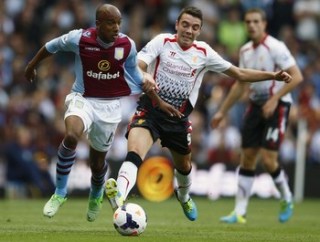 If Liverpool can keep their good early season form going this year, they have a much stronger squad than the likes of Swansea and West Brom. They can easily keep that feel good momentum going throughout the campaign. And that positive mental attitude has been developed and kept bubbling over since last January when they had a great finish to the season.
Rodgers is confident of success.
"What's important now is that the mentality in the group is to win, and win together. And I think we will just take each game, it's only the first couple of games. There are a lot of really good signs and we just need to keep it going."
One area they will have to address is putting away chances.
Yes Daniel Sturridge was rightly awarded man of the match and scored his second game-winner in a week to grab all the plaudits. But the Reds showed last week just how wasteful they were in front of goal, while on Saturday against Villa they only had one shot on target.
But have we forget about a certain Uruguayan forward? If Liverpool are having offensive worries and struggling to put the ball in the back of the net, that chap Luis Suárez returns from suspension very soon to help bolster their attacking output.
That's if he isn't sold, which looks increasingly likely. Further helping Liverpool's chances of qualifying for the Champions League.
So with Liverpool's solid yet unspectacular start to the season and two wins from two games, can we expect them to push on and threaten last seasons top five? Their next league game will show just how good they are.
Next Sunday's game against Manchester United isn't just a massive derby… it's a massive measuring stick to see how far Liverpool can go this season.
Confidence is high in the red half of Merseyside. But will it remain that way all season?