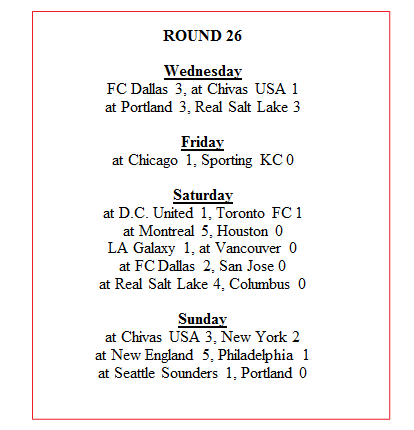 The big match was the last of a long round of contests, Clint Dempsey's first home match in Sounders' rave green. Still, there was plenty to talk about elsewhere:
The big match in Seattle
Attendance late Sunday night at CenturyLink Field in Seattle was 67,385, the largest ever for a soccer game in Seattle, the second largest ever for a stand-alone MLS match (that's over 18 years) and the third largest crowd worldwide this weekend. It was all about Cascadia Cup and Clint Dempsey's home debut, which Seattle won, 1-0.
So, how did Dempsey make out? It's all here.
Donovan approaches scoring record
Landon Donovan's early goal was the only score in a 1-0 win over Vancouver.  It was a big win for the two-time defending MLS Cup winners and a big moment for Donovan, who is within three goals of equaling Jeff Cunningham's all-time league scoring record.
Maybe the best save you'll see all season
This is why the Galaxy made a change in goal; because Carlo Cudicini wasn't making these game-saving stops. Well, newcomer Jaime Penedo sure did. Watch his work of art in the second half Saturday in the Galaxy's 1-0 win at Vancouver:
.
.
Statement wins from Real Salt Lake and Montreal
Real Salt Lake manager challenged his players, who had been taken apart last week in Los Angeles. Result? Listen to Kreis, a perfectionist who is not easy to please, after watching his team waylay Columbus, 4-0: "This for me, was the most complete game we have played this season. … And it comes at the right time, because we are entering the most critical stretch, and we've got a lot to play for and a lot to win. We needed a performance to put some confidence behind or our group, and I think that's exactly what we got."
In the East, Montreal manager Marco Schallibaum was in the booth, suspended for the fourth time this year, as his team did a similar number on Houston. Justin Mapp, Felipe Martins and Marco Di Vaio all had big nights for Montreal.
New England also had a showy score line, a 5-1 win over Philadelphia. But in all honesty but
Two crushing blows:
Of course, there is another side to those "statements." Columbus might just be done, and not just because they went into Utah and and got clobbered by a motivated Real Salt Lake, 4-0. Federico Higuain was caught throwing an elbows in stoppage time – of a match long since decided, so tsk-tsk, sir – and found himself on the business end of red card.
He was already set to miss the next Crew match for accumulation of cautions, and now will need to sit out an additional contest due to the red card. So for the Crew, barely hanging around in the playoff picture anyway, getting hammered in Utah and losing their top man for two matches may mean "Game, Set and Match" on the playoff chances.
Houston is better positioned, but will need to rally from a 5-0 humbling at Montreal, the club's worst loss since moving to Houston in 2006.
Opportunity lost
Two teams paid Round 26 visits to Chivas USA, longtime occupant of last place in the West. FC Dallas arrested its long, slow slide down the table, winning for the first time since June. So, mission accomplished.
Et tu, New York Red Bulls?
Nope. Thierry Henry and Co. missed an opportunity to pull ahead of Montreal in the standings. No offense to Chivas USA, but points dropped against the Goats represent massive opportunity lost for any team with real playoff ambition.
Remember, teams that fall into the fourth and fifth spots will have one additional round in which to fall out of the post-season. Plus, they are losing ground in the fight for possible host duties of MLS Cup 2013.
Did blown call in New England affect the final outcome?
Philadelphia and New England were tied at 1-1 outside Boston when the Union had a goal disallowed. It was absolutely the correct call as Sebastian Le Toux was offside.
But a few minutes later, referee Allen Chapman disallowed a perfectly legitimate Union goal, and that decision turned the important Eastern Conference match.
It would have given the visitors a 2-1 lead.  Rather, the visitors struggled to get past the frustration and fell apart spectacularly. Final score: 5-1 for New England as things got away from Philly.
Weekend's top goal
There really were a bunch of worthy choices, including big strikes by Donovan and New England's Kelyn Rowe and a highly technical, curving effort from Montreal's Felipe Martins. But what about this one from D.C. United's Dwayne De Rosario, one of the few moments of sunshine this year around RFK Stadium: