Chelsea have the slight edge in the series of 42 PL games (14-13-15)
Frank Lampard has missed two of his last three penalties
Danny Wellbeck's goals last week were his first in 19 PL games
In just the second week of the Premier League season, two of England's biggest clubs square off in a huge clash at Old Trafford on Monday.
Manchester United host Chelsea (3pm ET, watch live on NBCSN and online via NBC Sports Live Extra) in David Moyes' first home game in charge of the Red Devils… and José Mourinho is coming to town.
In the build up to this gigantic clash plenty of the talk has been about Moyes vs. Mourinho, as the two managers square up early this season in their new roles. Both managers were said to be the favorites to take over from Sir Alex Ferguson when the Scot retired last season, before Moyes got the nod.
Mourinho's return will cast him as the villain in the awesome amphitheater that Old Trafford has become. Expect a cold reception for the "Special One" as his Chelsea side aim to make it three wins from three to open the season. If they do so, they'll open up a six point gap between themselves and United early on.
But another subplot is brewing behind the focus on the managers. Enter the fray, Mr. Wayne Rooney.
The subject of two failed bids from Chelsea already this summer, Rooney's demeanor and silence suggests he wants to leave the Red Devils and join Mourinho's revolution at Chelsea. But will he start against the team he wants to join?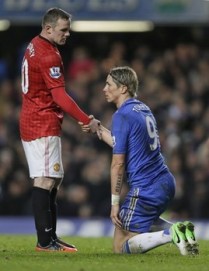 Putting Rooney's future to one side, United got off to a great start to the season last time out with a 4-1 win against Swansea as Robin van Persie scored two terrific goals and Danny Welbeck added a double. Rooney made a brief cameo against the Swans and all eyes will be on the England international forward on Monday.
As for Chelsea, two routine wins against Hull City and Aston Villa to begin the season made it seem like Mourinho had never left. The Chelsea boss won two Premier League titles in two and a half years in West London from 2004-07 before managing Inter Milan and Real Madrid.
But now he's back at Stamford Bridge, Mourinho will be keen to make his mark early and this game against Untied offers Chelsea a marque opportunity to get ahead of their title rivals.
As for injuries, Manchester United have several worries ahead of the clash. Right back Rafael is out while Nani, Ashley Young and Javier Hernandez will all be missing for Moyes.
Chelsea's Brazilian defender David Luiz could miss out, with the eccentric 26-year-old struggling with a hamstring injury. Of course this fixture last year saw Luiz get hacked down by Rafael near the corner flag, during Chelsea's 2-1 win, and smirk to the crowd while his fellow Brazilian was given a red card.
Expect a frantic start in Manchester, as both teams aim to put their marker down for the season. Hold on tight, this could be a classic.
What they're saying
Jose Mourinho on facing United at Old Trafford in the past: "I knocked them out in the Champions League, I was knocked out by them in the Champions League. I have every result against them. Maybe I have won more than lost, but what playing Man United gives me is pleasure, I like it. Last year when Real Madrid were playing the Champions League knockout phase and everybody was in Madrid with some tension because at that early stage we have to play Man United, I was happy. I like the stadium, I like the opponent and I like the difficulty of the game."
David Moyes on his first game at Old Trafford: "There has been a lot of things I have been looking forward to – like taking the team on tour and leading them out at Wembley. But to do it at Old Trafford for the first game against Chelsea is a thrill for me, it really is."
Oscar on facing United: "If we win we can open up a gap of six points to Manchester United already, in addition to the fact they're the champions and the importance a victory against them has. We know it will be difficult but nevertheless we know we can win at Old Trafford. We did it last year and we'll hope to accomplish the same this year."
Prediction
Such a tough game to call. United are at home and it's David Moyes' first league game at Old Trafford. The crowd will be buzzing and both sets of players will be desperate to steal a march on their close rivals. Chelsea will want to open up a six point gap over United, and as long as they lock down Van Persie I can see Mourinho's men leaving with a win. Promises to be an end-to-end affair, and the Blues will just shade it. Advantage Mourinho.