There were big wins (so, obviously, also big losses as well) to examine during a busy stretch of MSL contests. Here is the weekly re-ordering following 26 rounds of league play:
19. D.C. United – There was a 40-minute, closed-door, post-game air-the-grievances thing after the latest disappointing result, a 1-1 draw with Toronto. But aren't we way, way past that stuff around RFK? The team is poor. Period. All the clear-the-air meetings in the world won't change that.
18. Toronto FC – Ryan Nelsen said his team deserved a win after a 1-1 tie at his old stomping ground, RFK Stadium. Not true. No one ever "deserves" anything; you just win, lose or draw.
17. Chivas USA – Jose Luis Real's team took three of a possible six points at home in Round 26, a loss vs. Dallas and a big win over New York on Sunday. Apparently, when you lose to Chivas USA these days, you need to apologize to everyone. Ooof.
16. Columbus – Federico Higuain lost his mind and must now sit two matches. It happened at the end of an awful night, a 4-0 loss to Real Salt Lake, one that makes the Crew's uphill slog toward the playoffs look that much more difficult.
15. FC Dallas – Dallas in the spring looked like a title contender. Dallas in early- to mid-summer looked like anything but a playoff team. With a win at Chivas and a draw at home with San Jose in Week 26, perhaps the club has settled into "average," which was probably right all along.
14. Houston Dynamo – The worse loss of Dominic Kinnear's time in charge of Houston (5-0 in Montreal) dimmed a week that began with a useful CONCACAF Champions League result.
13. Chicago Fire – The team helped tamp down the brush fires from last week's PR kerfuffle with a big 1-0 win over Sporting Kansas City. Mike Magee's scoring has spigot, once flowing so fluidly, has been shut off lately.
12. New England Revolution – Kelyn Rowe's sophomore season has been a bit quiet at times, but the man sure rose up with a fury, striking twice from long range in the Revs' 5-1 dash-away from Philadelphia on Sunday. Rowe (pictured above) now has five goals and six assists in 2013.
11. San Jose Earthquakes – The Earthquakes' saw a 2-0 lead on the road erased, but were definitely on the wrong end of a bad PK decision in Dallas. The match ended in a 2-2 draw.
(MORE: MLS Round 26 week in review)
10. Philadelphia Union – Conor Casey's goal put his team up, 2-1, early in the second half. Wait! What? … A bad decision from the man in the middle turned this one, but blame the Union for failing to cope with the disappointment and collapsing in an eventual 5-1 loss.
9. New York Red Bulls – Manage Mike Petke after a loss to last-place Chivas USA: "I apologize for that loss. We lost to one of the worst teams in the league. We had many chances, we didn't capitalize on them, made some mistakes and had no creativity in the second half.  We looked like we were confused out there."
8. Montreal Impact – Justin Mapp, Felipe Martins and Marco Di Vaio more or less had their way with the Houston Dynamo defense in a 5-0 statement at Stade Saputo.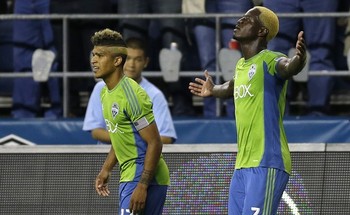 7. Vancouver Whitecaps – Martin Rennie's team desperately missed injured attacker Camilo in the 1-0 loss to Los Angeles. That's two shutouts (and losses) in a row; Chivas USA coming to town this weekend is a "gotta have" three points.
6. Seattle Sounders – Sigi Schmid's second half adjustments were critical, as the Timbers had more or less ruled the first 45. Eddie Johnson's huge goal (pictured right) was the difference in Sunday night's massive Cascadia win.
5. Sporting Kansas City – No time to feel badly about Friday's 1-0 loss to Chicago; Sporting Kansas City has a chance to take a big step toward 2013-14 CONCACAF Champions League elimination stage when it faces CD Olimpa of Honduras on Tuesday night.
4. Colorado Rapids – Oscar Pareja's young team had a week off to steel itself for upcoming road tests at Sporting Kansas City and Los Angeles. We'll know a lot more in two weeks about upside where the Rapids' young lineup is concerned.
3. Portland Timbers – The mark of a complete coach is how he handles the bad times. Well, since a high-profile stoppage time win over L.A. back in mid-July, the Timbers are a humble 1-2-3 (a win, two losses and three draws). It's time for Caleb Porter to get hold of this thing, because it's going the wrong direction. Will Johnson's healthy return will help a bunch.
2. LA Galaxy – Landon Donovan has always had a good left foot to go with an outstanding right. But who knew he had this in his "standing leg?" Donovan's peach of a goal was the difference in a 1-0 win at Vancouver. And it moved the man closer to a huge achievement.
1. Real Salt Lake – Manager Jason Kreis called his team's 4-0 win over Columbus the team's most complete match this year. Meanwhile, anyone else think Kyle Beckerman, a defensive midfielder who scored two goals Saturday, deserves some mention, at least, in ongoing MVP conversations?