The man is 31, almost retired less than a year ago, and for a fleeting moment lost his place on the U.S. National Team.
And yet, he still more than deserves the money he got today from the L.A. Galaxy – he deserves it.
Now, if you look at it strictly in terms of what he brings to the pitch for L.A. and translate that to money, of course he's being overpaid.
BUT – let's recap (with a little help from our Steve Davis) what Donovan has given both Major League Soccer and the United States, and it will become overwhelmingly clear why this is a no-brainer for the Galaxy. Most of this is obvious, but it adds up:
With three more years, he will very likely become the MLS's all-time leading scorer and assists leader. Obviously records are meant to be broken, and barring a catastrophe within the league those numbers will eventually be eclipsed by someone.  However, will anyone ever hold both again?
All the smart money would certainly go down on this being the last contract Donovan will sign in his playing career.  Outside of his brief time at Bayer Leverkusen in the beginning of his career, every contract he's ever signed has been in Major League Soccer.  For the United States to say it basically has kept a hold of one of the country's most important and iconic figures in the sport is a fantastic accomplishment.  Landon dabbled in European soccer a few times, but found he was always at home in MLS.
Donovan has over 150 caps for the USMNT, and is 2nd all-time in that category.  He also has the most goals in USMNT history, by a good amount, as well as the most assists. And those numbers are sure to continue climbing.
He's led the San Jose Earthquakes to two MLS Cups, and the Galaxy to three – including the last two years.
He's won the MLS MVP once, won the All-Star game MVP once, won the Golden Boot once, has the most goals in MLS playoff history, and has the most combined regular season and playoff goals in MLS history.
He still has some left in the tank.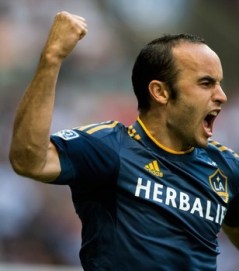 With all that, how could Los Angeles refuse?
If you'll allow me to go off-sport for a moment, the situation reminds me a lot of the Derek Jeter contract negotiation with the New York Yankees in 2009.  At age 36, Jeter and the Yankees had a bit of a tense public contract battle (akin to some of the rumors of Donovan leaving, though nowhere near as hostile or high-profile).  However, it was always going to end the same way – with Jeter essentially handed a blank check as a token of appreciation for his legendary service to the club and league.  Jeter ended up with 3 years and $51 million.
In Donovan's case, it ended the same way.  While we don't know the length of Landon's contract just yet – he joked it was "200 million dollars per year for 20 years" a his press conference – my educated guess is that it's around the same, 3 years.
At around $4.5 million per year (above $5 million with bonuses), Donovan will be in the range of being the second-highest paid player in MLS – he's behind Clint Dempsey by about half a million base salary, and right around Robbie Keane and Thierry Henry.
They're biased, but Galaxy brass think he's pretty good too.
"Landon has been a major factor in the growth and sustainability of Major League Soccer and we're thrilled that he will continue to wear a Galaxy shirt for years to come. Keeping Landon was a major focus for our club and reinforces our desire to acquire and retain the best players from the United States and abroad." -Galaxy President Chris Klein

"He is the best player in the history of the game in our country." -Galaxy coach Bruce Arena
Despite rumors and "multiple offers" from overseas, Donovan was always going to stay.  Why should he leave?  It never would have been right.  Instead, he and the league got it absolutely right.  Will he reach the final year of his contract at a high level of play? Who knows, but it doesn't matter.
Landon Donovan has given Major League Soccer and U.S. Soccer some of the best play this country has ever seen.  And now, he may very well be here for the rest of his career.  Just like it should be.