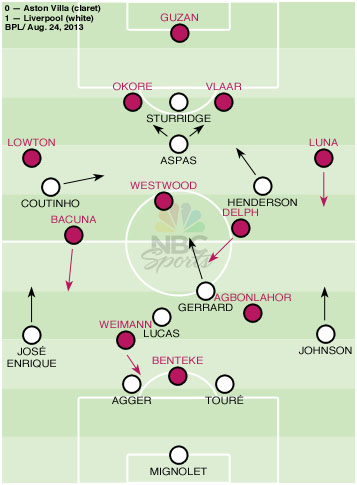 Liverpool's narrow 1-0 win at Aston Villa on Saturday showcased a contrast of styles in each half of play from the Reds. The free-flowing style that manager Brendan Rodgers has tried to instill shined through in the first half, but it shrank as time wore on and Villa pressed for an equalizer.
Both teams started similar lineups as in previous league games in the young 2013-14 season, with Liverpool preferring a two-man central pair of Steven Gerrard and Lucas Leiva, while Aston Villa played three in the middle again.
In effect, Liverpool cut its lineup into an attacking block and a defending block, with those two central players creating a conduit between them. Gerrard and Lucas took turns pressing underneath Philippe Coutinho, Iago Aspas and Jordan Henderson.
Gerrard and Coutinho were the Reds' primary playmakers, Gerrard from a deeper position and Coutinho higher up the field. Lucas' role primarily consisted of winning balls and sweeping up defensively.
Aston Villa's midfield triangle played much flatter than usual in the first half, causing its wingers to tuck in and leaving space on the outside.
Constant interchange and movement
When Villa had the ball, Liverpool dropped into two blocks of four defensively.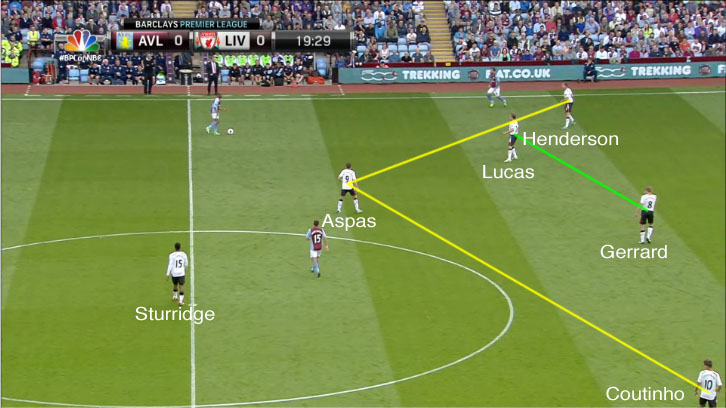 Aspas worked closely with target striker Daniel Sturridge on both sides of the ball, remaining high as a quick outlet for breakout passes. Wingers Henderson and Coutinho dropped even with Lucas and Gerrard, leaving space into which they could run in transition.
In attack, the players interchanged constantly and overlapped one another at every opportunity.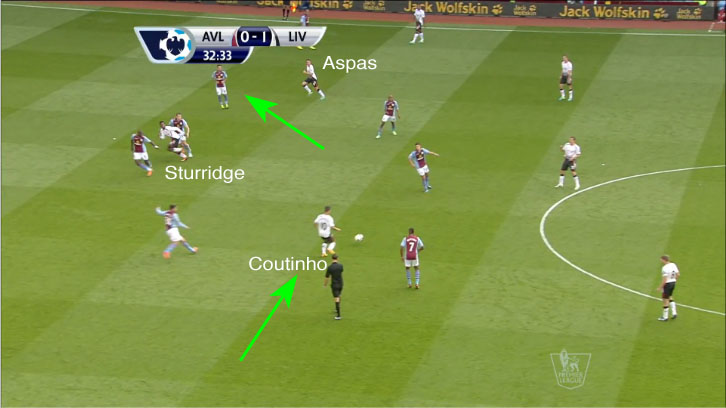 Primary movements included Coutinho tucking inside to find the ball and Aspas pressing alongside Sturridge on the front line. This gave left back José Enrique the space to overlap often, and Liverpool usually had two forward runners on balls played through.
Sturridge's work rate creates game's only goal
No play symbolized Liverpool's attacking movement better than its goal. Sturridge started on the left wing, drifted inside and ended up finishing the play inside the six-yard box. He covered an immense amount of ground without ever really sprinting, all because he kept looking for open spaces to exploit.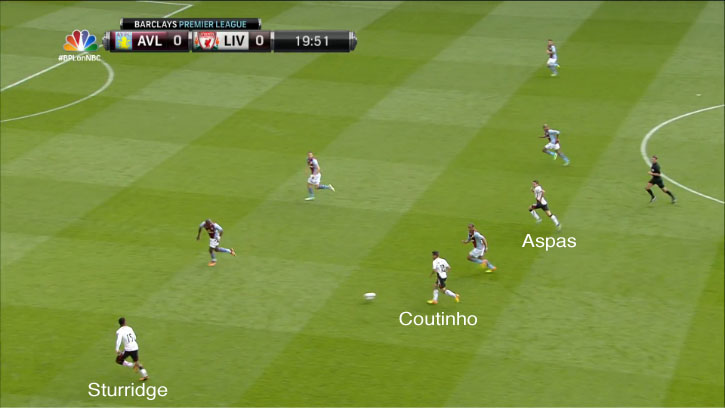 As Liverpool looks to counter-attack, Sturridge drifts into the channel to possibly exploit a one-on-one situation or open up space for Aspas to run centrally.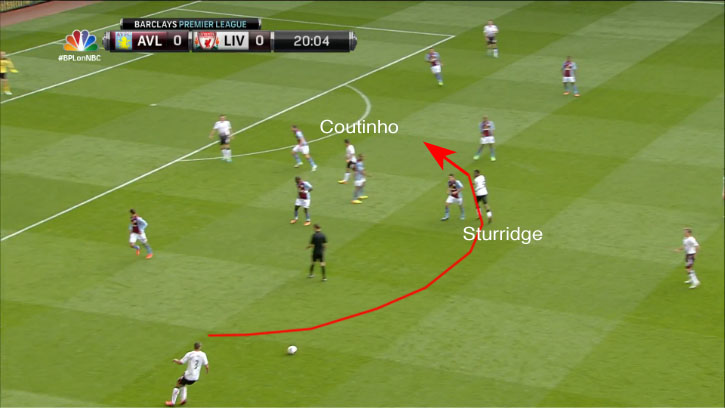 He decides to hold the ball up and play centrally through the midfielders. Sturridge dribbles toward the middle of the field before laying the ball off. Meanwhile, José Enrique overlaps again on the left. After he gives the ball up, Sturridge continues his bent run toward the forward line, allowing the play to develop and searching for a gap into which he can run.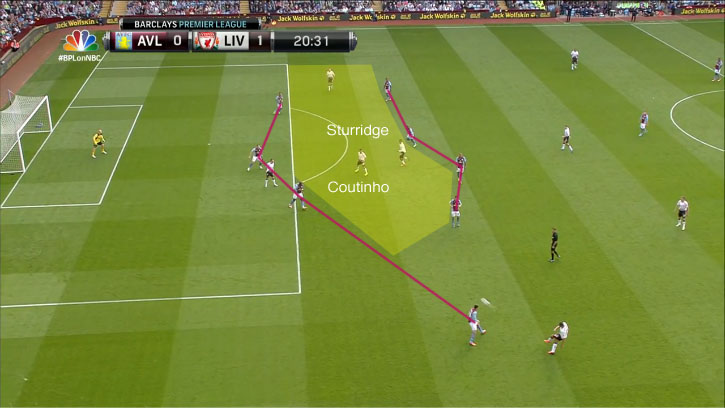 Both he and Coutinho (who has drifted centrally once more) find themselves in the soft space between Villa's defensive and midfield lines. Instead of taking on Matthew Lowton one-on-one, José Enrique decides to serve the ball into the middle, where Liverpool has numerical superiority.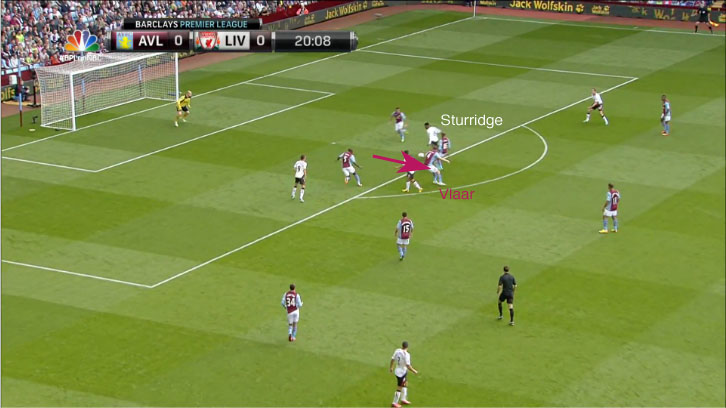 Now comes the tough decision for Villa's defenders: do they step up and try to cut the pass out to Sturridge and Coutinho, or do they delay and wait for a midfielder to back-tackle? Ron Vlaar decides to step, thinking he can take the ball off Coutinho.
But instead, Coutinho dummies the ball through to Sturridge, and because Vlaar is now out of position, the forward finds himself one-on-one with Antonio Luna. Any forward in the world would salivate at the prospect of taking a player on in the penalty area and scoring, and Sturridge does well to round Luna and goalkeeper Brad Guzan before slotting it in.
A game of two halves
Aston Villa clawed for an equalizer for the remainder of the match, putting Liverpool on the back foot, especially in the second half. Liverpool's defensive shell resulted from a combination of its desire to keep a slim lead on the road and Villa's tactical changes to attack more dangerously.
Instead of holding deeper positions next to Ashley Westwood, Leandro Bacuna and Fabian Delph pressed higher in Villa's midfield triangle. It more closely resembled Villa's shape in its first two league matches, which could be described as a traditional 4-3-3.
That allowed the wingers to stay wider, which put Liverpool on the back foot defensively. As the match wore on, the Reds' line of confrontation dropped deeper and deeper, until Sturridge eventually began his team's defensive work in his own half.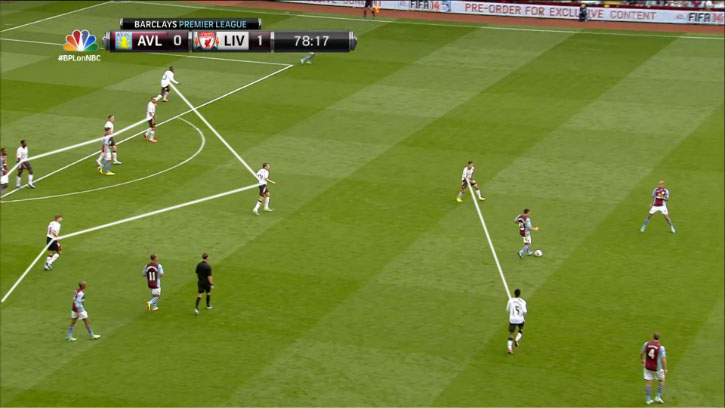 His starting position dropped even deeper than Liverpool's half of the center circle, which allowed it to condense its two blocks of four even further. Villa had no space to play within 25 yards of goal. Liverpool astutely held a deep but firm position, allowing the ball to play around in front but never getting too close to the penalty area.
In effect, Liverpool bunkered down and held on tightly for three points on the road. Villa completed 50 of 79 attempted passes in its attacking third of the field in the second half, compared to 30 out of 47 in the first, but it could not find a way past goalkeeper Simon Mignolet, who again made a couple crucial saves.
Attacking for 90 minutes
Ideally, Liverpool would like to be on the front foot all game long. A free-flowing system starts to look even better when a team goes up by two or more goals because then the opponent gets stretched out, looking for a response, giving more room to play combinations and run into spaces. So far, Liverpool has only been able to get its goal and then drop deep to keep the slimmest of leads.
Early in the season, teams are rarely able to convert the majority of their scoring opportunities. Although Liverpool's players showed great understanding when moving forward with the ball, that should only get better as they get more of a chance to train together and establish a rhythm (not to mention getting Luis Suárez back from suspension).
For now, manager Brendan Rodgers will be happy — but not satisfied. His team still has work to do to become an attacking force for 90 minutes.
If you missed the match, or if you want to re-watch it in its entirety, here it is: