On Saturday, the NWSL crowns its first champion, with preseason favorites Portland Thorns traveling to Rochester to face the Western New York Flash. Led by Abby Wambach, the Flash finished the regular season in first place, defeating Sky Blue FC 2-0 in their Saturday semifinal. After beating second place finishers FC Kansas City 3-2 in Overland Park, Portland will hope Alex Morgan, out for the last three games with a knee injury, will be back for this Saturday's final.
Having broken down Western New York earlier today, here is a look at Portland Thorns FC:
Defending: After Portland received a talent-rich attack in allocation, defending was supposed to be the relative problem, aside from Rachel Buehler. Though the U.S. international was expected to be one of the more competent central defenders in the league, the backline's other three spots needed to be filled, and although Canadian international Karina LeBlanc was a popular figure, she hadn't held down a team's number one spot since her 2009. Portland seemed to have enough talent to out-gun opponents; unfortunately, some suspected they would have to.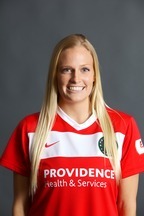 Over the season's first half, the opposite turned out to be true. As Portland's midfield struggled to supply the team's talented forwards, the defense that kept Portland in games. LeBlanc turned out to be one of the league's better goalkeepers, while Kathryn Williamson (right), a rookie out of Florida, often out-shined her national team partner in central defense. With Marian Dougherty and Nikki Marshall, Portland had one of the league's better fullback tandems, while defensive midfielder Becky Edwards protected the entire group.
Come mid-season, though, the whole dynamic changed, Cindy Parlow Cone losing Edwards for the year with a torn ACL. Without another starting-caliber defensive midfielder in the squad, Portland not only lost the league's best pivot player but became susceptible in transition. Before Edwards' injury, Portland gave up 0.70 goals per game. After: 1.50. Come late in the season, while Portland was losing their chance to secure home-field advantage in the playoffs, the team was finally conceding the defense was being left exposed.
Allie Long's been asked to fill Edwards' role, but naturally suited to a more attacking roles, it's been a difficult adjustment.  The Thorns have been a much different team without a destroyer to protect their defense.
Attacking: They were allocated Alex Morgan, thought to be among the best players in the world. The same description applies to Canada captain Christine Sinclair, the Portland resident playing at home for the first time since starring at the University of Portland. With taht firepower up top, the Thorns' biggest problem seemed to be forging a connection to their forwards. With Edwards and Long in midfield and Tobin Heath set to join the team mid-season, they seemed to have the talent to do so.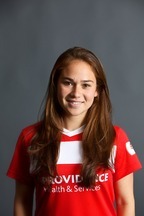 But that connection never hapened. At least, progress was slow before Heath's July arrival. Not only did Edwards go down, but Long, Nikki Washington, and Angie Kerr were never productive as a unit. Though Meleana Shim (right) stepped up and became one of the season's better rookies, Portland's high-powered attack finished with 32 goals, tied for fourth in the NWSL.
The problem's more nuanced than merely "the midfield." For much of the season, Shim (a midfielder) was played as a forward. She didn't start a scoring until she was moved back to midfield (she finished with five goals). That switch allowed Sinclair, played as an attacking midfielder for much of the season, to move back to her natural position, with a late surge pushing her to eight goals. Morgan, in the mean time, finished fourth in the league in goals despite leading the circuit in shots and shots on goal. Noticeably worn down before her early-August injury, the superstar's first season as a full-time starter has been a learning experience.
Without her over the last three games, Portland hasn't had the route one outlet she provides, something that's actually helped the team. Forced to rely on building play rather than Morgan's athleticism, the Thorns seemed to be more cohesive, with a reinforced midfield also helping the team's defensive issues. It's an approach that better suits Sinclair, allowing her creativity to thrive as a focal point of the attack, yet it's also unclear how that style suits Morgan's. Over the team's first 20 games, Portland averaged 1.5 goals per 90 minutes, the exact same rate they've scored at over the last three games, with Morgan on the sidelines.
Overall: It's been a difficult year. The defense was strong but suffered after the loss of one of the team's most valuable players. The attack remains potent but defined by potential, with the team never meeting preseason expectations. Even as they enter the season's final game, one that could see them crowned champions, it's unclear what we can expect from the Thorns.
If, however, Portland plays like they did over the last 60 minutes of their semifinal, they'll likely end the season on top. Coming back from a 2-0 deficit, the Thorns played their best soccer of the year, a reminder that the potential we saw in preseason still exists. As FC Kansas City found out, Portland has the talent to ruin seasons.
We've seen enough of Thorns FC to know they're underdogs on Saturday. We've also seen enough to know they're capable of anything: from being run out of Rochester; grinding out a win; being disappointed by a late breakdown; or exploding in for a rout of Western New York .
Nothing should surprise us when it comes to the Thorns.