Gareth Bale is desperately trying to push through his move to Real Madrid, so the Welsh attacker has decided not to turn up for training at Tottenham.
And it seems as though Bale's disappointing stance has had the desired affect, as Tottenham's Portuguese manager Andre Villas-Boas confirmed that Bale's move to Madrid is edging closer.
"At the moment the two clubs are speaking, Tottenham and Real Madrid, about the final decision and final statements of drafts and contracts. I'm not sure how much time it's going to take," Villas-Boas said. "It could happen very, very soon. It might not happen so soon. It could go to the last day, it could happen in the next two days, I'm not sure."
(MORE: Gareth Bale deal from Tottenham to Real Madrid reportedly done)
While this morning Spurs' manager also told the press that the North London club may fine Bale after he didn't show up for training on Tuesday or Wednesday.
"I gave the player the weekend off and Monday was a day off for the squad," Villas-Boas said. "Obviously he's involved in a big transfer move to Real Madrid. If it happens we wish him all the best. What he left here was great memories and the fact that he hasn't turned up I don' think it's the correct behavior. But in the end it's a position of pressure and a statement from the player or whatever that means. But it's the position they've chose to take."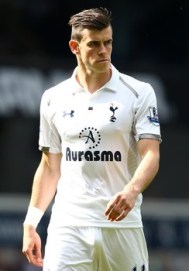 AVB isn't impressed and neither are Tottenham, as Bale's transfer saga continues to drag out with the transfer window looming large on Monday. A fine will probably be a drop in the ocean compared to what he will be earning at Madrid, however the move to boycott training from Bale shows the strained relationship between the two parties.
And now a large fine could be heading Bale's way as a parting gift from Spurs following his no-show. "It's up to the club now to decide if it's a fineable offense," AVB said.
Overall, the comments from Spurs' manager are extremely open compared to the "no comment" stance that has reigned supreme throughout the saga. But AVB also stated his appreciation for what Bale has achieved at Spurs and said that if Bale does go, "it is a dream move for him."
Some good news for Tottenham fans also emanated from AVB's press conference, he expects to see plenty of new faces arriving at White Hart Lane in the coming days as Spurs continue to splash the cash this summer.
"I think in the next few days you will have further news and you will see further arrivals at Tottenham," Villas-Boas said.
But the Bale saga has taken a sour twist as the player and his representatives dig their heels to seal a deal with Real Madrid ASAP.
Is this type of lasting impression Bale wants to leave at Spurs? All those who wished him well at Madrid may now think otherwise as the Welsh international publicly turns his back on Tottenham.