When watching soccer on TV, have you ever sat there and wondered what the man behind the microphone really thinks?
Maybe this will go someway to helping with that.
In our new series "View from the Booth" NBC Sports' lead soccer announcer Arlo White will be joining us each week to talk about the hot topics in the beautiful game and preview the weekends upcoming Premier League action, as well as chatting about the latest news from MLS and the US national team.
MORE: Game schedule  |  Match finder
This weekend Arlo is off to two massive games for very different reasons. First up is Crystal Palace against Sunderland on Saturday (12:30pm ET, watch live on NBC and via NBC Sports Live Extra) as both sides aim for their first win of the season. And then it's the big one, Liverpool vs. Manchester United on Sunday (8:30am ET, watch live on NBCSN and via NBC Sports Live Extra) at Anfield as two of England's most famous clubs clash in a bitter North West rivalry.
Enjoy it folks, now it's over to Arlo.
Looking ahead to the games this weekend, obviously Liverpool vs. United sticks out. Can Liverpool keep their good early season form going despite plenty of injury worries?
What a fascinating match-up this is, and one that hopefully will add more goal mouth action to the tactically intriguing game on Monday between United and Chelsea. I think everyone present (except perhaps the traveling support) will have goosebumps when Anfield pays tribute to the great Bill Shankly before the game, by celebrating what would have been his 100th birthday.
The big injury worry for Liverpool is Kolo Toure. It was well publicized before the game at Villa last week that Liverpool had left themselves a touch short in central defense after the retirement of Jamie Carragher. Martin Kelly can fill in, but he's returning from an ACL tear. Andre Wisdom is a center back of the future. but I think Brendan Rodgers is keen to get him out on loan to gain more experience. Sebastian Coates also suffered an ACL tear on International duty recently. It all means that Martin Skrtel, who was perhaps surplus to requirements before these injuries, is now a vital player this weekend, alongside Daniel Agger.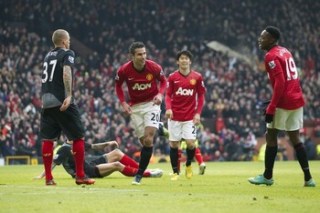 I think Rodgers would like to see a 90 minute performance from his side at the level they managed for the first 45 at Villa. They were stroking the ball around with real authority and comfort. They were purring. Gerrard and Lucas dictated the game from their deep lying midfield positions. Coutinho showed the odd flash of brilliance (particularly his dummy for the goal) and Daniel Sturridge continued his rich goal scoring form. They are coping brilliantly without the suspended Luis Suarez.
Liverpool might be kicking themselves at taking their eye off the ball against Notts County during the week and being forced to play extra time in the League Cup, but they have started the season well. Let's see how they fair against the major step up in quality presented by the Champions.
And for David Moyes, this match will have extra importance after managing on Merseyside. Will murmurs of discontent start to be heard amongst United fans if they lose this one?
Will there be crushing disappointment, of course, it's a derby. Will there be discontent with the manager, I very much doubt it. Moyes was greeted with a rapturous welcome at Old Trafford on Monday night. There is now a permanent banner across the Stretford End that reads 'The Chosen One' with his image. United played very well against Chelsea, but were stunted by a somewhat timid tactical approach from Jose Mourinho. United fans are well aware that they have an important role to play as the club transition from 26 years of Sir Alex Ferguson to the start of the David Moyes era. It may require some patience, and it will certainly require support.
I think Moyes and Manchester United have handled the Wayne Rooney situation superbly. He was terrific against Chelsea, full of energy and intent. In the absence of any major signings so far in the transfer window, Moyes should at least be credited for his part in that turn around.
Of course we have to talk about Arsenal vs, Spurs on Sunday too. Are these two teams closer than they've ever been in the past? And is this the season Tottenham finally overtake the Gunners and move into the top four?
Things could change significantly before 11pm BST on Monday, but I said before the season started that Spurs will take 4th place and Arsenal will miss out on the Champions League spots this season, and Tottenham's dealings in the transfer market have only strengthened that conviction. I haven't seen Capoue play live yet but the early reports are very good (I even read this week that he's being compared to Patrick Vieira, steady on!). Soldado hasn't scored from open play yet, but confidently banged in 2 penalties against Crystal Palace and Swansea. AVB now has a deep cast of talent to call upon to challenge those top spots.
Now, if Arsenal land Benzema, Di Maria and Ozil from Real Madrid, it could all change (btw, will Daniel Levy do the Bale deal as late as possible to help scupper Arsenal's plans of recruiting those potentially surplus Real stars??)
One of the painful offshoots of Arsenal's transfer window malaise is the lack of squad depth. They've already been forced to play full back Sagna in central defense, and it's only August. Podolski's injury is a huge blow which leaves them short up front, and Oxlade-Chamberlain will be missing for a while, weakening them on the flanks.
Was Flamini converted into a goal sniffing center forward at AC MIlan?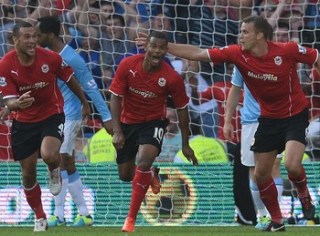 I seem to remember you picking Cardiff City as your "surprise package" at the start of the season… you must have had a chuckle to yourself when they beat Manchester City on Sunday. The Bluebirds have impressed but have you been impressed with Everton under Roberto Martinez so far?
I'll hold my hand up. Yes, I did say that Cardiff would be a surprise package this season, but I also went out of my way in last week's column to say they wouldn't get anything against Manchester City. In fact, the only thing I got right about that extraordinary game, was a complete no-brainer anyway; it was a great atmosphere!
Did you watch Malky MacKay during the game? He was calm, composed and authoritative. His in-game signals to the players were very clear, after he'd already sent them out with a brilliant tactical game plan to stunt Manchester City.
We go to Goodison Park after the International break and I'm looking forward to seeing Everton in the flesh. Watching Roberto Martinez at press conferences, you can see how much the transfer window is irritating him. He knows that Baines and Fellaini are vulnerable to late bids, and is well aware that if Bill Kenwright receives an irresistible offer on Monday, he will be left with precious little time to re tool sufficiently. Worrying times for the Toffees. Roll on Tuesday morning!
Everton related, their former loanee Landon Donovan signed a new "multi-year" deal with LA Galaxy earlier this week. What do you make of his decision to stay in MLS? Should he have come back to the Premier League to have one last go?
I'm torn on Landon. I love Major League Soccer and I'm so impressed with it's growth. Landon Donovan has played a huge part in that, and he will continue to do so with his exceptional play.
The devil on my other shoulder argues that a re-energized Landon could be a smash hit once again in the Premier League, and I would love to have seen him give it a go.
I sat down with Landon in May 2012 with my NBC colleagues and we had a fascinating chat. He revealed so much about his state of mind before the US game against Scotland (in which he scored a hat-trick by the way) that it came as no surprise when he announced that he was stepping away from the game for a while. What a great move that turned out to be. We re-connected before the Gold Cup, and the difference was palpable. Landon isn't a particularly demonstrative or excitable character when we all chat, he is calm, level headed and articulate. The Landon we sat down with before the Gold Cup was very different from May 2012. The language was all positive and content.
It's a great boost for LA and for MLS. I think the league is entering a new exciting phase now that Clint Dempsey has returned as well. Do I wish I could call an Everton or a Manchester United game with Landon Donovan on the field? You bet. Should we respect his decision and enjoy his play for LA and the US National team for the next few years? Absolutely.
Another USMNT forward will take center stage live on NBC this Saturday lunchtime. We spoke about Altidore before but can he really spearhead Sunderland into the top 10 this season?
Having spoken to both Jozy and Paolo Di Canio over the passed few weeks, I'm excited for him. Di Canio is a big fan, hence why he paid $9M to AZ Alkmaar for his services. He says he has that rare ability to sense where the goal is, and that he has matured from the young man who struggled in a bad Hull City team a few years back.
Jozy seems happy at Sunderland. He joked that he had to 'get his head around' some of Di Canio's managerial eccentricities, but that he's raring to go.
We'll see on Saturday if he can make an impact against a team like Crystal Palace who are favored to be relegated, but will be tough to beat at Selhurst Park.