At the onset of the NWSL season, the Portland Thorns were widely picked to take home the new women's league's first title. Somewhere along the way, that favorite's status waned, with the team finishing the season in third place despite talents like Alex Morgan, Christine Sinclair, and Tobin Heath.
But on Saturday in Rochester, that talent — along with inspired play from the team's defense — won out. Heath's first half bomb from 30-plus yards gave Portland a lead at regular season champion Western New York. In second half stoppage time, their team playing with 10, Portland saw Sinclair ice the club's improbable title run, a 2-0 win rendering a season of promise and frustration a distant memory.
Portland stayed near the league lead most of the season, but by mid-August, their hopes of winning the regular season title had faded. Ultimately, they'd have to claim their crown on the road, with matches at FC Kansas City and Western New York — thought to be the league's two best teams — seemingly setting the team up for a disappointing finish.
But forgetting regular season disappointment to find the type of unity that's eluded them all season, Portland proved the best team over the two weeks that mattered. They overcame injuries (to Heath and Morgan), two excellent teams, and ultimately, doubt. As a result, the team most picked to claim the first NWSL title fulfilled their destiny, shutting out the regular season champions to do so.
Here are the moments to remember from today's 2-0 result at Sahlen's Stadium in Rochester, NY: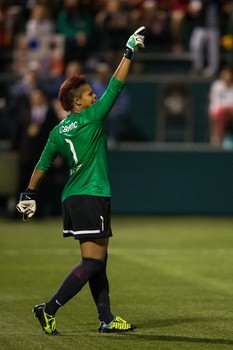 1. Goalkeepers come up big, early
Karina LeBlanc (right) and Adrianna Franch were tested high all day, the first major chance coming in the 12th minute. When Abby Wambach went left and lobbed a ball far post, right wing Samantha Kerr had her way with Nikki Marshall, out-jumping the Portland left back to head what could have been a goal. But LeBlanc reacted quickly, pushed the shot onto the bar, and managed to grab a rebound that nearly went in off her back in. The Portland keeper kept it 0-0.
Ten minutes later, it was Franch's turn. Portland right back Marian Dougherty was given all the room she wanted to fire a cross in from the right. Sinclair, streaking across the face of Western New York's central defense, redirected a ball toward the top of Franch's goal. But the rookie for Oklahoma State, called on to make a pure reflex save, pushed it over, matching LeBlanc save-for-save early on.
2. Abby Wambach gets Kathryn Williamson sent off
Pity the rookie her opponent — the first year defender from Florida matching-up up against a former Gator who just happens to be the world's best player — but Kathryn Williamson knew what she was getting into. In two games against Abby Wambach in the regular season, the Thorns central defender had held her own. On Saturday, Wambach targeted her in the second half, eventually drawing two yellow cards.
The first came in the 49th minute, when Williamson was lucky to avoid a straight red after a ball over the top looked set to send Wambach in on goal. Four minutes later, Williamson deservds a second yellow for a nasty challenge on hte Flash number nine, but the official had pity. In the 56th minute, however, that pity ran out, with Portland defender taking down Wambach at the edge of the area, drawing a second yellow card.
Portland would play the final 34 minutes with 10, eventually bringing on former U.S. international Tina Ellertson to partner Rachel Buehler in central defense. Remarkably, the teams was still able to keep the league's best attack off the board, maintaining their clean sheer despite Wambach getting Williamson sent off.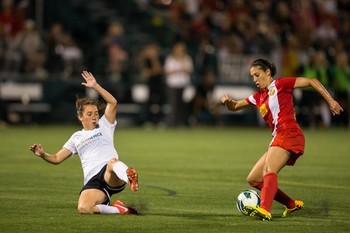 3. Carli Lloyd shoots. Again. And again.
Counting her double in the semifinals, Carli Lloyd scored 10 goals this season, one of four players to reach double-digits this year. In Saturday's first half, she had numerous opportunities to add her 11th, including a 25th minute chance set up by Adriana Martin that saw her push her shot wide right despite being one-on-one with LeBlanc.
As the game went on, Lloyd seemed to single-mindedly look for that 11th goal. A try from the edge of the area set up by Wambach. Dead balls from distance around the Portland area. Predatory runs into the box. Lloyd was an attacking midfielder with a sniper's mentality, racking up eight shots by the final whistle.
Every time she let loose, there was a chance she would equalize. It was worth a gasp. She has that kind of talent. And as her Olympics performances have shown, Lloyd also has that kind of timing.
Tonight, however, it never happened. Ultimately, Lloyd's most important goal of the season was the one that never came.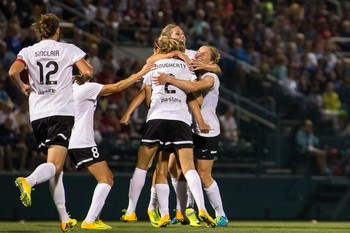 4. Tobin Heath wins the title for the Thorns
Watch her in warm ups and you'll see the power in Heath's shot. Released quickly with a slightly more topspin than a normal player's, Heath can be a special kind of trouble when given too much room within 24 yards.
In the 40th minute, she was far beyond 24 yards. After a Western New York foul just inside Portland's attacking third, Heath was closer to 32 yards from Franch's goal, but with one of the most spectacular strikes of her career, Heath paved Portland's title path.
Opting for power over precision, Heath straight-on approach launched the ball above the Flash wall with that typical top spin, her heavy strike dipping below Franch's cross bar as the rookie goalkeeper leapt under the ball. Having set herself up to defend the left side of goal, Franch had no chance, eventually clattering against the opposite post as Heath's shot bend the net and recoiled out. The most important goal of the season was also the best.
Heath was scoreless in seven regular season games after joining the Thorns from mid-season Paris Saint-Germain. In two playoff games, she scored twice, each time overcoming an injured right foot to help push Portland to their title.
5. Christine Sinclair seals it
As full time approached, there was something about Portland that made you believe they were going to close this out. Despite being down a player; despite the presence of Wambach and Lloyd; despite being on the road; and despite the occasional lapses of their defense this season, it was hard to imagine the Flash finding and equalizer. In the last game of a tumultuous season, Portland had finally looked the part. They finally looked like a team that would pull away from the pack.
One minute into stoppage time they sealed it. Sinclair — a Portland resident and a University of Portland alum — was put in alone on goal after a long throw in deep in Western New York's half. The huge gap between right back Katherine Reynolds and the next defender was a complete breakdown by a team pressing for the equalizer, one that left Franch with no chance to stop Sinclair as the former Flash forward pulled up from 15 yards.
With the shot headed far post, Western New York's only hope was for "Sinc's" shot to catch the post. No chance. The insurance goal nestled against the left side netting as the 30-year-old Canadian ran for the sideboards, celebrating in front of fans silenced by her title-clinching goal.
It was her ninth of the season, and certainly her most memorable. Seeing her team come together after an inconsistent, often frustrating season, Sinclair had captained her hometown club to the NWSL's first title, the Thorns' 2-0 win Saturday in Rochester allowing the preseason favorites to finish an improbable if expected championship run.