This week I caught up with Liverpool legend Steve Nicol to chat about the biggest soccer rivalry in the world: Liverpool vs. Manchester United.
Nicol played in over 460 games in a 13 year career at Anfield, as the Scottish international and former New England Revolution head coach has plenty of experience in the famous derby. Nicol won 14 trophies with the Reds, including five league titles and the European cup in 1983-84.
WATCH: Liverpool vs. Manchester United, live on NBCSN and NBC Sports Live Extra, 8:30am ET, Sunday
But back to today, this Sunday at Anfield specifically, and Nicol spoke about what it's like to play in the derby, gave his views on Brendan Rodgers and David Moyes, a stern opinion on Luis Suárez, Liverpool's aim for the season and plenty more.
So, sit back and relax as the Liverpool hero and current ESPN FC Analyst breaks down Liverpool vs. Manchester United and you can watch it all unfold live on NBCSN and via NBC Sports Live Extra at 8:30am ET on Sunday.
Having played in so many of these games before, what will the atmosphere be like on Sunday at Anfield?
Well, I mean the atmosphere, you could cut it with a knife. It's all about winning the game. These games are not about playing well and fancy football. Certainly when I played it wasn't, but I guess the rules have changed somewhat since then! But this is just a battle. The only thing you know going into this game is that you better be ready to battle for every single thing you get.
Is there a clear favorite and one team that will be up for the battle more?
I don't think there's a clear favorite. I think it's impossible for the to be a clear favorite whenever Man Utd plays Liverpool and there is not a favorite going into this game. You can look at facts and form and figures and all that kind of stuff, but the bottom line for Liverpool is that they have to get their nose in front early.
They're clearly going to be under pressure with the problems they've got at center back. I'm not convinced [Kolo] Toure is the answer anywa,y but he has started this season well. I have no idea who Brendan [Rodgers] is going to play beside Daniel Agger. That is going to be a huge problem.
You mentioned Rodgers, how do you rate the job he's done so far? It's just over a year since he's been in charge, are you impressed with what Liverpool are doing?
I don't think that anyone can argue that they're good to watch. From the back to the attacking third they play as good football as anybody in the league. No question. If they were as good in the final third as they were up to that, then they'd be top of the league. Brendan is dealing with a budget where he can't go out and buy Cavani's or Falcao's or any of these guys. Manchester United can go and buy Robin van Persie and players like that, as can Chelsea. You're talking about a different type of player that Brendan has to get, he has to get younger players with an upside as opposed to buying a certain type of quality already.
Which manager needs to win this game more, this is David Moyes' first derby in charge of Manchester United so does he need it more than Rodgers? And will a win help kick Liverpool on as they build on a good start?
In fitting with the game, it's not a straightforward answer. This early in the season, I think either manager can get away with it [losing]. I would say that for Liverpool to win it, it would absolutely kick everybody into gear and they would believe that they can actually compete for a top four spot. I don't think they can. Personally I don't think they have the depth of squad. With their best 11 on the field every week Liverpool can beat Manchester United at the weekend and play the way they have been at the start of the season, I think there's a possibility that they may, and it's just a maybe, be able to compete for the top four. Because that's the highest they can get.
Has Moyes got the impossible task to replace Sir Alex? People are judging him already and it's far too early for that, but surely a win this weekend would do him the world of good?
We are all saying the same thing. I'd love to have a dollar for every time somebody says 'I know were judging him too early, but… Let's judge him!' It's huge. But every game is for him. It is almost the impossible task, people should just back off and calm down. If Fergie had been in charge of Manchester United and they hadn't won the league this year, people wouldn't have been calling for his head. So why should they be with Moyes in his first season?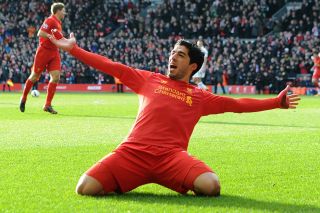 Going back to Liverpool and the Luis Suárez situation, it's not to long until he returns now. But should he come straight back into the team with Daniel Sturridge playing so well? Or should Suárez be eased back in?
I think the perfect scenario is that Liverpool are flying and he doesn't get in. It's a toss of a coin if that's the case. Liverpool are in a position where they need a player like him, they need his goals and his quality. But in an ideal situation Liverpool would be doing really well, they're flying, winning games and Rodgers can make an example of him and stick his backside on the bench. But I don't think that's going to be the case.
Are you pleased with way Liverpool have acted and that Suárez will be a Liverpool player this season?
I'm glad they've stood up to him and said 'we don't care what you do, you're not going anywhere.' Players shouldn't be able to act the way he has. But it's about results isn't it. If Liverpool aren't getting results and he's available to play it is very difficult not to play him. I hope if and when he does play, he does as well as he did last year and by that time Liverpool have found someone they can bring in, and get rid of him.
After Sturridge and Philippe Coutinho have done so well at the beginning of this season, are they good enough to push Liverpool up the table? Or does the club need to spend big to bring in more players again?
There's no question they've shown what they're capable of but you have to do it over a period of time. I criticized Sturridge last season because he was scoring goals and Liverpool were winning games but it didn't matter. They were never going to get anywhere. It's just not the same, winning games and scoring goals when it doesn't matter. He's started the season scoring goals and it's going to matter at the weekend, so let's see how he does then. I'm just not convinced yet because it's all about being consistent, turning up every Saturday and producing. That's why people like Dalglish, Rush and Fowler are legends because they turned up every Saturday for a period of time, not just months ,but years. That's what they have to do.
Finally, what is your prediction for this game? Liverpool of Manchester United?
I'm hoping for a draw. I think that the defensive problem is going to be a hard one, it's going to be hard to stop van Persie and Rooney with a stand-in center back. I think Manchester United will score but I think Liverpool will too, so I'm hoping for 1-1. I'm hoping Liverpool win… but I'd settle for a draw at this moment in time.