The debates around this one were predictable to the point of cliché, which isn't to say that there wasn't plenty of room for interpretation. It's just that we've heard it all before, be it legitimate arguments regarding the danger the play presented or the increasingly pungent "got ball"-based explanations that are often more appropriate for a basketball court than a soccer field.
Given the speed of the play, there was some question as to whether Zemanski "innocently" went through his man or there was something more to the play. In real-time, given the way we saw Ned Grabavoy go over, red didn't seem to rash, but maybe a closer look, one more akin to what Toledo saw on the field, would absolve Zemanski.
The opposite turned out to be true. As you can see in this still that was circulating online after the incident (which I believe was produced by the staff as the league's website), Zemanski's studs are up, over the ball, making contract with Grabavoy as the RSL midfielder tried to elevate over his man: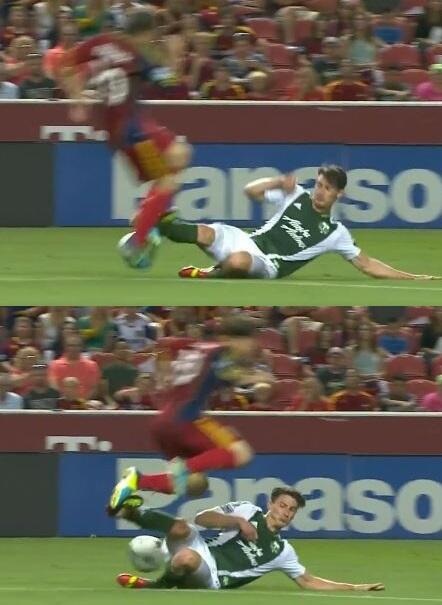 Caleb Porter labeled this a bad call post match, and he wasn't the only one. In real-time, a number of prominent people debated whether Zemanski should have been sent off:
[tweet https://twitter.com/MerrittPaulson/status/373644189503746050 align=center width=440]
The images leave little doubt as to the tackle's potential. At a minimum, Toledo deserves the benefit of the doubt. If Zemanski would have stayed on, Real Salt Lake would have been right to complain about the referee's leniency. If Toledo didn't get this one right, he at least didn't get it wrong.
As obliged by the hypothetical Laws of Sports Social Media, Toledo's performance was derided online, with some asking for consistency between this tackle and some unpunished plays we saw last week in Seattle. If Osvaldo Alonso didn't get a yellow for X, when was Zemanski given a red of Y?
It's an interesting argument, though it's also one that makes it far too easy to affirm whatever your bias might be. Think Zemanski should have been dismissed? Simply think of any similar decision in the history of soccer that confirms your opinion. Given how much soccer's been played, it's not hard to find one to support your argument. If you can fit your case into 140 characters, even better: "What about [PLAYER] seeing red in [GAME]. It happens all the time!"
And if you think the opposite, that Zemanski should have stayed on? Simply point to last week's game in Seattle. The same absurd means of making a case work for both sides, which may be one of the reasons why these debates get nowhere.
Everybody wants more consistency in refereeing, but notice how difficult it is for those of us at home — with access to instant replays, expert analysis, Google, and (perhaps most importantly) time to consider — to agree on anything. If people with those resources can't agree whether Zemanski should be sent off, is it reasonable to expect officials making separate calls, in separate games, under different circumstances that feature different players, to always come up with identically accurate decisions?
Somehow, I don't think we'll agree on this one, either.