On Saturday against Cardiff City Roberto Martinez' Everton side played out their third-straight draw to start the season.
To say the Spaniard was frustrated after the game is an understatement.
Martinez was irked by the decision not to award his side a penalty in the 41st minute, as attacking left back Leighton Baines weaved through several Cardiff defenders and suddenly found himself in the box. In came Cardiff's combative Chilean midfielder Gary Medel who slid in rashly on Baines to bring him down.
Many expected referee Anthony Taylor to award a penalty. Instead he signaled for a goal kick.
"The decision is hard to explain really because we all had a clear view and there are probably moments where the referee gets blocked," Martinez said. "But when the Cardiff player goes to ground and loses control of his body and doesn't touch the football, obviously you are going to impede the player. Clearly it's a penalty."
The former Wigan manager isn't one for sour grapes but the decision to not award a penalty was an extremely strange one. Medel didn't get anywhere near the ball and Baines was just about to let fly on goal.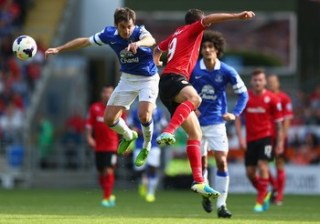 "Leighton was as shocked as anyone in the ground," Martinez continued. "And it was unfortunate because that would have been a big break."
And it seems like Everton just aren't getting those 'big breaks' right now.
Last week they played out a 0-0 tie with West Brom at Goodison Park as Marouane Fellaini hit the post and the rub of the green just wasn't with the Toffees. And the week before that Martinez' men could feel hard done by as Norwich snatched a 2-2 draw after Everton had battled back to take a 2-1 lead at Carrow Road.
Bad luck aside, in the end Martinez was philosophical about his sides display but warned his players that they have to take their chances in and around the penalty box. That will be the difference this season.
"Overall, the way we defended and the way we stopped Cardiff having any influence on the game, that was very pleasing," Martinez said. "We were strong, we kept Cardiff very, very quiet and this is a difficult place to do that. On the other side, when you get the amount of moments in the final third that we did, we need to be clinical and start scoring goals – because that was the difference that stopped us getting three points."