LONDON — Andre Villas-Boas was understandably upset following Tottenham's narrow 1-0 defeat against Arsenal in the North London derby on Sunday.
And as the Portuguese manager oversees one of the biggest overhauls in Spurs' recent history, there will be more days like this ahead.
For much of the second half Tottenham pinned the Gunners back as they desperately searched for an equalizer. Full of power, determination and speed, Spurs just couldn't carve out a decent goalscoring opportunity.
AVB stood hands on hips on the edge of his technical area for most of the game. In stoppage time he ran down the touchline in desperation to instruct Kyle Walker to launch a long-throw into Arsenal's box. But Spurs came up short, as that cutting edge and creativity that Gareth Bale often delivered late in games last season has vanished.
(MORE: Official; Gareth Bale joins Real Madrid in word record $132 million deal)
Spurs' manager felt his side deserved more from the game.
"The second half was all ours," Villas-Boas said. "Great credit to the players for putting them under pressure, for really pushing Arsenal against their goal. But there were not enough clear-cut chances to get that 1-1. There were some positives there for the determination, the ambition, the ability to come to a place like the Emirates and make Arsenal finish with four full backs on the pitch and three defensive midfielders."
But it just wasn't enough.
That final pass, a telling cross or extravagant link up play on the edge of the box was missing. In the first half Nacer Chadli and Andros Townsend showed promise down the flanks but Arsenal dealt with their crosses quite comfortably and Spurs hardly got in behind the Gunners defense.
But you know what, that's okay. It's to be expected. And there will be plenty more of that in the coming weeks and months as Villas-Boas tries to bed in the seven new signings he acquired after selling Bale to Real Madrid.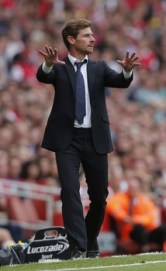 Does AVB worry about bringing in so many new players at once? Arsene Wenger mentioned earlier this weekend that it could take time for so many new faces to gel…
"No, I'm not concerned," Villas-Boas said. "But I do agree with his [Wenger] perspective. But it's not a concern because when you have this quality individually it can only help you achieve things."
However the former FC Porto and Chelsea manager conceded it will take time to work out the kinks which were evident in Tottenham's attacking play.
"It's not a concern but it's something that we have to work on," Villas-Boas added. "It's very difficult with all the stops for international duty, most of our players will go away. But I think it will come through time, through matches and I'm very, very confident because the ability is there from all the players."
In the post-game press conference I specifically asked AVB about the lack of cutting edge in the first few games of the season, as Tottenham have scored just twice in three games, with both goals coming from the penalty spot.
Is there a lack of creativity?
"I think that is a false question," Villas-Boas replied. "I don't think there is a good argument. We came to Arsenal and created lots of chances, obviously there are players that are different from others. There are players that are box-to-box, players that are more creative and have that ability to link up with others."
(MORE: Tottenham's sensational rebuild continues as Lamela, Chiriches arrive with others on the way)
AVB started with Moussa Dembele, Etienne Capoue and Paulinho in central midfield. Three imposing figures who were strong in the air, covered a huge amount of ground yet failed to have any real impact on the game going forward.
Tottenham's 35-year-old manager acknowledged that he must adapt his team as he sees fit. But I can't help but think were going to see a more robust psychical and powerful Spurs side this season.
Surely that results in reduced creativity in the offensive third?
"You saw two very different teams today with Arsenal and Tottenham but in another way you can reach success through different types of players," Villas-Boas said. "So I think we have the ability in our squad. And we have both types of players… we just have to choose the right type of strategy for each game."
One new addition could change Tottenham's attacking outlook, with Danish international Christian Eriksen signing from Ajax on Friday. The 21-year-old midfielder plays in the number 10 role Spurs are actively experimenting with and AVB believes Eriksen could provide the answer.
"Eriksen is a wonderfully creative player," Villas-Boas said. "He is a great solution for our number 10 position. I think Christian brings that flair and creativity that we saw at Ajax for these last few years, great ability to see a pass and a player that is used to playing in a high level in Europe. I am extremely pleased to have him."
Tottenham's rebuild needs a creative figure to help it flourish. Eriksen could be that man. And now that Bale has officially left… someone has to be.