Spurs spent all the money, and Arsenal hadn't parted a dollar, a euro, or a pound. Yet it was the Gunners who proved of higher quality at the Emirates winning 1-0 on an early Olivier Giroud strike.
The match started just how everyone had hoped – open, pacey, and lots of chances.  A pair of early Arsenal free kicks came close, forcing a Hugo Lloris save and sending another just wide.
The ball continued to flow back and forth between each attacking third, and in the 13th minute Roberto Soldado had a great chance in front of net but his close-range shot couldn't find a way around Per Mertesacker.
Giroud was the man to open the scoring in the 23rd minute as he beat Michael Dawson cutting across the box, latched onto a low cross from Theo Walcott, and expertly slotted it home.  It's the third goal of the season for the Frenchman who had previously earned a national team call-up thanks to his great early-season form.
Aaaron Ramsey should have doubled the lead seven minutes later when the ball found his feet with space in the box but his shot came closer to the surface of the moon than it did the back of the net.  The Arsenal counter attack continued to trouble Spurs, as Hugo Lloris had to come out of his goal two minutes later and make a pinpoint tackle on Walcott.  Tomas Rosicky came out of it with a booking for a bad follow-up tackle.
Spurs maintained decent possession in the midfield, but they found it difficult to get forward with creativity. Andros Townsend proved their most threatening asset, but he was unable to find anything of real trouble for Wojceich Szczesny.
The second half looked very much like the first, as Spurs pumped the ball down the right flank with Kyle Walker and Townsend.  Aaron Ramsey remained a force in the midfield for Arsenal, as the Gunners built everything out of the midfield through the 22-year-old.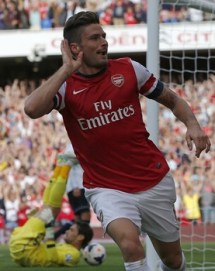 The counter-attack again caused Spurs problems as twice around the 60th minute Santi Cazorla quarterbacked the break with a number of options.  In the 63rd Cazorla picked out Giroud but his bouncing effort flashed just wide in search of a second.  Then in the 70th minute Cazorla found Walcott streaking down the right but Lloris came out strong to pluck the ball from Walcott's feet before he could get a shot off.
Minutes later a battle in the midfield saw the falling body of Cazorla roll up on the ankle and lower leg of Etienne Capoue, who fell in serious pain, and was stretchered off and replaced by Sandro.  Directly after, Spurs came oh so close as the free kick wasn't dealt with and substitute Jermain Defoe blasted a wobbly volley that tested a diving Szczesny. The rebound fell to Kyle Walker who ripped it wide from long range.
Arsenal would have had a second as Nacho Monreal nearly popped in a Lloris rebound with his first touch, but Jan Vertonghen's last-ditch tackle foiled the substitute.  Spurs frantically threw players forward in extra time and pumped the ball on goal, but it just produced one good chance for Walker who whiffed entirely at a shot in space.
On the day, the pace and accuracy of Walcott, Cazorla, and Giroud and the organization of the back four plus Ramsey was just too much for Spurs to try and break through.  A deserved victory for the home team, and the failures on opening day against Aston Villa seem months away.  On to deadline day then, shall we?
Lineups:
Arsenal – Wojciech Szczesny; Per Mertesacker, Laurent Koscielny, Carl Jenkinson, Kieran Gibbs; Tomas Rosicky (Nacho Monreal 79′), Jack Wilshire (Mathieu Flamini, 43′), Aaron Ramsey, Theo Walcott (Bacary Sagna, 90+2′); Santi Cazorla; Olivier Giroud.
Tottenham – Hugo Lloris; Kyle Walker, Danny Rose, Jan Vertonghen, Michael Dawson; Paulinho, Etienne Capoue (Sandro, 74′), Andros Townsend (Erik Lamela, 75′), Mousa Dembele (Jermain Defoe 69′), Nacer Chadli; Roberto Soldado.