1. RESOURCEFUL REDS CLAIM FIRST PLACE
Around the three, one-goal wins is a silver lining, as if a perfect start needed one. If Liverpool supporters are inclined to look at the underlying indicators and question the team's quality despite a nine-point start, they's also be justified in sitting back, marveling at their side's zealous defense of their three leads, and wonder how good their team will be when really start playing well.
Given the level of competition, though, Sunday's performance may have been the Reds' best yet, their 1-0, North West Derby victory over Manchester United giving them nine points through three games. Who would have thought September would come with Liverpool sitting top of the league, looking down on Chelsea, Manchester City, and Arsenal?
Sunday's win was a strange one, though. In a lot of ways, it looked like an underdog applying a time-tested formula to take a surprise result. An early goal off a set piece held up, with the visitors, despite maintaining a meek control, never breaking through. Had Daniel Sturridge not converted that fourth minute corner, Liverpool may have employed their usual, possession-sensitive approach. And instead a game that looked like Monday's meeting between the Red Devils and Chelsea, the match could have played out like Manchester United's opener: A 4-1 win at Swansea.
But Sunday's wasn't merely a win of fortunate. There was more to it then the timing of Sturridge's goal. Outshooting their guests (both in overall shots and shots on goal), Liverpool thrived in the part. That it's a role Brendan Rodgers' teams typically avoid is more a curiosity than point of concern.
That curiosity leave us wondering: How good is Liverpool? At the beginning of the season, they were supposed to be the Europa League-quality team that could take advantage, should a couple of Champions League teams slip. And while we've yet to see any real reason to redress those expectations, a perfect start and a win over their North West rivals could embolden Rodgers' squad. A little confidence and a different self-image may be all Liverpool need to compete for fourth place.
2. HUGE WIN, BUT ARSENAL STILL NEED HUGE BUYS
That's four in a row for Arsenal, who've seen wins over Fenerbahçe, Fulham, Fenerbahçe (again) and Tottenham cast their opening day loss to Aston Villa as a distant memory. After dominating performances against the Turks and Cottagers, crisis as a reflex seems even more absurd, while a North London Derby win over the team they'll fight for fourth obliges us to doubt whether they'll lose their Champions League spot.
Let's keep some perspective, though. Just as Liverpool's performance over United was more effective than convincing, Arsenal's was an obligatory, 1-0, home win over a rival. Anything less would have been a disappointment. Though they were the better side on Sunday, Arsenal's performance wasn't strong enough to rebuke the notion that Spurs might still be a better side. Neutral site (or, at White Hart Lane), with Erik Lamela and Christian Eriksen fully available, or with merely improved performances by today's starters, Tottenham may well prove the better teams. There's only so convincing a 1-0 can be.
That's why Arsenal needs to buy tomorrow. Their fans know it. They manager knows it. Arsenal not only needs to buy, but they need a couple of significant purchases to regain an advantage on Spurs. They need a Mesut Özil-type player.
Unfortunately, they probably need him at another position. It's hard to turn down a talent like Özil, but Arsenal would be better served putting that money into defense, or deep midfield, or goal. Özil may be a £40 million player, but he's not a £40 million improvement.
Come Monday, look at what else Arsène Wenger does in the transfer market. The Gunners could use Özil, as the signing would go a long way to restoring confidence in the club, but the team needs more than one arrival to fully address doubts.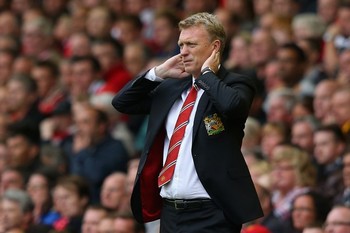 3. SPURS, UNITED CAN'T BRUSH OFF DEFEAT
Just because Liverpool and Arsenal's wins weren't decisive doesn't give their opponents a pass. If anything, we should wonder by things were so easy for the home sides. For both Tottenham and Manchester United, the season's first three weeks have revealed some concerning qualities – deficiencies that need to be addressed if they're to meet expectations.
Spurs' problem is obvious. They haven't scored an open play goal all season. Both of their goals have been from the spot, and the one game they failed to draw a penalty kick, they lost. The addition of Lamela should help, giving André Villas-Boas a player who can score even when the plan's not working, but eventually, that plan has to start producing chances. Right now, they're looking like last year's Liverpool. Sans Luis Suárez.
For United, losing at Anfield shouldn't sound any alarms, but the team's lack of urgency over their last two games is confusing. Why didn't we see the typical Red Devil intensity when they were chasing a winner against Chelsea? Where was that renown resolve in the face of an early deficit at Anfield? What's happening to Manchester United?
You could put those concerns other ways, talk about them in tactical terms, and question why David Moyes isn't making the necessary adjustments to prevent these clean sheets. Regardless, something is missing, and although the team is clearly good, they're not playing like a team that's carried over almost their full squad from a title campaign.
4. EVERTON NEED TO, WILL SCORE GOALS
Don't worry about Everton. Feel bad for them. Through three games, the Toffees have three draws, and after being shutout at Cardiff on Saturday, Roberto Martínez's new team has gone 205 minutes without scoring a goal. It's not the most accurate reflection of their quality.
If that streak was merely opponents defending out of their minds, you could write it off, but Everton's held decisive possession advantages in each game: 67, 62, 63 percent. Those are types of numbers that should yield more goals, yet through three rounds, Everton's been unable to convert control into chances.
Arouna Koné might be the answer, the former Wigan man brought in this summer as an alternative to Nikola Jelavic up top. Getting Marouane Fellaini closer to goal could help, too, with the big Belgian providing a direct route. Regardless, Everton's share of the ball and their 17 shots on goal hint they'll eventually pick it up. How many points they drop before doing so remained to be seen.
5. HUGHESY OFF TO STRONG START AT STOKE
Last week's home win over Crystal Palace was mandatory. Saturday's game at Upton Park was a litmus test. For a Potter team conscious of playing a more attractive brand of soccer, going up against the Premier League's resident pragmatist, Sam Allardyce, provide an interesting contrast. Can Mark Hughes get Stoke to out-football West Ham?
He did. The Potters held 55 percent of the ball, generated more shots and shots on goal, and completed 440 passes to West Ham's 359. The one place where West Ham did hold a passing edge? Long balls: 59 to 56. Even if Stoke aren't exactly Barcelona north, they're not exactly West Ham, either. They're moving on
It should be noted: Stoke won the game. These things are important, too. It took 82 minutes, and it took a free kick, but thanks to Jermaine Pennant — a player who was eventually phased out by Tony Pulis after being brought in to change Stoke's approach — Hughes snagged his second win of the season, leaving Stoke fifth after three rounds.
6. COMMENCE CONCERN WEST BROM, SUNDERLAND
Speaking of litmus tests …
Sunderland has to be concerned, perhaps gravely so after losing 3-1 at Crystal Palace. The Eagles were generally picked to finish last this season, and while preseason prognostications are often wrong, nobody wants their team playing a part in dispelling them. With John O'Shea getting sent off and Palace's deciding goals coming with Sunderland down a man, there are excuses to be had after Saturday's result, but between that dismissal, Fulham's smash-and-grab on opening day, and Jose Fonte's late equalizer at St. Marys, the Black Cats have shown a talent for dropping points.
West Brom also have their excuses, with Nikola Anelka having just rejoined a team that still hasn't replaced Romelu Lukaku. Still, every team has their hardships, yet only one's have put them at the bottom of the league.
It's a spot the Baggies should have avoided on Saturday against Swansea, Michael Laudrup's team 0-0-2 entering the match. Instead, Swans posted a dominant 2-0 result. West Brom appear to be worse than most expected.