With less than 48 hours remaining in the transfer window things are getting very very edgy as teams look to make cut-rate bids, fill last-minute holes, and do their best to throw off the opposition.
It appears that Manchester City have all but completed a move for Atletico Madrid defender Martin Demichelis who Sky Sports is reporting will have a medical today to complete the move.  The Argentinian international is mostly a stop-gap purchase, with Vincent Kompany out for a number of weeks and young central defender Majita Nastasic only just having returned from a hamstring injury. Even without the injuries, the 32-year-old also provides a veteran replacement for Kolo Toure who left for Liverpool this window. The transfer is a bit of an unusual one, with the former Bayern Munich man having just signed on a free transfer from Malaga to Atletico earlier in July.
Lyon president Jean-Michel Aulas has shot down rumors that many teams – most notably Newcastle – were heavily interested in his striker Bafetembi Gomis.  On Twitter last night he proclaimed, "We have to face facts, there isn't an offer that Bafe has accepted despite (interest from) the 'English' and the 'Turks' and Lyon need a player like him."
https://twitter.com/JM_Aulas/status/373984051704893440/
Gomis is on the last year of his contract, and could still be persuaded by a last-minute bid, but the fact no one has made a definitive move yet means there is very little time to complete any desired switch.
Schalke attacker Julian Draxler has made some surprising comments regarding speculation that he could be the target of a last-ditch Arsenal move, refusing to rule out a move like he has all summer.  The 19-year-old wonderkid has oftem been the target of rumors, but after signing a contract extension in May, he's maintained his loyalty to his boyhood club.  Now, he told the media he could very well leave.  "I don't mind people speculating" said Draxler. "If the club wants to sell me, I will not say 'no I want to stay here'. We will see if anything extraordinary happens on Monday." Yes, we will Julian.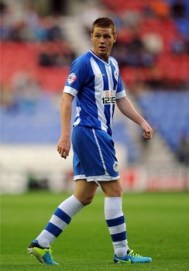 As the Leighton Baines and Marouane Fellaini rumors continue to fly about their possible exit from Goodison Park to join up with David Moyes at Manchester United, the media have switched their attention to Roberto Martinez's efforts to replace them.  It appears they have been linked with Wigan's James McCarthy (pictured to the left), with Martinez set to bring the midfielder back to the Premier League following relegation last season.  Wigan manager Owen Coyle did confirm Everton have made an inquiry about McCarthy, but no bids have been filed yet. "I am never evasive as you know" said Coyle."Roberto [Martinez] spoke to the Chairman the other night. They have a fantastic relationship anyway and they probably speak every other week regarding a number of things."
It's not a rumor anymore, but Chelsea have confirmed the signing of 21-year-old Christian Atsu from Porto. The Ghanan international becomes yet another winger/attacker that Jose Mourinho has bagged this window, although this one looks to be probably one for the future rather than this season, as Chelsea immediately sent him on loan to Vitesse Arnham.  The youngster made his full-season debut for Porto last season after being named their youth team's Player of the Season in the 2010/2011 year.
Reports are placing wantaway Tottenham striker Jermain Defoe at St. James Park in Newcastle after he will apparently spurn advances from West Ham.  Defoe is hoping Alan Pardew makes a move after deciding that's where he'd like to ply his trade.  It's likely Pardew would be interested, after the aforementioned stay planned by Bafetembi Gomis at Lyon, and given Newcastle's desperate need for a striker.
Reports in Spain are placing Athletic Bilbao midfielder Ander Herrera at Old Trafford, after local papers are claiming David Moyes is ready to meet his €30 million ($40 million) release clause.  The 24-year-old was not selected by manager Ernesto Valverde, although the boss declined reports that Herrera had refused to play.  The Spanish midfielder's father was quoted in Spanish media outlet Mundo Depotivo as claiming his son is happy at Bilbao. "Ander is getting on very well at Athletic, very content" said Pedro Herrera. "He's fought hard to come to this club and it's very difficult for him to leave. I think it's Manchester United's decision, since they have not found a replacement for Cesc Fabregas. They've decided to opt for a creative player and have thought about Ander." Replace Cesc Fabregas? Interesting comments…
Finally, Fulham have been linked with 25-year-old defender Michael Mancienne of Hamburg.  Mancienne is formerly of Chelsea for a quick cup of tea before spending a long loan spell at Wolverhampton and finally his permanent move to Germany.  With the futures of both John Arne Riise and Philippe Senderos in question, Martin Jol is keen to bring on at least one new defender to the squad.  Mancienne is mainly a central defender, but can also play on the right, which would be helpful considering the Whites have zero cover for Sascha Riether at that position.  Additionally, if Riise were to leave, it would leave the left-back position thin with just young Matthew Briggs and oft-injured Kieran Richardson to man the left flank.