LONDON — Coming on for Jack Wilshere in the 43rd minute, Mathieu Flamini's second spell at Arsenal started in the exact manner you would've expected.
Crunching tackles, grit, determination and a hard-fought win in the North London derby was the perfect stage to show off what Flamini does best.
The destroyer is back and boy, Arsenal have missed him.
Returning this week on a free transfer after five-years at AC Milan, Flamini has been missed by Arsenal ever since he left in 2008. He may not be the most skillful or talented player in the world but he does all of the dirty things that keep the Gunners ticking over. He presses, tackles, organizes, harasses the opposition and leads by example.
(MORE: Arsenal 1-0 Spurs; Giroud's goals continue as Gunners grind out win)
Many people questioned Arsenal manger Arsene Wenger for bringing back 29-year-old Flamini on a free, as fans and pundits continued to scoff at the Gunners lack of transfer of activity. But adding the experienced Frenchman could be a masterstroke after his display against Spurs.
"I said it was a no-brainer. I'm just sorry that it didn't cost $35 million," Wenger joked. "His overall performance on the pitch was exceptional, he hasn't played since May but overall his performance was very convincing."
As Arsenal and Tottenham's players walked off the pitch at half time on Sunday, Flamini remained. He had only just come on as a substitute for Wilshere two minutes before the break and was ready to roll. So, as the sprinklers swung their vapor across the immaculate Emirates pitch, Flamini stayed out on his own to perform shuttle runs and get a touch on the ball.
His commitment to the cause was there for everyone to see and it's something that's been sorely missed by Arsenal.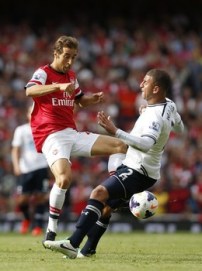 In the 54th minute Flamini went flying into a tackle with Danny Rose midway through his own half and was rightly booked for an extremely rash challenge. The sight of a yellow card for the combative Frenchman was greeted with applause by the home fans.
They've missed that.
That nasty streak Arsenal was famed for during Wenger's most successful years in charge has vanished over the last five or six seasons. Visions of Martin Keown shoulder-barging into a striker, Patrick Vieira clattering into a tackle and Ashely Cole getting in the oppositions faces are a distant memory.
(MORE: Arsene Wenger aims big; "We need one or two super players")
But Flamini's second half performance against Spurs was a reminder of Arsenal's wild side. And make no mistake about it, his presence after the break was pivotal as Arsenal's spirit pushed them on to claim all three points. Flamini was screaming at left back Kieran Gibbs as stoppage time ticked away. He talked, he chased, he led from the front like a warrior in the midst of battle.
After the match Wenger spoke about that togetherness and claimed he always knew it was there.
"I was one of the few that never doubted that," Wenger said. "This team has lost one game since March in all competitions. You don't do that with an average spirit."
And with Flamini's return you have to think the spirit will only improve and the famous chant "1-0 to the Arsenal", which rang out across English stadiums throughout the 1990's, could also be returning. Wenger was delighted with his sides new desire and defensive nous as they beat their North London rivals.
"We showed aspects in our game that aren't use to see from us," Wenger said. "That means commitment, desire, defending. And overall their 'keeper was their best player, so that shows we had the chances to win comfortably today."
The last time Flamini wore an Arsenal shirt they lost out on the league title by four points in the 2007-08 season, the year before they narrowly lost in the Champions League final to Barcelona. And although Flamini's first spell with the Gunners wasn't exactly trophy laden, just one FA Cup and a Community Shield to show for his efforts, the French midfielder brings a certain je ne sais quoi that has been lacking in Arsenal's engine room for some time.
Is Flamini the magic ingredient to success?
Earlier this week he returned to the Emirates, signing a three-year deal after turning down AC Milan's offer of a new contract, his motivation was that he had 'unfinished business' in North London. He certainly played like that on Sunday afternoon.
"The story with Arsenal is not finished… I have unfinished business," Flamini said. "I am happy to be back and I have come to fight and win titles."
And Flamini's style separates him from the rest of Arsenal's midfielders as Jack Wilshere, Mikel Arteta and Aaron Ramsey are all ball-playing midfielders who can get stuck in when need be, but that tough-tackling approach doesn't define them.
(MORE: Olivier Giroud the hero again… Do Arsenal need a new striker?)
Flamini is purely a no-nonsense midfielder. His job is to win the ball and give it to others to create. That is what Arsenal need this season as they aim to not just make the top four, but win the title.
"What Arsene made clear with me is that we are fighting for the title," Flamini said. "Not fourth place and qualification for the Champions League. This is a big club with big ambitions for the title."
A statement of intent from the new man who will put his body on the line, week in, week out, to try and deliver the Gunners first trophy since 2005. We've talked about his penchant for tackling above all else but Flamini can still stroke the ball around midfield with great accuracy. The former Marseille man had a pass accuracy rate of 85 percent during his 102 games with Gunners before he packed his bags for the San Siro in 2008. But his appetite for destruction is what should excite Arsenal fans.
Many would argue that Arsenal have missed having a true midfield terrier, someone who isn't focused on playing attractive soccer and wowing the crowds. Flamini plays to win and at his destructive best, the Frenchman is perhaps the missing cog in Arsene Wenger's flamboyant attacking mechanism.