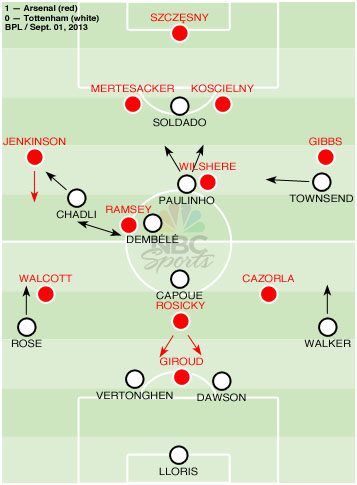 Having scored just twice in three Premier League matches, both on penalty kicks, Tottenham Hotspur's quest for attacking inspiration continues. A 1-0 loss at Arsenal on Sunday magnified those troubles.
Especially considering the massive amount of money Spurs spent in the transfer market, the poor talent-to-attack conversion rate has received a lot of recent attention.
André Villas-Boas played the same 4-1-4-1 formation in each of the side's first three matches, with Étienne Capoue sitting behind Nacer Chadli, Moussa Dembélé, Paulinho and Andros Townsend in midfield.
Outside backs Danny Rose and Kyle Walker overlap on every attack, and Roberto Soldado roams the front line alone. Spurs does not often lump balls into the box, instead preferring to probe for a way through on the floor, remaining patient as defenses bunker in front of their own goal.
On Saturday, Tottenham gave the impression of a team still finding its attacking chemistry. Its patterns of play belied a lack of ideas going forward; it was slow to change the point of attack and resorted to long shots from outside the penalty area when build-ups stalled.
Multiple patterns, similar results
Starting from the back, goalkeeper Hugo Lloris looks to play short and keep possession. He completed six of his seven instances of distribution from hands and goal kicks, most often playing center back Michael Dawson.
In the back half, Tottenham tries to get Capoue on the ball as quickly as possible, and he rarely strays from the spot between Spurs' defenders and the opposition's midfield line.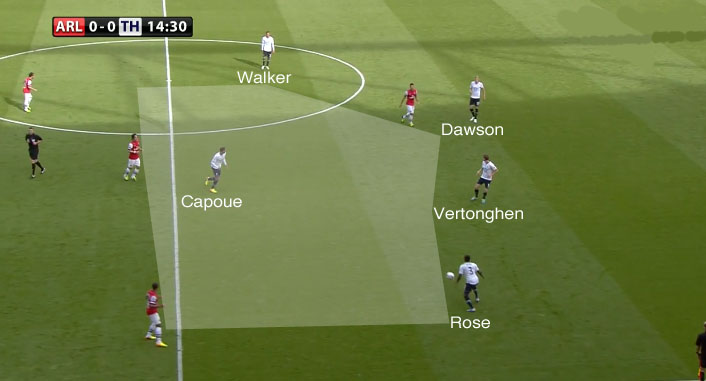 His responsibility is to sweep up in front of the back line and distribute short, forward passes to continue the build-up. At times, either Paulinho or Dembélé check into that space, and Capoue vacates it momentarily, but he hardly advances as the ball does.
As the ball moves up the field, the outside backs overlap. Spurs attacks with seven players, both wide midfielders pinching in and one central player advancing next to Soldado.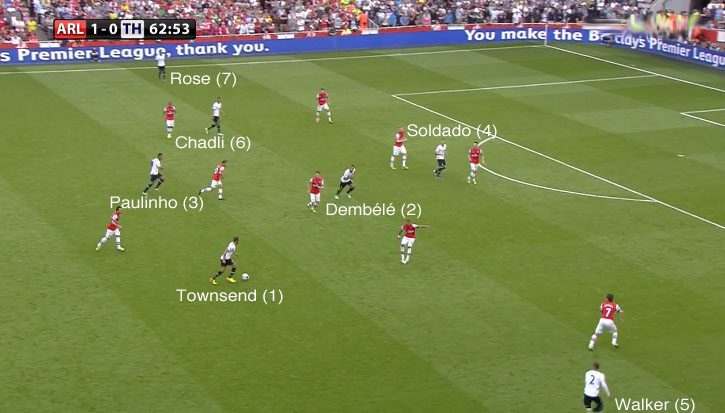 Another reason for Capoue's conservative positioning is Rose and Walker's instruction to get forward, often both at the same time. That leaves center backs Dawson and Jan Vertonghen alone in the back, and Capoue is there to fill in with them as necessary.
Getting numbers around the ball in attack means the opponent must collapse to defend, so having three players in the back to delay counter-attacks should be enough to allow recovery. This shot is from the same build-up as above, but after Spurs loses the ball and Arsenal springs a counter: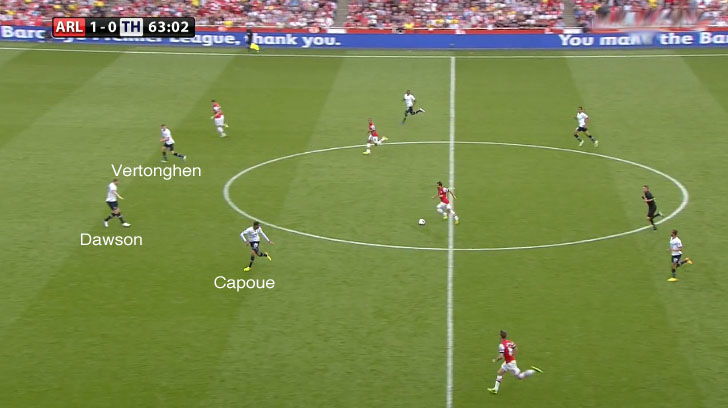 Lloris supports the defense with his quick reading of the game and his ability to corral through balls.
Tottenham preferred three approaches to attack against Arsenal: trying to find Soldado as quickly as possible and hoping he could hold defenders off and combine; working the ball wide to look for combinations or individual play to the endline for a cutback; or playing through the central midfielders, who tried to turn and run at players.
Soldado had a rough day in hold-up play, as he was often all alone in attack when Spurs eschewed the short approach for long balls. He received 21 passes, but just three were inside the penalty area, two of which resulted in shots. His higher success rate comes when finding those cutback crosses, not chasing balls over the top or playing with his back to goal.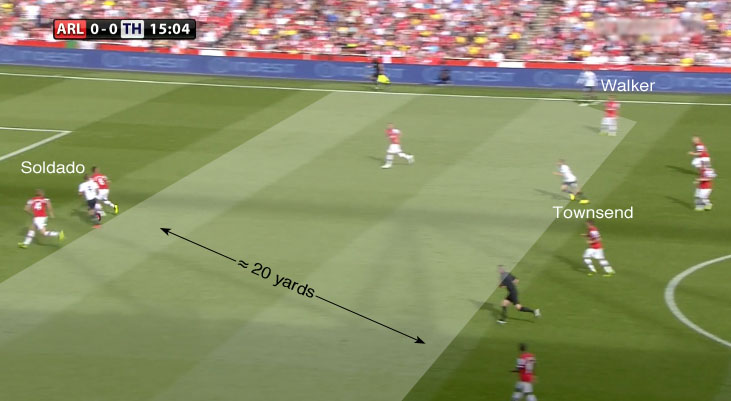 In a few moments, Spurs pressed Arsenal high up the field and won the ball close to goal. Tottenham's outside backs played pivotal roles in holding Arsenal deep, stepping up to support the wingers as they forced play toward the middle.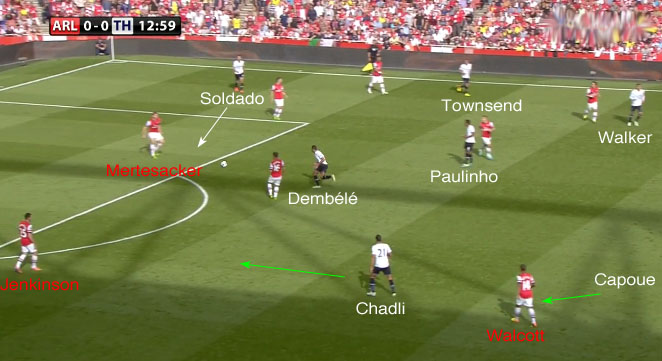 Soldado, having just recovered from taking a tackle in the corner, is out of position on this play, allowing Per Mertesacker to play the ball wide, but Walker cuts it out because of his advanced position: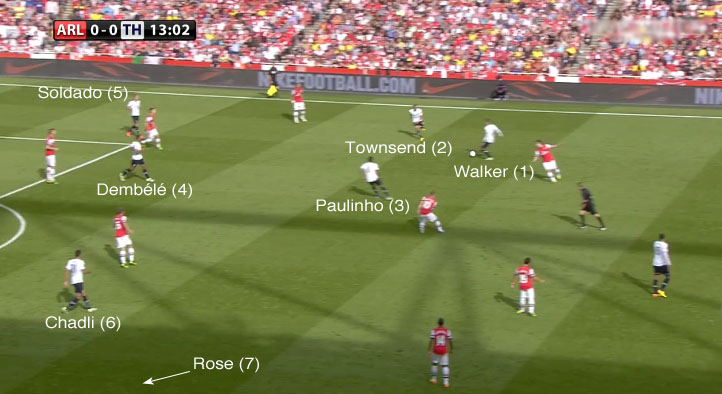 The outside backs' higher starting positions also allowed them to combine with Townsend and Chadli, trying to isolate Arsenal's defenders in the channels. Rose played 16 passes to Chadli on the left, and Walker played 13 to Townsend on the right, both of which were the defenders' most targeted players.
Townsend offered Spurs its most dangerous attacking option, mostly attempting to penetrate with the ball at his foot and cut onto his preferred left foot from the right wing. He successfully completed six of nine dribbles.
Despite Spurs' desire to get the wide players involved, it didn't have a good rate on crosses on Sunday. In the first 80 minutes, before Tottenham tried to get everything into the box as quickly as possible, just one of its 19 crosses reached its target, resulting in a shot from Soldado on a cutback.
New blood, new possibilities
Villas-Boas refused to panic after the match, even though the middle of Tottenham's field was somewhat of a desert, devoid of playmaking ability.
"It's not a concern because when you have this quality individually, it can only help you achieve things," he said, likely referring to newcomers such as Christian Eriksen and Erik Lamela. "Eriksen is a wonderfully creative player. He is a great solution for our No. 10 position. I think Christian brings that flair and creativity that we saw at Ajax for these last few years."
Lamela showed promise on the right wing when he made his debut, making a quick case for inclusion in the starting lineup. Townsend could play on the left, on the same side as his strong foot.
As for Capoue's injury, which could leave him out for at least a month, Romanian Vlad Chiricheș would fit well in central midfield, although he would attack more often than Capoue. Chiricheș is an attack-minded center back who finds himself on top of the opponent's penalty area as often as his own.
No matter the combination of players, Spurs needs to start creating opportunities and scoring goals from the run of play. With the structure in place and the right players on the squad, results should not be far behind, even if the early stages of the season have been relatively fruitless.