If David Moyes wasn't so respected, people would be talking about his team's last two performances.  After 11 years at Goodison, though, Moyes had earned most people's benefit of the doubt. Others may have been assuaged by his role as Alex Ferguson's hand-picked successor. Regardless, Moyes had enough cachet to defuse debate. Only a handful of people wondered aloud whether Ferguson would have found a way to get full points last Monday or if Manchester United would have been held at arm's length at Anfield were Ferguson still coaching.
But United's first three games, as a whole, have been underwhelming, particularly considering only Paul Scholes is absent from the squad that won last year's Premier League. The opening night victory at Swansea was impressive in totality, questionable in parts, but followup performances against Chelsea and Liverpool were uninspiring. If it wasn't for what now seems like a honeymoon period, people would be openly debating whether the conservative tendencies that served Moyes so well at Everton have already cost him points at Manchester United.
It's not exactly a fireable offense. Far from it. Throughout the corse of a season, most managers make decisions that cost their teams points. The best eventually make up for it with their good calls. Regardless, we discuss those performances, particularly when the manager in questions is running the most famous club in England. And while there have been some critiques of Moyes's first three games, they've been meek. If he hasn't gotten an outright pass, he's at least received the benefit of the doubt.
That's the context for Monday's debacle. Given how disappointed Manchester United fans will be, it's difficult to see that benefit of the doubt lasting, even if Ed Woodward (United's executive vice chairman) deserves some of the blame. In the face of the Ander Herrera embarrassment, the inability to get Fabio Coentrao's paperwork sorted out, having to pay over Marouane Fellaini's original buyout, as well as the failed fixations on Cesc Fábregas and Leighton Baines, United's transfer window reads like a list of failures neophyte management would make at their first clubs. It's certainly not the type window fans are used to.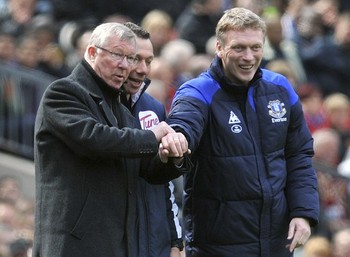 Manchester United, at a minimum, is well-run. They're usually decisive. They're usually effective. When they decide to do something, it usually gets done. Question their years without buying a midfielder, wonder why they paid too much for Dimitar Berbatov, or what they're doing buying players like Bebe. Their judgment wasn't always impeccable, but under Ferguson and David Gill, they were able to do what they wanted.
Sometimes it was unfair, almost to the point of being ruthless. The price they paid for Robin van Persie was so cheap opposing teams' fans complained the system was biased. When they sold Cristiano Ronaldo, they got 41.3 percent more than the previous world transfer record – a huge, almost inexplicable leap. They even got under Daniel Levy's skin in the Berbatov deal, frustrating the Spurs chairman with a last-minute (albeit expensive) swoop. Add in their 13 titles in 21 seasons, and at least within the British Isles, United tends to get what they want.
Now, in their first transfer window without Gill and Ferguson, that's all changed. Now the club's negotiating with phantom agents in Spain. They're getting played by Bill Kenwright. They spend most of the summer drooling over a midfielder who's only two years into his tenure at his hometown club, and given the chance to get a Portuguese international who wants away from Real Madrid, they're undone by administrative errors. Though United eventually landed Fellaini, Woodward and Moyes's first window is destined to be defined by their failures.
This is not what United fans are used to. They're not used to seeing Arsenal land Mesut Ozil and Spurs spend around $150 million while they're left frustrated. They're not used to being out-foxed by Everton or being undone or seeing the type of paperwork errors that befall clubs embarrass their team. That these are new management's first major decisions leaves fans right to wonder whether the last three weeks are the aberration or the rule.
The razor-thin silver lining to this mess: Manchester United's last two, tepid results are now an afterthought. But when the team returns to the field on Sept. 14, the honeymoon will be over. The frustration, embarrassment, and lack of confidence emanating from Monday's failures mean the benefit of the doubt is gone. On field performance and off field decisions are entirely different things, but with United fans thrown into a new, unfamiliar state of doubt, they won't give their new manager pass. Not anymore.
Between fake agents, paper work problems, and being forced to pay above a player's buyout, Manchester United had one of the most memorable deadline days of all time. Don't expect Red Devils' fans to forget it any time soon.