After Manchester City's owners stumped up the cash to by Major League Soccer's 20th franchise, New York City FC who will debut in 2015, plenty of City's players have been linked with a move to MLS.
First there was Gareth Barry, then left back Gael Clichy and now attacker Samir Nasri has professed his desire to one day play for NYC FC.
In an interview with French newspaper L'Equipe, Nasri said a move to MLS or his hometown club Olympique de Marseille are his favored options in the future.
"Clearly, economic reality stops me from thinking about playing at OM right now," Nasri said. "In the future, I don't know yet. I would like to discover the MLS. I love American culture."
(MORE: Report, Manchester City to offer Gareth Barry spot with New York City FC)
Nasri, 26, certainly shone Stateside during Manchester City's friendlies with Chelsea in St. Louis and New York City. The Frenchman scored twice as City beat Chelsea 5-3 at Yankee Stadium and that City could be his new home. But after starting his career with OM and dazzling the fans before moving to Arsenal, Nasri believes a move back to French soccer is an option.
"Why not in a few years? I've seen the Stade Velodrome half-finished," Nasri said. "When the work's done, I feel sorry for opposing teams."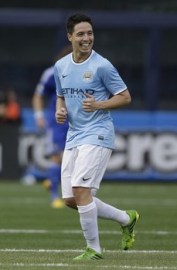 So, should we take this 'Nasri to MLS' talk with a pinch of salt or cautious optimism? Nowadays when journalists roll up to Eithad and ask any City players about the future, New York City FC slips its way into conversation. And Nasri's current situation with the Citizens under new boss Manuel Pellegrini will keep speculation about his future rife for a while.
(MORE: Maybe there IS something in Manchester City defender Gael Clichy moving to Major League Soccer)
The French international midfielder has been left on the bench for all three of City's Premier League game so far but believes he is still in the immediate plans as his side aim for success on the domestic and European stage this season. Nasri scored against Newcastle in the season opener and has done well when coming off the bench so far this campaign.
"I had a talk with Manuel Pellegrini. We'll see what happens," Nasri said. "He came to me the first day and told me that he was counting on me, that I would be an important player, that I was going to play. We'll see — I'm not worrying about it. If I'm good, the coach will play me."
The link to MLS will come directly from Nasri being a City player but the fact he stated that he would like to discover the league and loves the American way of life is quite telling. This reminds me of how Thierry Henry spoke and acted as a potential deal with the New York Red Bulls was being arranged. We know the Red Bulls captain loves the Manhattan lifestyle and American culture, could another French DP be heading to the Big Apple?
Nasri may well become the star man for New York City FC when they arrive in MLS two seasons from now but that's so far down the line. Two weeks is a long time in soccer, let alone two years. But conveniently that is exactly when Nasri's current deal runs out with City and by that time he will be approaching 29. In the meantime the enigmatic winger could wrap up a few more titles in the Premier League and Europe and his soccer future seems to be a two-horse race between Marseille and MLS.
No rush. But Nasri in Major League Soccer would be an incredible buy for any club. But let's assume that New York City FC will get first dibs. It's only fair…