Sydney Leroux stole the show Tuesday, but if there was ever a ho-hum four-goal performance, this was it. That's not to say Leroux, trying ardently to make her case to start for the U.S. Women's National Team, doesn't deserve credit. She certainly does, though with a header into an open goal, a tap in of Lauren Holiday's work, a left-footed jab Mexico's Cecilia Santiago should have stopped, and a nice set piece header, Leroux's performance was more opportunism than dominance. The tyranny of goals (how they overshadowed the details) ruled the headlines after the U.S.'s 7-0 win on Tuesday, though in that way, Leroux's night was a metaphor for her entire team's performance.
The U.S. weren't at their best. Who would have expected them to be, with most of the team having just completed their teams' NWSL seasons? In a friendly scheduled three days after the North American women's league's final game, the team looked capable, controlling, but far from their best. Some nice second half spells of possession were the exception in a game defined by the pure disparity in talent.
Despite getting zero minutes from Alex Morgan, Megan Rapinoe, Tobin Heath, Christen Press, and Ali Krieger (with only Morgan even in camp), the U.S. were still light years ahead of their competition. And that's the case almost anytime they play in CONCACAF. Though it wasn't so long ago the U.S. were actually losing to Mexico (as they did in qualifying for the 2011 World Cup), most competition in this part of the world proves a step down from a spirited intrasquad scrimmage. It's too bad "USA 1 vs. USA 2" wouldn't sell as many tickets as "USA vs. Mexico," because it would be a better test.
The final score line looked good, and the team hit the 90th minute at their typical CONCACAF canter, but ultimately, we learned almost nothing from the match. That Sydney Leroux can pour in goals against regional competition is a well-established fact. Abby Wambach, Carli Lloyd, Heather O'Reilly, and Christie Rampone still perform at their same elite levels. We knew this. The performance from Mexico was so meek, we didn't get a chance to learn anything about Erika Tymrak's international-readiness, the "Kristie Mewis Left Back Project," Leigh Ann Robinson, Crystal Dunn, or Becky Sauerbrunn's viability in defense, or Hope Solo's current quality. And because of the way the U.S. played, we didn't get to judge Lauren Holiday's ability to translate her Kansas City creativity to the international stage. Mexico just didn't offer enough resistance.
That, unfortunately, is life in CONCACAF. There's nothing the U.S. can do to change it, besides be more willing to meet stronger teams on their own turf (which, to their credit, they've done multiple times this year). For now, the toughest competition Tom Sermanni will find is within his own player pool, one so talented that the second-best XI in CONCACAF may also be under U.S. Soccer's umbrella.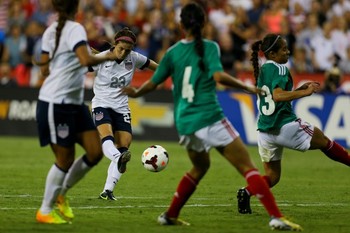 That's why it's been so important that Sermanni's expanded the player pool, brought in players like Erika Tymrak (left) or Christen Press, and recalled players like Yael Averbuch. It's something that Pia Sundhage did at the beginning of her tenure, though she ultimately settled on a squad that, while good, lost its edge internally. By the time Sermanni was appointed, you didn't have to go far to find a player who was looking for a new challenge, if not the outright chance to shake up what'd become a very stoic pecking order.
At almost every position in the team, there's competition right now. Even Christie Rampone, the team's 38-year-old captain (coming off a strong season in the NWSL) isn't guaranteed her place. The team has four elite strikers, three world-class wide players, four defenders fighting for spots in the middle, and new, developing options at fullback. Beyond the assumption a healthy Hope Solo's unlikely to lose her spot, central midfield is the only place where there seems to be little competition, though even there Sermanni's brought in names to challenge Lloyd and Holiday. Nobody expects Averbuch or Morgan Brian to win spots, but Sermanni's clearly trying to lengthen the depth chart.
That competition's not something we're going to see in a friendly like Tuesday's. All many observers will see is the lopsided score, the four-goal game, and assume everything is business-as-usual. But it's not. In truth, the team looked like they'd just come off a long season, and that's okay. And although there wasn't much competition on the pitch, the emerging, internal competition will help this team meet its new challenges.