There's a really good chance you don't know who Lori Chalupny is. Most of you don't follow women's soccer. Those that do may have come to the sport recently. If you fall into either of those groups, her name won't ring a bell.
But Lori Chalupny isn't just another women's soccer player toiling in professional anonymity. She shouldn't be anonymous at all. At 29 years old, she's appeared for her country 92 times, at one time wearing the armband for a spell with the United States. A midfielder, she's scored eight times, won an Olympic gold medal, and was a national title-winner during her days at North Carolina. Called one of the top five players in the NWSL by her club coach, Chalupny is among the most well-respected players in her league, a stature that allowed her to finish third in this season's Most Valuable Player voting.
Chalupny's anonymity to all but hardcore women's soccer fans is owed to her status with U.S. Soccer, a status Charles Boehm at Soccerwire.com labels a "purgatory." Cleared by four different clubs to play professionally after concussion issues dogged her from 2006 to 2008, Chalupny has not appeared for the United States since 2009. And despite the U.S.'s lack of depth in central midfield — despite her status as one of the best players in a league almost all of her would-be teammates play in — she's unlikely to make another appearance any time soon.
From Boehm's story, Chalupny's words on her status as well as the medical opinion of U.S. Soccer's Dr. Ruben Echemendia:
"Nothing's really changed at this point. I guess their neurologist that they use doesn't – won't – clear me to play …

According to Chalupny, Echemendia hasn't even seen her firsthand to ascertain her current status.

"No, he's never actually seen me," she said. "I went and saw two of the top neurologists in the country, Dr. [Robert] Cantu and Dr. [Michael] Collins, the guys that Sydney Crosby [the National Hockey League star who has grappled with his own concussion problems] and the top-level athletes see, and they've all cleared me.

"It's just a matter of this one neurologist, and he's entitled to his opinion. But I guess until that changes, my status won't change."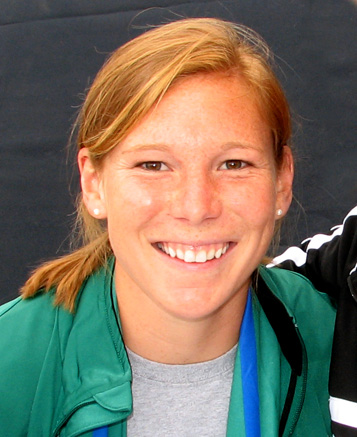 That is incredible. Four teams and two specialists have signed off on Chalupny's health. The men who worked with hockey's most famous player think she's good to go. Yet one man who has never physically examined Chalupny continues to keep her from playing for her national team?
If that's the case, that's inexplicable. Why is Echemendia's opinion held up above the other specialists? Why isn't there an avenue to appeal? A way to seek a second opinion or be evaluated by a panel who can augment Echemendia's opinion?
Perhaps there were second opinions. U.S. Soccer alludes to specialists (plural) when discussing Chalupny's situation. Still the broad question remains: Why is a player's career being held up by a process that leaves so many unanswered questions?
This is a health issue, so we're not going to hear much from U.S. Soccer on this. To them, the player's privacy must be observed, an unfortunate pickle since the player is under no such limitation.
Here's all U.S. Soccer had to say to Boehm:
"She has not been cleared to play for the National Team … As for the league [NWSL], it is a separate entity from U.S. Soccer. A few years ago when Chalupny was being considered for the National Team she was not medically cleared to play by U.S. Soccer after broad consultation with U.S. Soccer medical consultants.

"Our stance has not changed."
Neither has ours. Through our season-long NWSL coverage, many discussions of Chalupny were laced with regret that she wasn't being considered for her national team. Boehm's reporting provides some more details, but the tensions remain.
On one side, we have one of the U.S.'s best midfielders, somebody who would compete for a starting spot on almost any team in the world. On the other side, you have an organization not at liberty to discuss a medical evaluation that flies in the face of a clean bill of health, with the player now going four years without reoccurrence.
It's one of the saddest, most confusing stories on the U.S. Soccer landscape, leaving her final words on the situation enough to prompt a tear:
"I don't know," said Chalupny when asked if she saw any potential for resolution in the near future …

"But I would love to play on the team again. It's such an honor. But it's out of my hands, I guess."