Mesut Ozil has revealed that he chose Arsenal for their style of play and is confident the club will win trophies.
Speaking with Arsenal's official website in his first interview as a Gunner, Ozil addressed why he chose to sign with the North London side. "I chose Arsenal because they are one of the top clubs in England," Ozil said. "The coach is a world-class manager – he's demonstrated that for years. A lot of players have developed under his guidance in the past and that's why I decided to join Arsenal."
Ozil also noted his admiration for Arsenal's slick passing, free flowing style of football. "I want to improve myself further and I'm looking forward to the style of play. Arsenal are well known for the strength of their technical game and their desire to play attacking football. I think I will fit perfectly into that."
The general consensus is that Ozil will play as the central attacking midfielder in Arsenal's 4-2-3-1 scheme. That means Tomas Rosicky, who has performed admirably in that role during the opening of the season, will likely be dropped to the bench. Flanking Ozil on the left will be Santi Cazorla and on the right, Theo Walcott, with Jack Wilshere and Aaron Ramsey playmaking from the rear.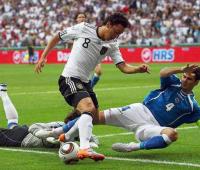 It's that combination of skill, creativity and pace that Ozil claims drew him to Arsenal. "Arsenal are one of the technically strongest teams in the world," Ozil explained. "The manager always wants to play attractive and attacking football. I think I fit into that because I enjoy playing quickly – that 'one-touch football'."
The 24 year old is well aware of Arsenal's eight year trophy drought and has his sites set on extinguishing that blemish. "In the last few years, Arsenal haven't been so successful but we want to become more successful. We want to win trophies. I think the fans are looking forward to that too. We have a very strong and a very young team that can improve a lot under the manager. I think we will win trophies because we have the potential [to do so]."
The presence of countrymen Per Mertersacker and Lukas Podolski should go a long way to helping reduce Ozil's adjustment period. Podolski told the London Evening Standard on Thursday that he is relishing playing alongside his Ozil.
"Mesut will help us in any situation," Podolski said. "Our system and game at Arsenal will fit very well to him. Definitely Mesut and I will rock Arsenal. It is our great goal to have success in London."
For Ozil, it comes down to wanting to prove himself. After being told he no longer figured in the plans of Madrid manager Carlo Ancelotti following the signing of Gareth Bale, Ozil decided to reinvent himself in the Premier League.
"I'm happy to be playing in the Premier League because everyone knows it's the strongest league in the world," Ozil said. "There are simply a lot of top teams. I want to prove myself there. It's a new challenge for me, a new task. I'm looking forward to that. I want to improve further under the boss and in the team. I'm really excited about it."
Ozil's first match with Arsenal kicks off Saturday September 14th at Sunderland.
Follow @mprindi