Portuguese international Nani has committed his future to Manchester United signing a five year deal to remain at Old Trafford through June 2018.
The deal was made after Nani came off the bench and put in an impressive performance in last weekend's 1-0 loss at Liverpool.
Following Thursday's signing, United manager David Moyes spoke highly of the winger.
"I'm really pleased Nani has re-signed for the next five years," Moyes said. "He has great ability and experience beyond his 26 years. I've been impressed with his approach to training and look forward to working with him in the coming seasons."
Nani, who arrived at Old Trafford in 2007 following a $26.5 million (£17m) move from Sporting Lisbon, seemed equally delighted that the deal was finalized.
"Playing at United has been a fantastic experience for me," Nani said. "When I came to the club, I never imagined the success we have enjoyed. I'm very happy that the new manager has shown this faith in me and I'm looking forward to helping the team compete for more honors this season."
Nani's impact in helping the team compete is a topic of debate.
There is little doubt that he is one of the most electric winger's in the game. With bags of pace, skill and a thunderbolt of a shot when Nani is "on," he is virtually unplayable.
Consistency, however, has been a blemish on his career. Long touted as United's replacement for Cristiano Ronaldo, Nani has to come close to justifying the comparisons to his fellow countryman.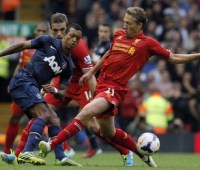 After a four year warm-up period that saw him record a mere 8 goals in 62 league appearances, Nani exploded in 2009-10 for 9 goals and 14 assists in 33 league appearances. He followed up on that breakout the next year by recording 8 goals and 10 assists in 29 appearances.
Last season, however, Nani's form slumped and Sir Alex Ferguson took note, handing the Portuguese international 11 league matches which saw a return of one goal and two assists.While sections of Red Devils supporters felt it was time to rid themselves of Nani, Ferguson and the United higher-ups maintained their belief in the player. Wages, however, were an issue in re-signing.
With Nani's contract set to expire at the end of 2014, negotiations to re-sign the winger began last March with Nani's advisers wanting $200,000 (£130k) per week and United unwilling to budge from the $140,000 (£90k) per week salary already in place.
With today's deal secured there is no word on which side bent on the wage issue but one thing's for sure, Nani will remain a Red Devil for the foreseeable future.