Romania hosts Hungary on Friday (2 p.m. ET, ESPN3.com) with both nations' World Cup qualification chances resting on three points. Anything less than a win would put them even further behind pace in UEFA qualifying's Group D.
Hungary currently holds the second-place spot with 11 points, and Romania is right behind with 10. Only the top team in each group receives automatic qualification — the Netherlands has all but locked that up, with 18 points — with the second-place finishers advancing to a playoff round.
They tied their first meeting in this edition of qualifying, 2-2 on March 22 in Budapest, playing behind closed doors in an empty Ferenc Puskás Stadium (pictured, right) after anti-Semitic chants at an Aug. 15 friendly against Israel forced UEFA to hand down the punishment to the Hungarian federation.
Romania has not qualified for a World Cup since France 1998, while Hungary's drought dates back to Mexico 1986. Both nations are generations removed from their heydays, when Gheorghe Hagi's left foot graced Romania's squad and Puskás' goal-scoring ability carried Hungary to the 1954 World Cup final.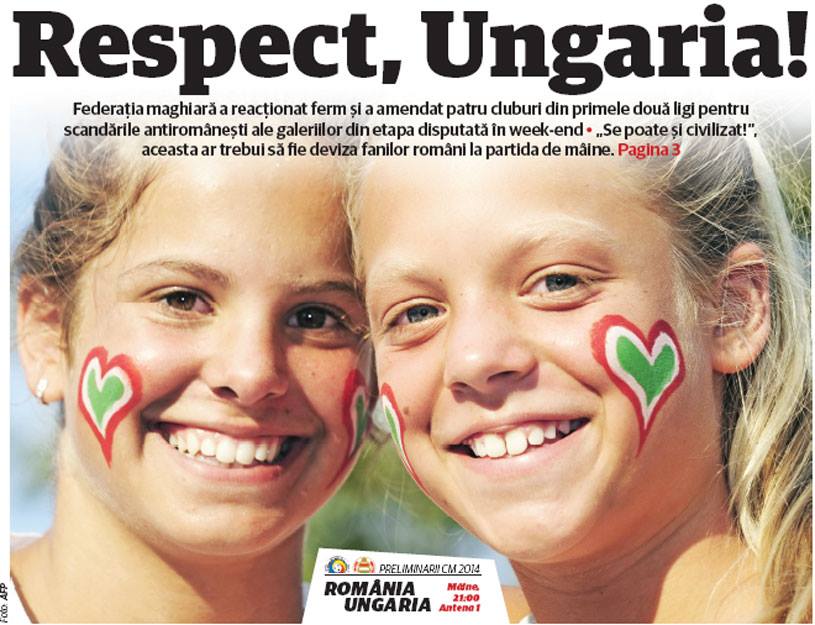 Off the field, the countries have a volatile coexistence stemming from Romania's annexation of Transylvania after World War I. Both countries see the territory, from the Hungarian-Romanian border to the Carpathian Mountains, as rightfully theirs, and nationalist political parties in Budapest have sought to regain the territory in post-communist years by enacting policy giving ethnic Hungarians worldwide, regardless of actual nationality, a right to vote and carry a Hungarian passport.
Hungarians are the largest minority in Romania, and a large number of Romanians speak Hungarian, especially in Transylvania. Hungarian influence in the area, where multiple towns and villages speak Hungarian as their primary language, is inescapable. (Note of disclosure: the reporter of this story, Liviu Bird, has family ties to Cluj-Napoca, the capital of the region, and his mother was born there.)
On the weekend prior to Friday's match, the Hungarian federation fined four clubs in the top two divisions for anti-Romanian chants, but officials in Bucharest still hope for a "civilized" showing from both sets of fans (see image above).
However, Hungarian fans seem to be of a different mindset. With right-wing fans at an apparent an all-time high, crowd trouble feels almost inevitable at Arena Națională in Bucharest. Hungarian ultras gathered on Thursday night to begin the long, arduous journey from Budapest to Bucharest, singing the national anthem in Keleti station before boarding their train:
And lighting flares and chanting loudly as the train left the station:
Friday's match will be wrought with tension. Both teams desperately need a win, as both have difficult matches in the coming months to close out qualifying. But the story in the stands could overshadow it all.