A potentially important sidebar has fallen between cracks ahead of tonight's World Cup qualifier in Costa Rica, lost amid the dominant narrative of Friday's match in the San Jose suburbs, the silly and probably highly ineffective gamesmanship at high levels from the Costa Rican federation.
(Serioulsy, guys … do you Ticos believe you are doing anything other than adding motivational fuel to the U.S. fire with these hijinks?)
Clint Dempsey will hardly be at his best tonight. Dempsey will surely play when the teams meet at Costa Rica's Estadio Nacional, but there is an awareness in the U.S. camp that his spring and his stamina just aren't where they need to be.
A source close to the U.S. team confirms that manager Jurgen Klinsmann and his staff has assessed that Dempsey is well behind where the "full-on Dempsey"  would be, currently at roughly 60 percent of ideal fitness.
(Considering the advanced testing performed to begin every U.S. camp, percentage estimates are probably a little more than just "estimates." There is a real, quantifiable percentage of potential maximum output to be gleaned from all the blood work, hydration assessments and scientific physical tests that go on.)
Klinsmann apparently regards Dempsey at or near the same place at this time one year ago, when his holdout from Fulham workouts and 11th hour transfer into Spurs meant missing about a month of team training.
(MORE: U.S. – Costa Rica rivaly reaches new heights)
Interestingly, Dempsey started both World Cup qualifying matches at this time last year even though he was clearly and substantially less that 100 percent fit. He even scored in the first contest, a 2-1 qualifier loss at Jamaica. Four nights later, Dempsey started again in a 1-0 win over Jamaica in Columbus.
But if we got back and examine those matches, Dempsey's influence was marginal other than the early goal vs. Jamaica. The effort and the will were there; it's Clint Dempsey, after all. But the legs and lungs simply weren't properly prepared for two international level matches, plus the tax of travel, etc.
So why wouldn't Dempsey be more than the estimates in camp of 60 percent or so? He has, after all, been with the Sounders almost a month, and has gone 90 minutes for Sigi Schmid's MLS side three times now. (Plus almost an hour in his debut off the bench against Toronto back on Aug. 10.)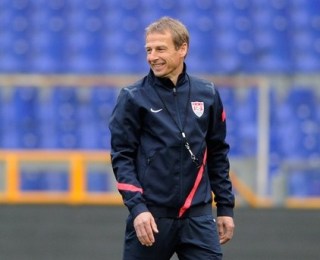 It's a good question, one that Klinsmann has not addressed specifically. But the manager has talked in the past about differing approaches by MLS clubs, most of which concentrate on recovery between matches rather than building longer-term endurance.
Plus, Dempsey did a lot of promotional work as he joined the Sounders last month. Appearances on the national talk show circuit are a major and figuratively profitable publicity score for MLS. But there is an undeniable price to pay in terms of short-term performance. Dempsey, through no fault of his own, in fairness, because he would always prefer a soccer field to a TV studio, is paying it now.
Best guess: Dempsey will start tonight but will perform on a relatively short lease. After all, Klinsmann (pictured above) has something he did not at this time last year, when the manager forced fitness on Dempsey by playing him all 90 minutes in those two big qualifiers, even though the U.S. attacker was clearly not at his best.
This time Klinsmann can potentially turn to Landon Donovan, who was in the "Dempsey" role for that entire, swashbuckling Gold Cup run. And come to think of it, a Donovan-for-Dempsey switch somewhere between the 60th and 70th minute doesn't sound like a bad plan at all, does it?