Every MLS match over the next few weeks that doesn't pit some combination of D.C. United, Toronto FC and Chivas USA will have something to say about the sensational pileup of a playoff race that has developed.
Some will be a little more influential than others, naturally. Here three tonight and what they will mean:
Vancouver at FC Dallas: As we are in Round 28, some of these will start to look like "elimination matches." We aren't quite there yet, but this one is darn close. Martin Rennie's Whitecaps and Schellas Hyndman's FC Dallas are dead even in matches played and points (37), tied for sixth in the West. That's one spot out of the playoffs. FC Dallas simply must get the points at home against a Whitecaps side that isn't nearly as strong as it was earlier this summer; the Caps are 1-4-2 since mid-July.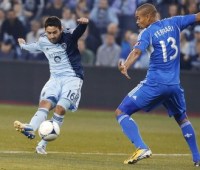 Columbus at Sporting Kansas City: Sporting KC is one of the East's best teams on the road, but if things go sideways from here and Peter Vermes' team falls out of the playoff picture (or hangs in there but suffers in the positioning), blame a humdrum 7-4-3 record at home. Facing a Columbus team tonight whose playoff fate hangs in the balance, and who are once again without suspended offensive leader Federico Higuain, SKC cannot miss this opportunity for three points. It won't be easy, however: SKC is without Matt Besler and Graham Zusi, not to mention just-transferred winger Kei Kamara. Time for DP striker Claudio Bieler (pictured left) to step up.
Colorado Rapids at LA Galaxy: The Galaxy will make the playoffs. Book it. Too many of the pursuers have too many issues, and Bruce Arena's team has that look once again. But Arena and crew don't just want to make the playoffs; they want Supporters Shield and that top spot in the West, for best chances of hosting a third consecutive MLS Cup. Greedy, perhaps … but thems the rules. Colorado, meanwhile, is in the pack of the hard-trying flawed. Oscar Pareja's ridiculously young team has to show it can stand the playoff stretch heat; no better place to do so than the StubHub Center against the  two-time defending champs (who are without four key men.)
(MORE: Galaxy-Rapids preview from ProSoccerTalk)