This weekend the voice of soccer on NBC Sports is taking a well deserved rest from calling the Premier League action.
Yet he still has time to speak to ProSoccerTalk.
In the latest edition of "View from the Booth" NBC Sports' lead soccer announcer Arlo White talks about the biggest transfers in the Premier League after the deadline day drama, David Moyes' struggles, how England's national team can improved their fortunes and much more.
MORE: Game schedule  |  Match finder
With no PL action on NBC Sports Network this weekend due to the international games, you may miss the dulcet tones of Arlo emanating from your television in the living room.
But don't worry, here he is to discuss all of this weeks hot topics. That should tide you over until PL action returns next week.
Enjoy. Here's Arlo.
So after the transfer window slammed shut on Monday night, which Premier League teams fared best in the market?
At this stage, we can only speculate based on our prior knowledge of players and whether certain clubs have satisfied particular needs. It will take a while to really assess the winners and losers of this transfer window.
Clearly, Spurs were very active. The late signing of Christian Eriksen could prove to be a master stroke. Capoue (when he returns), Paulinho and Soldado could be terrific signings. But as we saw at the Emirates on Sunday, it will take time for these 7 new faces to bed into their new surroundings.
Brendan Rodgers should be very happy at Liverpool despite missing out on Willian. Keeping Luis Suarez was a very bold statement. They added some defensive depth as well and Mignolet has enjoyed a terrific start to the season.
Arsenal really stole the show late on with the Ozil coup. But should they have added elsewhere? Most definitely. They will be great to watch though.
Manchester City did their business early and effectively, and Everton played a very canny game on deadline day. They were resigned to losing Fellaini, but they squeezed more money out of United than they wanted to pay, they forced the Belgian to put in a transfer request so they maintained the PR high ground, and they bought/loaned intelligently with the captures of James McCarthy and Romelu Lukaku. Plus they kept Leighton Baines. Hats off to messrs Kenwright and Martinez.
And what about the late, late deals for Mesut Ozil and Marouane Fellaini? Do you think Arsenal should have smashed their transfer record to grab the German international?
Yes. Think back to last week when I wrote this…
Now, if Arsenal land Benzema, Di Maria and Ozil from Real Madrid, it could all change (btw, will Daniel Levy do the Bale deal as late as possible to help scupper Arsenal's plans of recruiting those potentially surplus Real stars??)
The Gunners had to make a statement to at least appease their frustrated fan base, but I feared they were placing all their eggs into a basket that their arch nemesis Daniel Levy could push off the table. They way it worked out, Arsenal were gifted a clear 24 hours to finalize out the Ozil deal after it was announced that Gareth Bale had sealed his switch to the Bernabeu. It seems that Madrid had simply run out of patience with Levy, so they had no problem at all selling Ozil to Tottenham's main rivals, to recoup nearly half of the fee they paid to Spurs. I think Spurs have bought well, but the immediate upshot was that they sold their world class player to Real Madrid, who then felt compelled to sell a world class player to Arsenal.
Elsewhere, David Moyes and Manchester United have been widely criticized for their dealings in the window, will the Red Devils regret not buying at least 2/3 more players?
Possibly. But they kept Rooney as well remember. There were always going to be teething problems once the Ferguson/Gill axis was broken up, but United won't want a repeat of that deadline day farce. It just didn't reflect well on the club. I admire Moyes' faith in the players he already has, but I wonder if Shinji Kagawa has to play a larger role going forward. If he starts games and performs well, it will feel like United have got a new signing.
After Liverpool beat United and won their third-straight 1-0 game to open the season, can Brendan Rodgers' men really break into the top four this season? Is the North London battle between Arsenal and Spurs even closer after the Gunners narrow win?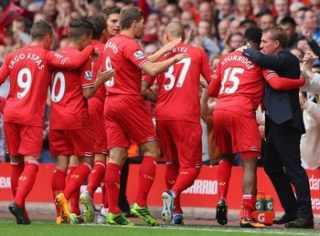 Anything is possible. We've only had 3 games! Brendan Rodgers is very tactically astute. It was a thrill to be at Anfield on Sunday, the atmosphere was electric. Liverpool got what they so desperately craved, an early goal. They continued to push in the first half for a second, but it didn't come. Then, much like his old boss Jose Mourinho did at Old Trafford last Monday, Rodgers instructed his side to go into a defensive shell. It was about ball retention and shape. A bend but don't break approach. It wasn't particularly entertaining, but it worked. People are writing off United, but RVP should have equalized late on, and on the balance of the second half, only the most ardent Red could have argued that it wasn't deserved on the balance of the game.
Yes, Liverpool can challenge for the top 4. Spurs and Arsenal will duke it out to the last game.
With the huge amount of foreign talent flooding into the Premier League, FA Chairman Greg Dyke has been pretty defiant about the role the PL has in the future of the English national team. Is there an easy solution to getting more young English talent playing regularly in the PL?
Short answer is no. I don't believe in quotas. The Premier League is, and should remain, a meritocracy. It's incumbent upon the FA and the Premier League to work together to produce better, more rounded players. It starts with education. A smarter person is a better player. Education, academics and Football shouldn't be mutually exclusive. They certainly aren't in the top Football nations in the world. English Football has always feared and been suspicious of, intelligence and academics. Why? There are social reasons, but it needs to change.
Germany took drastic steps after their struggles at Euro 2000, and it's paid off. England have been under performing for generations now. But it's difficult to tell the richest league in the world that they shouldn't go out and spend their money on the best players available wherever they are from. The FA must harness the millions of lads who play Football throughout the country and simply make them better through coaching and education. It's a tall order, but if the desire is there, it can be done.
Finally, what's coming up next for you? When the international break is over the PL will be back in full flow. What can we expect from the games your covering?
Looking forward to next weekend already. I have Everton v Chelsea next Saturday and Swansea v Liverpool on Monday. The great games keep coming thick and fast and it's exhilarating being a part of it.