As Joe noted earlier, Bright Dike is a handful. His lack of playing time (1060 career minutes) keeps a broader audience from knowing: He's the most physically challenging player in the league. At 6'1″, 220 pounds of speed and muscle, the Nigerian international is a linebacker in a soccer kit. Particularly in an approach like Ryan Nelsen's, Dike could have some serious value, provided his recovering ACL can log meaningful time soon.
But Dike's zero minutes played since returning from surgery last year tells you almost all you need to know about today's trade. Toronto wanted to get rid of Max Urruti – a 22-year-old who, despite the players' four-year age difference, has scored twice as many professional goals as Dike (12 in Argentina to Dike's six in MLS). You don't trade a just-signed prospect you for somebody coming off knee surgery unless you just want him off the books.
"We received an offer from Portland that we could simply not pass on," Nelsen said, somewhat bizarrely, in a statement sent out by Toronto. Perhaps the could not pass part was receiving an offer at all?
Everything indicates Toronto's hitting eject on Urruti. Everything indicates it's Portland, not Toronto, that were given an offer they couldn't refuse.
Dike is cheap, he has some potential, and Portland (particularly general manager Gavin Wilkinson) likes him a lot. Having significantly invested in him — playing time; a knee surgery; and Achilles' tendon recovery — they wouldn't give him away for nothing. Still, there was no vision for the Timbers' future were he was more than a third-choice striker in Caleb Porter's system. If what Urruti showed in Argentina is any indication, he could develop into a potential starter.
"Maximiliano is a player we know well, one we feel will be a great fit in our system and scouted extensively prior to him signing with Toronto," Porter said via a team-distributed statement. "Urruti will complement the depth we have in the striker position, and once he is acclimated and match fit, will bring a dimension to the number nine role that we've been looking for."
And with that, Portland become the latest beneficiary of Toronto FC's continued chaos. In the wake of Kevin Payne's dismissal, TFC comes off as too eager to eject one of their former boss's most notable signings. That they got a decent player making just over $60,000 per season is a bonus.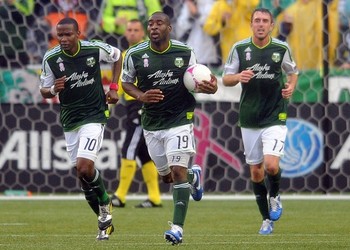 Their goal here seems to be to cut bait with a player who, in less than a month, has gone from key acquisition to expendable. Perhaps they learned all they need to know about Urruti from 37 MLS minutes and a month's worth of training sessions, but given Portland were eager to add the 22-year-old Argentine to a crowded roster, Urruti appears to have maintained some fans outside the Toronto organization.
Rather than anything he showed on the field, the more likely explanation is Urruti is the latest, bizarre departure from a chronically aimless team. The direction Toronto had 10 months ago is different from the direction they had last week, which is different from the direction they have today, and will be different from the direction they'll have under Payne's successor. The Timbers benefit from the consequences of Toronto's managerial turnover.
That turnover means players like Luis Silva get lost. Stars like Dwayne De Rosario, in whom so much time and energy are invested, become easy to cast off. And pursued prospects like Max Urruti are left behind when the nameplates change on the door.
As a result, a player who was playing for Newell's Old Boys as a 20-year-old has been cut loose. Does that mean he's bound for Major League Soccer success? Or that Toronto's even made a bad move? Not necessarily. They may truly believe that Dike will be the better player, or he will be good enough to justify the presumed offset in salary. They may think taking on Urruti allowed them to get a cheap, distinct talent, one that was worth the sacrifice of a player they liked so much a month ago.
The fact that this vision is so much different from last month's is the real story. And given the two players' history, there's every reason to think this isn't about how much TFC likes Dike; rather, it's a confused organization cutting another a player lose.
As it concerns Urruti, Portland seems more than willing to bet Payne was right.