In one of the strangest transfer stories in Major League Soccer history, Argentine forward Max Urruti has reportedly been traded to the Portland Timbers less than a month after he signed for Toronto.
According to various sources in Toronto, Urruti has been ushered out of BMO Field after playing just two games and 37 minutes for the Reds.
The deal is made even stranger after Urruti, 22, was chased by Toronto for much of the summer as they spotted him during an offseason scouting trip to South America.
(MORE: Looking back at a strange decision as Portland beat Toronto)
However the big reason why Urruti has been shipped to Portland is because Toronto's former GM Kevin Payne was fired last week. Payne was a huge advocate of the young Argentine striker and after he left the club there was bound to be player casualties. Urruti is the first.
But hang on a minute, have Toronto got a really good deal here?
Yes, Portland Timbers forward Bright Dike is currently recovering after tearing his ACL but the Nigerian international forward was on one hell of a rip before that devastating knee injury occurred. The former Notre Dame product scored five goals in 11 games at the end of the 2012 MLS season after spending time on loan with the LA Blues to regain confidence.
I've actually played against Dike in my college days and I will tell you this, he is a monster. Physically one of the strongest strikers I've ever seen, Dike has a thunderous shot, pace to burn and is a real handful for any defense in MLS.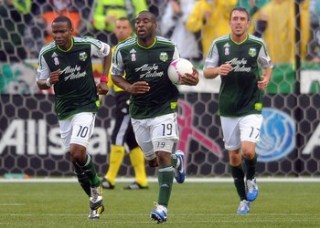 In fact when I squared up against him, in the opening 30 minutes he broke our goalkeepers collar bone in a challenge and also managed to break another defenders nose. That being said it all depends on how he returns from an injured ACL. That dreaded acronym has brought the end to many soccer careers but Dike could become something special in Toronto.
As for Urruti, the move to Portland makes some sense as they will aim to kick start their season following a string of inept displays before their 4-0 pummeling of TFC on Sunday. This is when that deal will have been thrashed out, as Dike is continuing his comeback from injury and Toronto looked to offload a forward their former GM rated highly, but obviously others withing the organization do not.
And Urruti will relish playing in front of fellow Argentine playmaker Diego Valeri, as the duo regularly squared off against each other in the Argentine Primera Division in the past.
Who got the better deal in this peculiar trade. Portland or Toronto?