This isn't the first time we've heard a FIFA executive call Qatar 2022 a mistake. But it is the first time the M-word has passed the lips of the most powerful man in world soccer. That Sepp Blatter's now acknowledging FIFA may have screwed up may clear the way to finally correcting the problem, potentially providing long-term solutions for when climate forces World Cups to shift seasons.
In July, FIFA executive committee chairman Theo Zwanzinger (former German soccer head) called awarding World Cup 2022 to Qatar a "blatant mistake," but citing reasons like the "unity of German football," Zwanzinger's complaints sounded more like self-centered objection than broad, level-headed concern.
Blatter, however, has no such allegiance, even if his devotion of FIFA's power creates a whole different bias. But in this case, with so many people objecting to a summer World Cup in Qatar, it's now in Blatter's best interest to admit his organization made a mistake.
From The Guardian's reporting (linked above):
Fifa's president, Sepp Blatter, has admitted that it "may well be that we made a mistake" in awarding the 2022 World Cup to Qatar but underlined his commitment to move the tournament to the winter to avoid the searing summer heat …

Blatter has swung from saying that it was for the Qatari World Cup organisers to insist on a switch from summer, when temperatures can reach 50C, to proposing a vote when the Fifa executive board meets on 3 and 4 October on a move in principle.
This issue has been vaulted back to into the news by Tuesday's meeting of the European Clubs Association – the body expected to provide the greatest resistance to a winter World Cup. The potential to interfere with Europe's club season was expected to spur objections, but as organization senior vice president Umberto Gandini, AC Milan's director, put it on Monday in Geneva, the shift in season is "almost inevitable."
Gandini's bigger fear, at this point, is that moving the World Cup will becoming more than a one-off for 2022, a potential policy made more likely by Blatter's recent comments to Inside World Football (as collected by The Guardian):
"If we maintain, rigidly, the status quo, then a Fifa World Cup can never be played in countries that are south of the equator or indeed near the equator," he said. "We automatically discriminate against countries that have different seasons than we do in Europe. I think it is high time that Europe starts to understand that we do not rule the world any more, and that some former European imperial powers can no longer impress their will on to others in far away places."
If you've been following this blog for long, you know this is my exact position. Committing the World Cup to any specific time of the year precludes a number of nations from hosting the event. A number of these are highly populated nations (China, India) where a World Cup could eventually be highly influential, while other regions (North Africa, West Africa) are already soccer-loving areas where World Cups at another point of the year would make for a better event (rationale that would also apply to places like the United States and Mexico, previous hosts of World Cups).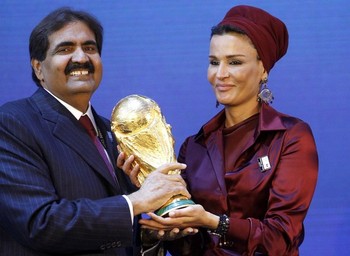 Beyond that, it's just kind of narrow-minded. Why commit to one point of the calendar when you don't have to? Why not take every potential World Cup and ask "how do we make this the best event possible?" Relative to that question, the status quo seems confusingly restrictive: "How do we make this the best June-July event possible?"
This, however, is not a popular view. Many believes the World Cup just belongs in the European summer. Why? Because that's how it is. That's how it's always been. That's how it should be. That's what people have grown to expect.
You'll hear arguments about television viewers, broadcast revenue, and the impossibility of shifting schedules. None of them are true. Nobody's going to avoid watching a January-February World Cup. As such, broadcasters aren't going to pay less. As much as European leagues will argue a schedule can't be done, an early August until December, March through late June window will allow even the crowded English football season to be played out. The objections aren't about impossibility. They're about inconvenience.
As Qatar is teaching us (on multiple levels), there is no "should be". Instead, it's about doing what's best for the event. And now that FIFA has committed to this Qatar mistake, it's time to move the finals to January. Because that's the way to put on the best World Cup 2022.
And once that precedent is set, it's time to look at places like West Africa or China, look 20 or 40 years down the road, and ask who's best served by committing the World Cup to summer? Is it the 700-plus million people in Europe? Or the over 6 billion people living elsewhere in the world?