COLUMBUS, Ohio – A tremendous double dip of opportunity stands before the United States national soccer team Tuesday night in Ohio.
Qualifying for a World Cup is clearly the be-all, end-all in world soccer, the dream-maker that defines individual careers and helps assign rank to the game's global order.
Booking official passage to World Cups has become a quadrennial U.S. highlight, and officially nailing the high-stakes target is always a moment to breath it all, to ceremonially harvest the fruits of three years labor. That could all happen tonight.
And then there is the rivalry with Mexico, a bit of a fallen giant at the moment, reeling from a weekend coaching change and teetering too close to the unfamiliar cliff of World Cup elimination. Every U.S. player, coach and supporter, even those feeling a touch of empathy, relishes the opportunity to sock El Tri in the nose at every possible chance.
(MORE: #DosACero — looking the U.S-Mexico history in Columbus)
So that's the double dose of opportunity when U.S. manager Jurgen Klinsmann's and his national team kicks off tonight from Crew Stadium, the chosen venue now for more than a decade for these critical World Cup qualifiers against Mexico. Game time at the 24,000-seat home of the Columbus Crew is 8 p.m. ET (ESPN, in Spanish on UniMas).
The Americans are in great shape in the six-team final-stage CONCACAF group, from which three teams qualify for Brazil, with a fourth heading into a play-in series against New Zealand. Klinsmann's team will make it official with a win tonight, coupled with a Honduras win or tie at home against Panama.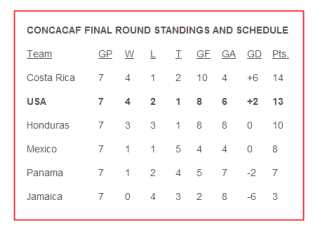 Klinsmann badly wants to seal the deal in Columbus and was upset about Friday's loss in Costa Rica, about dropping an opportunity move closer to the finish line there.  "You do not want to wait," he said. "You want to [qualify] at the next possible chance. Knowing what Mexico is going through, but we have to look this purely from our end,  and we have got to secure our points, and make sure nobody is getting nervous about it."
U.S. Soccer federation leaders leave money on the table by not staging U.S.-Mexico at a larger venue. But smaller facilities allow organizers to better control ticket sales, helping to ensure a pro-American crowd. Plus, there's that increasingly meaningful history; The United States defeated Mexico in Columbus, sometimes famously so, en route to World Cup qualification in 2001, 2005 and 2009.
"We have history here, and for soccer in our country that not always the case," injured U.S. midfielder Michael Bradley said Monday. "So for us to walk into a stadium where there is history, it's a special feeling. The people in Columbus, in this part of the United States, they love soccer, they love our team, the love supporting soccer in the United States.
"So when we come here, when we step out on the field, there is an overwhelming feeling of American support. When you play against Mexico, when you play in these games where so much is on the line, that can push us. That can help the bar swing our way."
(MORE: Michael Bradley talks about his injury, absence)
U.S. defender/midfielder DaMarcus Beasley (pictured above) called the Columbus effect the team's "12th man on the field."  Beasley, who has been around the team since before the 2002 World Cup, knows better than most that hasn't always been the case for U.S. matches.
Even with such slanted history, this contest is painfully difficult to predict. Both teams have significant holes to fill. For the United States, that starts with Bradley, the most indispensable U.S. man these days. But with three key figures out due to yellow card accumulation, Klinsmann also has holes to fill at center back and striker, plus looming decisions at two pesky trouble spots, left and right back.
(MORE: Where is the biggest hole in the U.S. lineup?)
Still, if you put the United States problems on the table and then look at Mexico's mangled pile-up of issues, you'll take the U.S. set. Mexico has lineup issues and an ongoing inability to score goals, for starters, plus the comprehensive turmoil of a coaching change with just three matches remaining in final stage of World Cup qualifying.
Last Friday's loss at home to Honduras was the final straw for Mexican manager Jose Manuel de la Torre, who was replaced within hours by assistant Luis Fernando Tena. How El Tri will react – motivated by the coaching change, or stuck in the same funk, with the same set of players and most of the same coaching staff? – really is anybody's guess.
Klinsmann and his players warned that Mexico remains a dangerous team, with talent throughout the lineup, even if they haven't put the pieces together in the best way possible. U.S. forward Clint Dempsey says the players don't see Mexico as "vulnerable."
"Mexico is a team that has quality, and we need to prepare that way," Clint Dempsey said. "Every game at home is a must-win, you have to get those points at home to get to a World Cup.
"Getting to the World Cup is the most important thing, no matter how we do it. But you don't want to wait 'til the last game, wanting other teams to do you a favor because you weren't able to get the job done. So we liked to get it wrapped up as soon as we can."
(MORE: U.S. wary of Mexican backlash amid team turmoil)
(MORE: Jurgen Klinsmann says the time to qualify is NOW!)
(MORE: Klinsmann adds in reinforcements for Tuesday's match vs. Mexico)