During the Gold Cup success early this summer, plenty of people were throwing around statements about this being 'the biggest talent pool the U.S. has ever had' and that this was the 'strongest squad in USMNT history.'
Well… have they got a point? After the ease in which the U.S. qualified for the World Cup from the CONCACAF region this campaign (more on that from Mr. Davis coming up soon), it's certainly worth considering.
Along the way there was an injury crisis or two, loss of form and plenty of new faces used as Jurgen Klinsmann revamped his entire squad to make sure they got to Brazil.
(MORE: Strongest U.S. national team in history? Check out these three starting XI's)
But is picking the 23-man roster that will represent the United States of America at the World Cup the toughest job for any U.S. manger, ever?
That question springs up at around this time every four years once the WC qualifying cycle is coming to an end but there has been growing intrigue and debate about the topic this time out. Klinsmann has built a solid squad of top players from MLS, Liga MX and across Europe that may become the best squad U.S. soccer has ever seen.
(MORE: More than a scoreline, "Dos a Cero" signifies U.S. dominance over Mexico)
Before we get started, we have to take our hats off to the three U.S. squads who qualified for three of the first four World Cups in 1930, 1934 and 1950. But we won't be delving that far back to Joe Gaetjens and other heroes because quite frankly it's extremely difficult to compare the game back in the early 20th century to soccer today.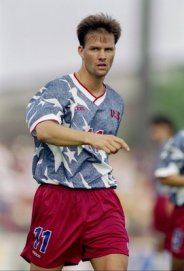 Let's take this discussion back to the World Cup in Italy in 1990, then head to the USA's 2002 World Cup campaign which saw them knocked out by Germany in the quarterfinals and finally compare it to today's squad.
United States national team 1990 World Cup
With the likes of Tony Meola in goal, John Harkes and Eric Wynalda up front, the U.S. had a strong core of talented players who were playing across Europe. These guys weren't necessarily playing on the biggest teams but they had experience that helped the USA qualify for their first World Cup since 1950. Paul Caligiuri's 'shot heard round the world' made that possible and his play was a hallmark of how the U.S. set up. A tough defensive team with the likes of Marcelo Balboa, Tab Ramos and Peter Vermes, the USA were hard to beat in qualifying. But when they got to Italia '90 everything went pear-shaped. A 1-0 defeat to hosts Italy wasn't disastrous but a 5-1 loss to Czechoslovakia and a 2-1 reverse to Austria ensured the U.S. left Italy with zero points, two goals scored and their tails between their legs. An experienced squad full of fight and determination, I think today's U.S. squad are head and shoulders above the revolutionary 1990 squad.
United States national team 2002 World Cup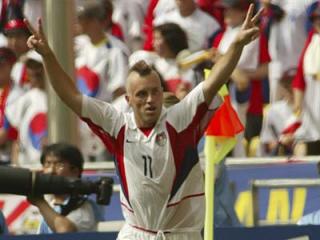 This side would take some beating, even by today's standards. With a young Landon Donovan causing all kinds of problems for opposition defenses and with John O'Brien and Claudio Reyna breaking things up in midfield the U.S. had a solid defensive core to build from. Brad Friedel in goal was phenomenal and with a winger like DaMarcus Beasley whipping in crosses for Brian McBride, if I shut my eyes I can still recall that scintillating first-half display against Portugal in Suwon. Bruce Arena had a heck of a squad and just keeping everyone happy was tough. At the back veterans like Eddie Pope and Jeff Agoos kept everything together and it was a joy to watch them allow Donovan, Beasley and other youngsters dash forward and create havoc. Much like Klinsmann today, Arena had at least two players for every position and the 2002 World Cup side would push the current U.S. team all the way in terms of being the best squad in U.S. soccer history.
United States national team 2013 World Cup qualifying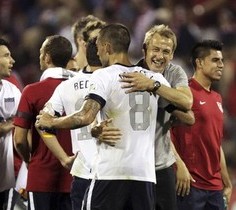 Ah, so here we go. This current U.S. team can boast accolades other incarnations could only dream of. Setting a record for consecutive victories with 12 straight wins, winning a Gold Cup with a 'reserve' squad and being able to boast players who are playing in some of Europe's best leagues week in, week out. Without doubt Klinsmann has an incredibly hard job to whittle this squad down to just 23 for the World Cup next summer. The likes of Clint Dempsey, Jozy Altidore, Michael Bradley and Tim Howard can already pack their floral swim shorts and flip-flops, they're on the plane to Rio. But with so much strength in depth this has to be the strongest ever pool of players. The sheer numbers of players playing regularly in the top European leagues (Cameron, Johnson, Jones, Guzan, Bradley, Howard, Altidore, Shea, Diskerud, Bedoya etc.) is phenomenal and all of Major League Soccer's star U.S. players are now being given a chance and are impressing. The fact that someone of Donovan's class was being kept out of the team for most of 2013 is a good indication as to how good this team is. At any other time period in U.S. soccer history leaving Donovan out of a squad would be akin to Argentina sitting Lionel Messi on the bench. It just wouldn't happen. Talent in abundance.
Verdict
Anyway after all that, my mind is made up. The 2013 USMNT squad is the best group of players the United States has ever produced that are all playing together at the same time. Enjoy watching it folks, this is historic. But one more positive to finish on. This team is full of players just establishing themselves at international level and by the time the 2018 World Cup in Russia arrives, this squad could be even better. Have a think about it. Mind-boggling.