COLUMBUS, Ohio – What you will notice about the critical moments as the United States reached a seventh consecutive World Cup: so many are clustered around that March turning point, as a team that could have easily wandered off the so-called Road to Rio found its better self and put things right.
(As for "Five key moments …" Clearly, clinching over Mexico qualifies as a key moment; but as that seems so obvious, and it happened just a few hours ago, meaning we've written plenty about it already, we drilled down a little further and picked something else.)
Sept. 11, 2012: U.S. beats Jamaica
The team had lost in Jamaica just days earlier, and the chorus of Jurgen Klinsmann doubters was getting louder. A loss that night in Columbus could have left the United States in a real tizzy, struggling mightily just to get out of the semifinal round. Plus, the symbolic weight of losing on 9/11 would have been a further sore spot to deal with. But the United States dominated the visitors that night, and Herculez Gomez's free kick goal sealed the deal.
March 18, 2013: U.S. arrives into Denver
U.S. players and coaches arrived into Denver just as The Sporting News piece fell, pulling back the covers on some unpleasant business inside Camp Klinsmann. The least flattering parts of the story were or were not accurate, depending on whom you ask, but there was clearly something not quite right inside the locker room.
Meetings were had, things were said and, in the end, the entire camp seemed to benefit from that cathartic moment. They found a way to bond – even if was over their public outing of their inability to fully bond. Klinsmann and some of the players may not say so publicly, the United States national team benefitted from the story, getting things out in the open. (And what a talker it was for the rest of us.)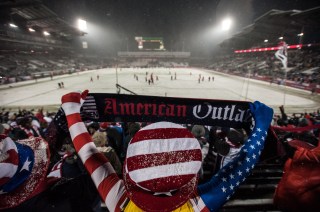 March 22, 2013: U.S. beats Costa Rica in the Snow Clasico
Of course, the renewed sense of togetherness and good feeling could only "take" through a win over Costa Rica. And what a surreal night it was, as heavy snow blanketed the Dicks Sporting Goods Park field in a way that will never be forgotten, with something that only resembled soccer being played through all the fluffy white stuff. The Ticos were incensed, but never mind that.
Jermaine Jones had his best night in a U.S. shirt (finally demonstrating his value to U.S. supporters, who were understandably having trouble seeing it) and victory was had through an early Clint Dempsey goal … and what an important victory it was.
March 22, 2013: U.S. draws with Mexico
The scoreless draw with Mexico at fabled Azteca may not look as impressive now, given El Tri's mighty struggles of the moment. But it was a big deal then, not only as a rare point earned at Azteca Stadium, but in helping sow further chaos in the Mexican camp.
Don't forget, the United States' was making significant changes, still ushering in the Omar Gonzalez and Matt Besler era at center back, with former captain Carlos Bocanegra having to step aside. And Brad Guzan was in goal for the injured Tim Howard, so critical squad depth was being built at the same time.
Honestly, a win at Azteca a few months prior was just as important. It was just a friendly, but the historic 1-0 win that day did two things: It demonstrated to Klinsmann's team they could, without a doubt, beat Mexico at Azteca. That helped tremendously in the March draw.
And as the positive results in friendlies piled up (a win at Italy, a huge win over Scotland, etc.) the messages that Klinsmann was steadily delivering were taking hold. Players were "buying in."
June 7, 2013: Jozy Altidore scores again
Jozy Altidore's ongoing success of that moment – he scored in a 1-0 win over Jamaica in Kingston – was emblematic of the overall program's swell of success.
He was on a serious roll. The team was on a serious roll. The United States followed that result by traveling to Seattle and never giving poor Panama a moment to breath in a commanding 2-0 win. The strong stuff carried over as another crew of players propped up the highly successful Gold Cup bid, and the dash for World Cup 2014 in Brazil seemed to gain unstoppable momentum through that lofty June-July progression of accomplishment.