England's obsession with Jack Wilshere's born from his singularity. At least, his singularity in England. The Three Lions have produced their Steven Gerrards and Frank Lampards, but Jack Wilshere's supposed to be something more akin to somebody you'd see at Barcelona, which is why Pep Guardiola's 2011 assessment continues to be brought up.
The then Barcelona boss, complimentary of the Arsenal talent's skill, also put England's Wilshere awe in perspective:
"Wilshere is a top player. He is an excellent player, not just Arsenal, but also for the national team. [But] he is lucky because we have many players in the second team like him but he plays because there is no pressure at his club to win titles."
That Guardiola was responding to a question from English media about the then 19-year-old's quality also speaks to the obsession. English soccer identity isn't going to live or die with his success, but their culture will sure feel better about itself if Wilshere lives provides a return on their emotional investment.
Knowing that helps explain why Wilshere's health is always headline news, as it is today. One day after England's "awful" performance in a 0-0 World Cup Qualifying draw at Ukraine (Gary Lineker's words), Roy Hodgson was forced to make excuses for his young midfielder, explaining that fitness played a part in Wilshere's performance.
Wilshere started but was brought off in the second half. Whereas he would normally be expected to be among England's most prolific and accurate passers, the Arsenal midfielder completed only 16 of his 24 attempts. His three turnovers where the most on his team.
From The Telegraph, in an article headlined "England manager Roy Hodgson defends Jack Wilshere form against Ukraine, saying: 'he's still not 100 per cent'" the led the paper's online sports section:
"Jack is still looking for full fitness," said Hodgson. "That is why we took him off in the second-half.

"We certainly saw a much more effective Jack against Moldova, but he still did his work against Ukraine and, tactically, did all the things I asked of him."
Against Moldova last Friday, a 4-0 win at home, it's all good. Wilshere's fine. The team looks good. Four days later, the team's in Ukraine playing a much more difficult opponent, and Wilshere's now completely fit. At least, that's what gets discussed in public when we need to explain why Wilshere isn't performing like the English Andres Iniesta.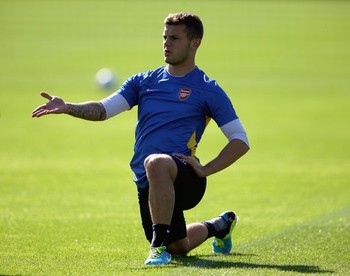 If Hodgson says so, we should take him at his word. Wilshere is almost certainly not 100 percent. At the same time, is Wilshere not allowed to merely have a bad game? If her was fit enough to start against both Moldova and Ukraine, to what extent should fitness be used as an excuse? Isn't it better to say that Wilshere, though not fully fit, is capable of playing better, yet against Ukraine, he merely had a bad game? Or is he not permitted the same ups and downs as a normal player?
Consider some other headlines around England on Wednesday. One calling for Hodgson to get more out of his midfield is fair, though it may be reading too much into one match's result. Another said Wilshere's not ready for international soccer, something I'm assuming wasn't evident on Friday, while England were winning. Another sees Wilshere as fighting to fulfill his promise, which is curious pessimism coming from the same optimists that created this tension.
The whole conversation is absurd, particularly considering Wilshere's only 21 years old. He has plenty of time to develop into a legitimate star, but given the undo hype around him, there's a paranoia that surrounds every Wilshere performance. His apparent brittle physical state doesn't help (playing only 25 games over the previous two seasons), but the underlying causes remain the same. Wilshere is a very good player but overhyped, leading to these insanely paranoid conversations about his form whenever he doesn't meet England's potentially unreachable expectations.
As Guardiola said two years ago, there were players in Barcelona's second team that rivaled Wilshere. That's not a bad thing. One of those players (Thiago Alcantara) was bought by Bayern Munich for $33.2 million this summer. It's not as if Guardiola was dismissing his talent. Yet that's the quote many choose to remember, a choice made from a viewpoint that also worries about a down game in Ukraine and whether Wilshere will be the English Iniesta when he may "only" be Alcantara.
These are the type of narratives that get written by uncertain. Sometimes that's labeled insecurity.  Chips on shoulders are also discussed. It's why U.S. fans latched on to Freddy Adu and are constantly searching for their first soccer superstar. It's why Barry Bannan was briefly hailed by Scotland, and why so much hope was tied into Aaron Ramsey in Wales. It's also why you don't hear these stories from places like Brazil, Argentina, Spain, and Germany.
A lot of countries need a Jack Wilshere. They're waiting for somebody to live up to the hype. But that doesn't mean the hype's fair. And that doesn't mean conversations centered around one sub-par performance are completely rational.