Jurgen Klinsmann showed up Wednesday morning at the Columbus Airport a bit frazzled, affable as always but late for a flight due to some last minute media obligations, part and parcel of the big qualifying achievement from mere hours before.
So he was in a bit of a hurry. That seems appropriate in the bigger picture, too, since the man still has so much to do.
Believe it: Klinsmann's work in his high-profile, game-changer role with the United States national team is just getting started.
As the euphoria settles over his team booking its spot for Brazil 2014, temptation will be fierce to commence conversations about the big U.S. Soccer picture. That means talking about Klinsmann and his ability to drive the program forward, something we all (fans and the chattering class, that is) have been hammering away at since Klinsmann's summer 2011 hiring.
But it was always premature, all the rush-rush of banging on, assessing, conversing, etc. For when it comes to assessing Klinsmann and his ability to deliver value on the big money and bigger expectations that came with his ballyhooed arrival, it was never about qualifying.
Qualifying for a World Cup was just the starting point for Klinsmann, who won a World Cup as a German player in 1990 and came close as a manager for his homeland back in 2006.
Qualifying for a World Cup, if we're being honest, was never in question — no matter what the Nervous  Nellies and the anti-Klinsmann barkers said along the way.
(MORE: Five key moments that shaped the U.S. qualifying campaign)
Plenty of managers could have driven the bus for a talented bunch like the Unites States, shuttling the team into a World Cup through our nominally threatening region. Heck, Steve Sampson did that back in 1998, and he had far, far less talent at his disposal. Team captain Clint Dempsey said it's great and all that his country has qualified once again, that the team is brimming with confidence and well being, but …
"It doesn't really matter how things are now, to be honest with you," Dempsey said. "It's one thing to qualify for a World Cup, but we'll be talking about something different if we don't advance out of our group."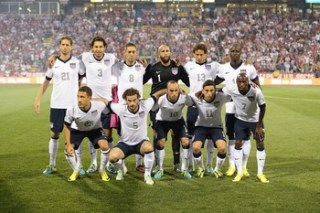 For Klinsmann, his job was always about getting the team further in a World Cup, about pushing the program past its quadrennial sticking point, a tenuous hold on second round appearances.
Some of this is literally down to luck of the draw (as 32 World Cup qualifiers are grouped in FIFA's December draw). But the bottom line looks like this:
If the United States gets to the World Cup quarterfinals next sumer in Brazil, looking lime a confident and sensible sort in doing so, then stamp 'Mission Accomplished' on Klinsmann's time in charge.
Or, if the team pushes forcefully into the second round and then loses to a strong opponent, looking competent, aggressive and assured along the way, then we've wandered into a gray area. Anything short of that and his time may not be a total bust, depending on the draw and how the team passes the eye test, but it certainly will not be a back-slapping moment of success for U.S. Soccer.
Since the day he was hired, I have consistently said that all Klinsmann evaluation must wait for the Summer of 2014. That was never something anybody wanted to hear, but it was ever thus. (Obviously, that would have changed if the qualifying campaign had unraveled spectacularly along the way … Right, Mexico?)
So not a thing has changed now. We know more about Klinsmann and how he is shaping this big home improvement project for U.S. Soccer, but we still await the lab results, so to speak.