When Clint Dempsey stepped up to take his 93rd minute penalty kick, I bet almost half of the packed crowd at Columbus Crew Stadium hoped he would miss.
Deuce duly obliged.
That may seem silly, U.S. fans wishing their own player to miss a penalty and yeah, a good chunk would have liked to have seen Dempsey hammer home the spot kick with the last kick of the game.
But at that point, it really didn't matter. The USA's recent dominance over Mexico continued and Jurgen Klinsmann's men piled on more misery to manager-less Mexico.
(MORE: Dos a Cero again! … United States qualifies for World Cup after 2-0 win over Mexico)
As the Columbus crowd chanted "Dos a Cero" in rhythmic unison to taunt the Mexican players and coaching staff, it just made sense that the U.S. were going to win 2-0. It just had to be like this in Columbus.
The last four times the U.S. have played Mexico in Columbus they've won 2-0. The same scoreline prevailed in 2001, 2005, 2009 and now 2013. (And let's not forget about the USA's World Cup victory in 2002 by the scoreline of… you guessed it, 2-0) Mexico's players must look to Columbus as an indomitable fortress that they will never conquer, no matter how hard they try. But let's not kid ourselves, for the opening stages El Tri looked composed and forced Tim Howard into a few good saves.
Yet the "Dos a Cero" chant continued and got louder as the game wore on and then Eddie Johnson rose highest from a second half corner to head home. And when Landon Donovan tapped in late on, the 20,000 plus national team supporters in Columbus got their wish.
"Dos a Cero. Dos a Cero."
The scoreline was a predictable one and now that the dust has settled on a night where the U.S. sealed World Cup qualification for the seventh-straight time, some intriguing stats back up their recent success against Mexico, not only in Columbus.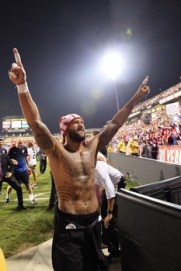 Since 2000, the USA has won 12 times against Mexico, losing just five times and drawing  four. The United States have never lost at Columbus Crew Stadium and have won five and tied two of the seven home WC qualifiers against El Tri since 1972.
(MORE: Even U.S. goalkeeper Tim Howard wanted it to be 2-0)
Those stats spell out what many Mexican fans have been fearing for quite some time: the U.S. are in the ascendancy over their fierce rivals from the South. For many years Mexico had the upper hand on their Northern neighbors but now the pendulum has swung back and forth — following 2011 Gold Cup success for Mexico and U.S. success in World Cup qualifying — and finally settled in the USA.
With a huge rebuilding process on the way for El Tri following the firing of manger Jose Manuel "Chepo" de la Torre last week, dominating Mexico could be something U.S. fans can look forward to for many years to come.
For many years the U.S. just couldn't get a grip on Mexico, in Mexico. Boasting a 0-13-2 in World Cup Qualifying matches in Mexico and 1-23-2 all-time internationally, Klinsmann's men are gradually turning the tide on their bitter CONCACAF rivals. Yet even the intimidating confides of the Azteca have been breached on the last two visits from the U.S. national team following their 1-0 friendly win in August 2012 and the 0-0 WC qualifying draw in March 2013.
After Tuesday's damaging defeat Mexico are struggling with Honduras, Panama and Jamaica for the final automatic WC spot and they aren't the favorites to grab it. The U.S. can put their feet up and relax in their final two qualifiers.
The USA's dominance over Mexico has never been as clear as it is right now.