Álvaro Saborío wasn't with his national team when Costa Rica drew Tuesday in Jamaica. Instead, he was back with his club in Salt Lake, getting treatment on a left leg injury that not only kept him out of Tuesday's practice but will sideline him for Friday's big game in Seattle.
Real Salt Lake, first the Western Conference, have seen their lead in the Supporters' Shield race reduced to two points by a surging Seattle, who've won seven of their last eight. But for Friday's meeting at CenturyLink, they'll be without their leading scorer, with sources confirming Saborío's latest injury will sideline him for RSL's showdown against the Sounders. The team's hopeful their first choice number nine will return Sept. 21 against San Jose.
Saborío had been hampered by a right leg problem before leaving on international duty but returned to Real Salt Lake with a new ailment, the most recent in a series of fitness issues that have limited his availability. Combined with World Cup Qualifying  and the Gold Cup, injuries have held Saborío to 12 starts and 13 appearances, in which he's scored once every 108 minutes.
With Olmes Garcia, Joao Plata, Robbie Findley, and Devon Sandoval, Jason Kreis doesn't lack for options up top, and over a one-game span, Real Salt Lake's drop off could be minimal. But with Saborío's injury issues mounting, and new ailments continuing to pop up, it's worth considering how RSL would fare long-term without the 31-year-old striker. What if Saborío's injury problems can only be fully addressed with an offseason's rest, meaning he'll be either iffy or short of 100 percent throughout the rest of the season?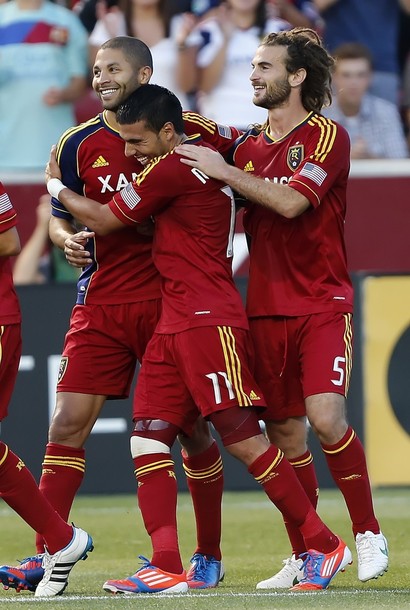 RSL would still be a title-contender, if not the favorite to win it all, but Saborío's absence would increase pressure on Kreis to make the right decisions with his striking corps. Garcia, Sandoval, Plata and Findley each have their uses, but the opposing team's personnel becomes important when trying to choose among them. Whereas healthy Saborío makes the choice up top easy (with Plata having formed a partnership with the big Costa Rican), Kreis would instead have to assess whether Garcia should see more time or another player, one more adept for a 90-minute role, should get the call. Is that player the physical Sandoval or the quicker, more experienced Findley? And how based on the other team's personnel, is Plata the right person to pair with them?
It might, however, help if RSL knew the extent to which they had to lean on them, something they're unlikely to have certainty on anytime soon. There's no point where you draw a line in the sand on somebody like Saborío. He's their best scoring threat, one of the best in MLS, so if he's healthy, of course you take him.
If, however, you have long-term doubts about his fitness, maybe you handle somebody like Garcia differently, looking at him as somebody to develop into a 90-minute player now as opposed to a super sub for 2013. Maybe you approach him the same way you did defender Carlos Salcedo, be willing to take some lumps, but know you could quickly have a regular player if you're willing to ride it out.
Friday's trip to Seattle will give Kreis a good idea of what a no-Sabo world would look like. The Sounders and LA are going to be RSL's stiffest challenges come November, so going to CenturyLink to face a squad which has 21 points from eight games will be a good test. They'll be without a number of regulars (returning U.S. internationals and a potentially injured Brad Evans), but similar obstacles haven't prevented the Sounders from forging this run. If RSL is going to navigate the postseason and claim a second cup, this may be the type of challenge they'll face along the way.
That's the approaching reality of Saborío. Are they contenders with him? Of course. Are they contenders without him? Given how often he's been gone, they're going to have to find a way to be. At this point, Sabo's health is no guarantee.