After a week-and-a-half's hiatus, European club soccer returns from the international break this Friday. Leading up to the weekend, ProSoccerTalk will be providing extensive coverage the upcoming Premier League matchday; however, to help you assimilate into your normal routines, here are the weekend's marquee matchups in each Europe's top five domestic leagues:
England: Everton vs. Chelsea, Saturday, 12:30 p.m. Eastern, NBC
When will Everton score again? They lead the Premier League in possession. They're playing the exact type of soccer Roberto Martínez wants, yet over the last two games, they have no goals. And through three weeks of the season, they also have no wins.
The Toffees haven't lost, either, which may leave José Mourinho cautious going into Goodison Park on Saturday. 'Special' tactics often call for a conservative approach against quality opposition on the road. Considering how many Chelsea players saw significant time over the international break, Mourinho may replicate the plan he used at Old Trafford.
There is, however, still a huge talent disparity between the sides. Though Everton may be emboldened by their Deadline Day haul, they'll occupy their typical underdog's role.
Spain: Villarreal vs. Real Madrid, Saturday, 4:00 p.m. Eastern
The Yellow Submarine's return to the Spanish first division has been a successful one thus far, the team sitting third place after wins over Almeria, Real Valladolid, and Osasuna. Mexican international Giovani dos Santos, acquired from Mallorca this summer, has already paid off with two goals and two assists, helping to fuel an attack that's produced eight goals in three games.
At first blush Real Madrid would appear to be on an entirely different level, and their performance before the international break against Athletic Club hinted they may be coming around. But with Mesut Özil gone and Gareth Bale (right) to be incorporated, Los Blancos may be facing another period of adjustment similar to the one that saw them underperform against Real Betis and Granada. If so, Villarreal could snare a result.
Germany, Hoffenheim vs. Borussia Moenchengladbach, Sunday, 9:30 a.m. Eastern
The league's top three teams — Bayern Munich, Borussia Dortmund, Bayer Leverkusen — are all home favorites, leaving this as the weekend's most enticing battle.
Hoffenheim, coming off an embarrassing 6-2 loss at Stuttgart (their first defeat of the year), still have the Bundesliga's most prolific offense, having scored 12 times in four games. Unfortunately, they've allowed an identical number and sit 11th (1-2-1).
Equally unfortunate for Markus Gisdol's team, the league's second best attack is coming to Rhein-Necker Arena on Sunday – Juan Arango and Borussia Moechengladbach. Like Hoffenheim, they've given up more goals than they should (eight), but thanks to 10 scored, Moechengladbach sit seventh through four rounds.
Regardless, if form holds, this should be a shootout, with Moenchengladbach's 4-1 win over Werder Bremen giving them some semblance of momentum ahead of Sunday's kickoff.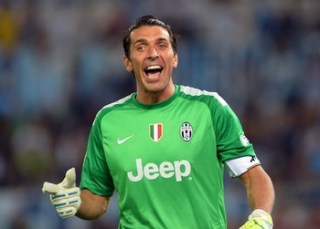 Italy: Inter Milan vs. Juventus, Saturday, 12:00 p.m. Eastern
The season's first Derby d'Italia sees two perfect sides meet at the San Siro. For Juventus, that start's not surprising, the Bianconeri favored to claim a third straight scudetto. Wins over Sampdoria and Lazio have done little to change that perspective, with two goals from Carlos Tévez complementing a defense that's only conceded once.
Inter, under new coach Walter Mazzarri, has yet to concede at all through two games, one of only two teams in the league that can make that claim (Roma). Thanks to a strong starts from Rodrigo Palacío, a resurgent Ricky Alvarez, and two goals from Yuto Nagatomo (set to thrive in Mazzarri's scheme), the Nerazzurri have been able to claim full points against Genoa and Catania.
It's too soon to think Inter have left last year's disappointment behind them, and Juventus is just the team to show them how far the have to go. But if Mazzarri can get full points on Saturday, expect the buzz to start screaming about a potentially overlooked contender.
France: Bordeaux vs. Paris Saint-Germain, Friday, 2:30 p.m. Eastern
Laurent Blanc, back in Ligue 1 for the first time since his title-winning tenure with Girondins, makes his first trip back to Bordeaux. Unfortunately for a team with so many international commitments, they do so on Friday, giving Paris Saint-Germain one fewer day to get people back and ready after national team duty. In contrast, Monaco and Lyon don't play until Sunday, while Marseille have the early game on Saturday.
here PSG clicking before the break, that might not be as much of a concern, but although Blanc's team are 2-0-2, they haven't matched the form of league-leading Monaco or second place Marseille. For all their talents, PSG have yet to score more than two goals (perhaps a trifling concern), have been drawn twice, and their only multi-goal win came over Guingamp. These are relative problems — perhaps not even problems at all — but they still hint the transition from Carlo Ancelotti to Blanc needs work.
Bordeaux finished seventh last year, riding a stingy defense (34 goals allowed in league) to seventh place, eventually claiming the Coupe de France. While they're off to a relatively slow start this season (15th after four rounds), they did play Monaco close the league's opening weekend before losing 2-0. Their only other loss is at Saint-Étienne, fall 2-1 to a Les Verts team that's started 3-1-0.