After finishing a glittering soccer career many players chose a life in coaching or punditry.
Former Dynamo Kiev, AC Milan and Chelsea striker Andriy Shevchenko has taken a completely different route by switching the soccer pitch for the fairways and greens of the golf course.
Shevchenko, 36, only retired from soccer last year after playing in Euro 2012 for the Ukrainian national team.
But the star striker who scored 321 goals in 648 career games has now managed to get his handicap down to two and competed as an amateur in the European Challenge Tour on Thursday at the Kharkov Superior Cup in Ukraine.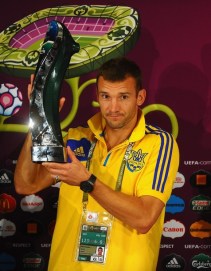 However it was a day to forget on his golfing debut, as Shevchenko hit a 12-over par 84 to leave suggestions that maybe he should have gone into coaching or punditry after playing soccer professionally for almost 20 years.
Of course Shevchenko probably know he has no chance of becoming a top professional golfer but after many years as a soccer payer, he would most probably spend his afternoons and days off on the golf course. Those jokes about PL players spending all their time on the course away from the training ground are mostly fiction.
Many Premier League players are close to scratch golfers, with the likes of Manchester City James Milner and England striker Wayne Rooney said to be very handy with a golf club.
The highlight of "Sheva's" round was a birdie on a 132-yard par 3 but plenty of bogies put him 20 shots off the lead heading into the weekend.
It will be a miracle if Shevchenko somehow makes the cut, however you have to applaud his determination to try and become a professional golfer after excelling at the highest level of soccer for such a long period of time.
But this got me thinking about which other professional athletes have switched sports in the past. Here's a quick list I devised:
Michael Jordan, Basketball to Baseball (then back to Basketball)
Bruce Arena, US national Soccer team to  US national Lacrosse team
Jackie Robinson, Ran track and played Football before switching to Baseball
Tony Gonzalez, played Basketball and Football at UC Berkley before joining the NFL
And I'm sure there are plenty of others I'm missing. But can athletes really switch between sports and become successful or will Shevchenko's golf career be a flash in the pan?