Picking Premier League matches is haaard dang work and quite frankly, I'm crap at it. I'd like to think it has to do with the fact that the beautiful game has three possible results (win, draw, loss) but that's basically just an excuse. Nevertheless, I enjoy the banter and figure at the very least I can provide you all with some fodder to tear me up with in the comments. So without further ado, let's get it on.
Manchester United vs. Crystal Palace (Sat. 7:45 am ET, Old Trafford)
'All in' on Manchester United. That's the prevailing sentiment this week among anyone who has the champions left in their Survivor pool and as heavy 4/21 favorites, Vegas agrees. Sure, they were stuffed goalless in their last two league fixtures but in Palace the Red Devils see a squad that's prime for the picking as manager Ian Holloway will be in the seats serving a two match ban.
Holloway's side will nevertheless make a go of it, just as his Blackpool squad did last time the manager was in the Premier League. In both fixtures against United during the 2011-12 season, the Tangerines managed to take the lead before conceding defeat. The four goals Blackpool scored in those fixtures were a testament to Holloway's philosophy of attacking football, regardless of the opponent.
Attacking United may prove a bit more difficult this time around as Marouane Fellaini looks likely to partner Michael Carrick in the holding role. The Belgian's debut for United should be a good watch, especially when he employs those trademark marauding runs.
Awaiting Fellaini, however, are two of the more underrated players in the league, Palace wrecking balls, Mile Jedinak and Kagisho Dikgacoi. If United are to do the damage they'll need to get past these two beasts and Shinji Kagawa may be just the man to make that happen. The Japanese international is a tricky little customer and could see his name on the team sheet as Wayne Rooney remains sidelined with that gaping head injury.
Expect an all-action display with goals galore. But in the end, United are as safe a bet as there is and that's why they're my 'Lock of the Week'.
Sunderland vs. Arsenal (Sat. 10:00am ET, Stadium of Light)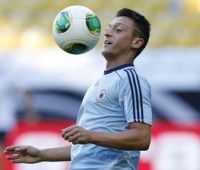 Mesut Ozil. Mesut Ozil. Mesut Ozil. Mesut Ozil. Mesut Ozil. Mesut Ozil. Mesut Ozil. Mesut Ozil. Mesut Ozil. Mesut Ozil. Mesut Ozil. Mesut Ozil. Mesut Ozil. Mesut Ozil. Mesut Ozil. Mesut Ozil. Mesut Ozil. Mesut Ozil. Mesut Ozil. Mesut Ozil. Mesut Ozil. Mesut Ozil. Mesut Ozil. Mesut Ozil.
Have you heard that Arsenal signed Mesut Ozil? You may have read about it somewhere. Or everywhere. My Mom actually wrote a nice little piece about the German international in her Facebook timeline earlier this week. Fascinating stuff.
In all seriousness, Arsenal welcome the German international (whose last name is actually pronounced 'Er-zill', believe it or not) to the squad and for his first test he gets to head north to the Stadium of Light to get kicked around by Sunderland. Yes, Steven Fletcher's back but Paulo Di Canio sold their best player in Stephane Sessegnon so how exactly the Black Cats expect to create goals remains a mystery.
Vegas has Arsenal as huge favorites to win (20/31) and I'm not one to disagree.
Aston Villa vs. Newcastle United (Sat. 10:00am ET, Villa Park)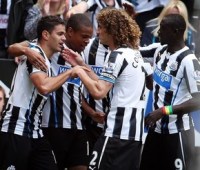 Forget Raymond, Everybody loves Villa. Three weeks into the season and that's abundantly clear. And justifiably so as Paul Lambert's influence is finally paying dividends after a hellacious 2012-13 campaign. After knocking off Arsenal and playing both Liverpool and Chelsea tight, most see Newcastle as a layup for the Midland's team.
But that's the kind of dangerous thinking that got Manchester City in trouble against Cardiff City a few weeks back. The fact is, Newcastle has dominated this Premier League fixture in the past, winning 19 of 38 encounters and losing only eight times. In addition, Alan Pardew has Villa's number, winning five of nine matches against them during his managerial career in the Premier League.
Newcastle has been shooting blanks on the offensive end but that could well become a thing of the past this weekend as the Magpies have Papiss Cisse, Loic Remy and Yoan Gouffran all healthy.
Expect this to be hard fought match (Villa lead the league in yellow cards with 12) and while Vegas gives the home side the edge (11/10), I'm making this my 'Upset of the Week' and say Newcastle wins it.
Fulham vs. West Bromwich Albion (Sat. 10:00am ET, Craven Cottage)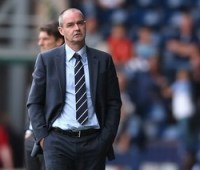 Pretty tough to get excited about this matchup. Fulham's offense has looked positively anemic although the Cottagers have managed to score twice this season.
In the world of West Brom, that's quite an achievement as the Baggies are the only team in the league that has yet to score a goal. The reason? A lack of shots, of course. As in four. Four total shots after 270 minutes of play.
But West Brom manager Steve Clarke has gone out and done something about the problem, bringing in Big Victor Anichebe from Everton. Fingers crossed the Nigerian international can add some excitement to a match that Vegas has the Cottagers as slight favorites to win at 21/20.
This one has draw written all over it.
Hull City vs. Cardiff City (Sat. 10:00am ET, The Kingston Communications Stadium)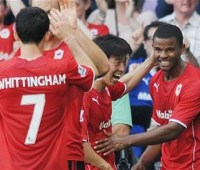 In the battle of the new City's in the league, Hull and Cardiff should be an entertaining affair. Hull will look for their second consecutive home victory following their 1-0 victory over Norwich but will have to do so without forward Yannick Sagbo, who is serving the last of his three match ban.
For Cardiff, they will be without striker Andreas Cornelius while goalkeeper David Marshall is doubtful after suffering a hip injury in Scotland's FIFA World Cup qualifying win over Macedonia on Tuesday.
The sharps give Hull (5/4) the slight edge in this one but from my end, the introduction of Peter Odemwingie at Cardiff should be the difference in handing the Bluebirds the win.
Tottenham Hotspur vs. Norwich City (Sat. 10:00am ET, White Hart Lane)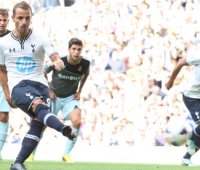 Hopefully Andre Villas-Boas received plenty of hugs over the international break because following Spurs 1-0 loss to Arsenal he had the look of a boy who'd lost his puppy. 'It's ok,' I wanted to tell Andre, 'There tend to be growing pains when you bring in eight new players and sell your golden boy.'
But by match week four, some things should start to fall into place and scoring from the run of play is one of them. That has to happen for Spurs. No more of these penalties for Soldado, it's time the Spaniard throws out some of that poacher love he's so well known for.
This Norwich City side is not to be taken lightly but Spurs need the points to stay among the league's elite. That's why Vegas favors them at 10/23 and I believe they'll come good.
Stoke City vs. Manchester City (Sat. 10:00am ET, Britannia Stadium)
Manchester City are heavy favorites (19/4) to do the damage at Stoke City and with the roster that Manuel Pellegrini has at his disposal, it's no wonder.
But Stoke City are a plucky side and having won successive league games for the fourth time in the last 18 months, the Potters are full of confidence. A secondary source of that confidence comes from the Britannia Stadium, where Stoke have never lost to City, having won once and drawn four times.
Oh yes, my pretties. I'm going there. Stoke are snatching a point in this match.
Everton vs. Chelsea (Sat. 12:30pm ET, Goodison Park)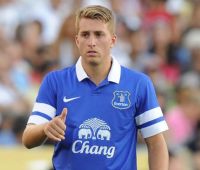 You know that look of brazen confidence that Jose Mourinho loves to don when his side is about to provide a thumping? That will be on full display Saturday when Chelsea head to Goodison Park. The Portuguese manager has never lost to the Toffees in his six previous meetings with Everton, winning four and drawing two.
Factor in the arrival of one of his favorite past crushes, Samuel Eto'o (who somehow landed at Chelsea on a FREE transfer from Anzhi – totally ridiculous), and Brazilian attacking midfielder Willian, and The Special One has plenty of high-powered toys to chose from.
It's perhaps no surprise then that Vegas is backing Chelsea at 5/4 to take all three points. Roberto Martinez' side may have something to say about that. The Toffees remain one of three unbeaten sides in the league and despite those draws coming against less than enviable teams, Everton have showed promise. With a bit of luck and perhaps a change in striker – giving the woeful Nikica Jelavic a break in favor of Arouna Kone or, dare I say it, 19 year old Barcelona sensation Gerard Deulofeu – Everton's struggle in front of net could soon be a thing of the past.
It's always a tasty affair when these two sides meet and tomorrow should be no different. But I think that smug look on Jose's face turns sour after 90 minutes when these sides draw even.
Southampton vs. West Ham United (Sun. 11:00 am ET, St. Mary's Stadium)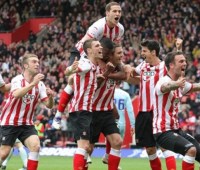 West Ham hates the road. The Hammers haven't won an away fixture since February and last year they scored only 11 goal outside of Upton Park. With Andy Carroll coming down with yet another injury, West Ham is left with Modibo Maiga and Mladen Petric to make things happen up front.
Making matters worse Stewart Downing, Joe Cole and George McCartney all join Carroll on the sideline while the Saints only injury concern is a twisted ankle to Danny Fox. Factor in that raucus St. Mary's crowd and Southampton (5/4) should take all three points.
Swansea City vs. Liverpool (Mon. 3:00 pm ET, Liberty Stadium)
Liverpool enters the match on their best start to a season since 1994. Ahhhh, glory days.
Could this finally be the season the good times return to Liverpool? Monday's fixture at Swansea City will provide an excellent litmus test as the Reds have proven themselves against top competition, so the question now becomes –  Can they avoid that next match letdown that has plagued them over the last few years?
It will be a homecoming for former Swansea manager Brendan Rodgers, who managed a win against Liverpool when he coached the Swans back in 2012. In all three of the other fixtures between these two sides in the league, however, the Swans have failed to score. It's a streak that Swansea manager Michael Laudrup will look to break with the swashbuckling style of Michu and that thundertrunk legs of Wilfred Bony.
Liverpool are the favorites to win at 12/5 but this match has all the makings of an upset. Look for Swansea to get a result in this match.