With the Champions League group stage set to begin play on Tuesday, the world's biggest annual soccer tournament is back in our lives on the big stage.
To get the content started, we look at four teams who aren't favorites that could potentially make noise this season.
Last year, Malaga, Valencia, Shakhtar Donetsk and Schalke shocked many and not only progressed into the knockout stage but Malaga and Schalke actually won their groups ahead of teams such as Arsenal and AC Milan.
Malaga's run to the quarterfinals actually vaulted manager Manuel Pellegrini to a big stage, where he landed the job at Manchester City.
So who this year could surprise the world under its brightest spotlight?  The gaps between top, mid-tier, and bottom are quite large, so surprises may be hard to come by.  But we here at ProSoccerTalk enjoy the banter as always, so we dive in:
1) Schalke 04
This season, success from the German club wouldn't be nearly the surprise it was last season, but they still haven't garnered the world-renowned respect they possibly should.  They went undefeated in group play last season, beating Arsenal 2-0 on the road and maintaining a bend-don't-break attitude that led to three draws but the goose egg in the loss column.
Maybe the reason last season's surprise group stage run made almost no noise is because they proceeded to fizzle out against Group H runners-up Galatasaray in the first knockout round, losing 2-3 at home in a disappointing second leg.
This season, they've vastly improved, landing a coup by signing one Kevin Prince-Boateng from AC Milan.  It was rumored, unsurprisingly, that Boateng had offers from many top clubs but Schalke turned his head the most and the midfielder with both holding and attacking skills will be a force in the middle.
They brought in attacking options as well to support the aging but still reliable Klaas-Jan Huntelaar.  Schalke signed Adam Szalai from FC Mainz, and partnering with young star Julian Draxler (pictured, right) on the wings, this German club is a good bet to come out of a group with Chelsea, Basel, and Steaua Bucuresti.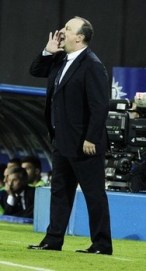 2) Napoli
Somehow a Pot 4 team despite numerous European appearances in the past few years, naturally the Serie A club created a terrible Group of Death with Arsenal, Marseille, and last year's runners-up Borussia Dortmund.
Having finished 2nd in Italy last season, Napoli brought in Rafa Benitez to replace the departed Walter Mazzarri who left for Inter.  The former Chelsea manager completed a run of absolutely brilliant transfer business, making this squad much-improved on an already successful base.
Benitez sold Edinson Cavani to PSG for a hefty price, and used the cash to buy players like Gonzalo Higuain, Raul Albiol, Jose Callejon, Dries Mertens, and Pepe Reina.
The overhaul has worked to perfection so far, as Napoli have begun the Serie A season with three wins in three, on a total goal differential of 9-2.  Higuain has two, Callejon has two, and – perhaps the biggest beneficiary of Napoli's market moves – incumbent attacking midfielder Marek Hamsik has four.
Despite a worst-case-scenario draw, Napoli have the tools to make a Group of Death splash and ruin the Champions League for Arsenal or Borussia Dortmund.
3) Bayer Leverkusen
Not the strongest German team to ever grace the Champions League, but with a good draw, Bayer could make some group stage noise.
Led by German international Lars Bender and striker Stefan Kiessling, they've started the Bundesliga season scorching hot, with wins over quality opponents in Wolfsburg, Monchengladbach, and Stuttgart, and their only loss coming to Schalke.They added Korean striker Heung-Min Song from Hamburg, and invested a fair bit of money in him, and he's rewarded them with two goals and an assist in six matches so far.
Their group is interesting – Manchester United is the only top-tier team in the pack, leaving presumably the second spot open for the taking.  However, Shakhtar Donetsk and Real Sociedad are no pushovers, and thus it will be a battle.
4) Anderlecht
American Sacha Kljestan has gotten his Juliper Pro League season off to a roaring start, and he brings that with him into the Champions League Group C.  Kljestan has 4 goals in 7 league matches so far, a hefty tally for a defensive midfielder.
Anderlecht are a wild card this year, drawn into a really weak group – possibly the weakest one of the tier.  Their Pot 1 team Benfica is a weak Pot 1 side, and only PSG look like a lock.  It's tough for any Pot 4 team to ever make noise, so Anderlecht have their work cut out for them no matter where they end up, but this is an intriguing scenario for the Belgian side.
They're led by red-hot Argentinian striker Matias Suarez, who at 25 years of age is just entering the prime of his career.  He has a whopping six goals and six assists in Anderlecht's seven league matches so far, and he will look to bring that success into Tuesday's match with Benfica in Portugal.
So who do you have advancing in the 2013/2014 Champions League? We'll have much more coverage here on ProSoccerTalk of the upcoming group stage openers on Tuesday, including a complete preview, group analysis, and predictions.  Stick around!