Diego Valeri got his fair share of preseason hype when he arrived from Lanús, but once the games started to count and the Will Johnsons and Rodney Wallaces emerged, the Timbers looked more like squad transcending the sum of its parts than a team fueled by stars. That naturally cast come well-deserved attention on Caleb Porter but also gave love to Diego Chara, Darlington Nagbe, and Donovan Ricketts. As Portland's embraced playoff contention for the first time in the team's MLS history (hat tip to late 2011 run here), there's been a credit to go around.
Amid that noise, Valeri has quietly claimed a co-share of the league's assist lead (12, seven primary). And, after this effort last night in Carson (below), he's up to seven goals, having distinguished himself as the best and most important player on a playoff contender:
[youtube http://www.youtube.com/watch?v=f3IVbtWB40I]
Thanks to an early goal from Bryan de la Fuerte, Chivas USA were able to claim a somewhat surprising point, 1-1. Given how well they've played of late, though, a home result for the Goats should not be so shocking. But with Portland leaving StubHub with 60.6 percent of the possession and 486 passes (to Chivas's 315), Porter may feel his team should have had more.
Yet as you see in the video, Valeri's contribution was more than the end product. The 26-year-old Argentine may not be healthy enough to play 90 minutes (coming on at halftime on Saturday), but he was fit enough to shrug off an attempt to pull him down before finishing the layoff from Jose Valencia.
All of which brings us to the bigger topic hinted in the headline: To what extent should we be thinking about a player like Valeri as an MVP candidate? The question seems weird because there's a shocking lack of MVP talk, and coming off a season in which the MVP (Wondolowski) was known early in the season, it's been a while since we engaged in this type of debate. And the last time we did so, we didn't come up with a consensus solution (Dwayne De Rosario winning in 2011 after a season where he was traded twice).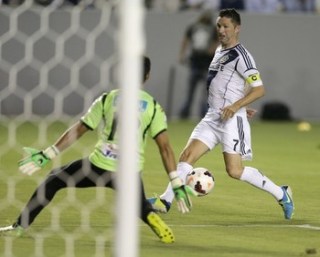 Look around the league and there are a few obvious candidates, with Marco Di Vaio and Mike Magee's goal hauls probably leading the discussion. Robbie Keane will have his backers, and players like Patrice Bernier and Javier Morales will garner obligatory consideration based on their team's positions alone. Even in Portland, Valeri will get competition from Will Johnson for the team award. Johnson's captaincy will leave people predisposed to give him leadership credit.
It's hard to see Valeri's case being that much better (or appreciably worse) than most of those candidates, though in a season where no candidate has distinguished himself, there may be even more players that warrant consideration. This is they type of year where we see, in other sports, a Dustin Pedroia or Steve Nash-type candidacy garner late momentum, allowing them to surge ahead of a fractured field. Might was see a defensive player get some consideration where they might otherwise be overlooked? Can an Ossie Alonso, Jamison Olave or even Nick Rimando rally support?
With less than two months left in the regular season, we're hearing relatively little about MLS's most-prestigious award, leaving the field wide open. A strong finish by any number of players could spark a narrative that will win votes six weeks from now.
Still, it's about time the conversation started, lest we end up with another 2011.