(Highlights of Arsenal's 3-1 victory Saturday at Sunderland.)
1. ÖZIL DEBUTS, RISE OF RAMSEY CONTINUES FOR ARSENAL …
The international break did little to quell anticipation of Mesut Özil's debut, with his recovery from a stomach virus unable to prevent the German Real Madrid refugee from taking his bow at the Stadium of Light. Despite some controversy, Arsenal took a 3-1 win from Sunderland, making it nine points from three games since their shock loss to Aston Villa on the league's opening weekend. Despite all the deficiencies we've been harping on since that's first week stunner, Arsenal are top of the table after four rounds.
But while Özil's debut made him the headliner, teammates had as much (if not more) to do with the result. Olivier Giroud has been the league's best striker, on Saturday scoring his fourth early, go-ahead goal of the season. Mathieu Flamini had a stand out day as the team's deep midfielder, going 10 for 10 on long balls while completing 87 of 98 passes. Jack Wilshere even bounced back from his mid-week trough in Ukraine to calm England's insecurities.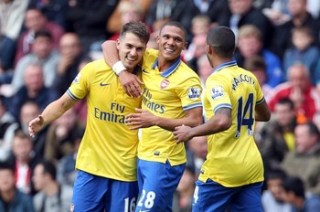 But again, the story was Aaron Ramsey. With two second half goals, the young Welshman continues his quick ascent from criticized prospect to breakout star. While Giroud may be the league's best striker, Ramsey has been his team's best player overall, his second half brace finally giving him a scoresheet presence to match his on-field influence.
And Arsenal wasn't even at full strength, though coming off an international break, few teams are. Santi Cazorla wasn't in Arsene Wenger's 18. Mikel Arteta and Lukas Podolski are still injured. Per Mertesacker was absent at the back. When they return, we can really start assessing how far the Gunners have come in the fight to keep fourth from Spurs.
[MORE: Sunderland 1-3 Arsenal – Gunners rise continues (Video).]
[MORE: Arsenal "lucky" in win at Sunderland.]
[MORE: Gunners sweating on Giroud's knee injury.]
2. BUT WHAT TO THINK ABOUT PAOLO DI CANIO'S ACT?
It was a gambit by a desperate team, one that always had a downside. In bringing in Paolo Di Canio to wake up a squad left comatose by Martin O'Neill, Ellis Short always risked the controversial boss would be unable to keep Sunderland in the Premier League. The downside if they stayed up? You'd be stuck with Paolo Di Canio.
The former West Ham star is an authoritarian, a quality that's more than a lazy assumption based on his fascist beliefs. He overworks his players, lacks tact when criticizing them publicly, and fosters an environment where their professionalism (or, their view of what a professional is) is not trusted. It's an approach that can work at lower levels with inexperienced players who have relatively little recourse or power. At the top-level, with a squad full of veteran players who've played for more proven managers, Di Canio's will breed frustration and disrespect.
It's the type of thing that's solved by winning, something Di Canio did at Swindon Town. And having survived a relegation battle last year, the manager entered this season with some credibility. But after Saturday's loss, Sunderland are in last place, with one point through four rounds. Intentionally getting himself sent in Saturday's second half off will only heighten concerns the combustible boss isn't up to it.
(Highlights of the 0-0 draw between Stoke City and Manchester City Saturday at the Britannia Stadium.)
3. WEEK ONE SO FAR GONE FOR MANCHESTER CITY, ASTON VILLA …
Here's a shocker: We were too quick to sing Aston Villa's praises. Just as the dissection of Arsenal after their week one loss looks hasty, foolish, and short-sighted, the lionizing of Villa now seems premature. After a home loss to Newcastle, a defeat which would be disappointing no matter the team's start, Villa is 1-3-0 and sit 16th. Only one team (Sunderland) have allowed more goals. Against Newcastle, they managed only one shot on target (Magpies: eight).
Manchester City are another team we overrated after week one, though perhaps with more justification. The Sky Blues have finished first and second over the last two years and made huge improvements this offseason, fomenting a justifiable bias. Most people thought they'd be better, with a 4-0 win over Newcastle on the weekend's opening Monday only confirming that belief.
Since, the Citizens have strong together three disappointing performances, and while they've yet to replicate their loss at Cardiff City, a scuffling win over Hull City and a draw at Stoke City don't exactly scream 'ready to contend for a title.' While City's struggles haven't kept them from holding down fourth place (one spot above rival Manchester United), the team doesn't look ready to start their Champions League campaign.
Like Aston Villa, week one is so far away for City, as are the assumptions about their quality. The larger body of work shows significant tweaks are needed.
(Highlights of Newcastle's 2-1, Saturday victory over Aston Villa at Villa Park.)
4. WHILE NEWCASTLE HAS DARED TO PUSH ON
Since losing at Eastlands to start the season, Newcastle haven't lost. They hadn't exactly wowed, though, playing poorly in a draw with West Ham before a 1-0 win over a bad Fulham, but with this weekend's win at Villa, Alan Pardew's team has seven points from three games. Sitting eighth in the league, Pardew's seen the early storm fueled by the Yohan Cabaye controversy and Joe Kinnear's empty bag from Deadline Day pass without coming ashore.
And on Saturday, Newcastle has their first legitimately good performance of the season. They outplayed Villa on the road, taking advantage of their hosts' defensive issues while limiting them to one shot on goal.
We'll need to see more performances like these to know Newcastle's ready to push on from last year's struggles, but their year's early challenges have already been cast aside. Newcastle is in better shape than we previously thought.
(Highlights of Everton's 1-0 victory over Chelsea Saturday at Goodison Park.)
5. EVERTON BREAKTHROUGH CAN'T WIN OVER MOURINHO
Everton scored. They broke through in the win column. They recorded the type of victory the Toffees didn't see enough under David Moyes. Toppling Chelsea, they've emboldened faith the Roberto Martínez era will allow them to push on, not merely consolidate.
José Mourinho doesn't care. Scoreboard be damned, he thought his team was the better side on Saturday, despite finishing on the wrong end of a 1-0 result:
"We dominated the whole game and had 21 shots, we risked everything we could," the Chelsea manager said after Steven Naismith's goal secured a 1-0 home victory. "In that sense I think it's fair to say we deserved to win the game. But in another way, the team had 21 shots and some of them easy shots too, but we didn't score.

"We made a mistake in the last minute of the first half where we lost the ball in a strange situation and we conceded a goal. Maybe because of that, we deserved to lose, because if you don't score you can't win …

"We didn't deserve to lose because we were the best team and the team that tried harder to win the game."
Aside from the last sentence, they're actually relatively benign comments. Perhaps the only thing to add is shots on goal, which Chelsea led six to five. That hardly hints at a huge difference in the teams, particularly given Everton were defending a lead for half the game.
But there's no reason for concern here. Everton will compete for a spot in Europe, leaving a 1-0 loss on the road in a coin-flip game a perfectly justifiable result. Perhaps on another day, Chelsea converts an early chance and wins this game, but as the tone of Mourinho's comments notes, there's no reason to dwell, even if it was the team's first league loss their manager's return.
(Highlights of Tottenham's 2-0 victory over Norwich City Saturday at White Hart Lane.)
6. SPURS: NOW FEATURING OPEN PLAY GOALS
In the abstract, a 2-0 win at home against Norwich City is par for the course from Spurs. This is the type of result a Champions League-aspirant should be posting, and with a two-goal lead by the 50th minute, it was done in the kind of controlling style you'd expect from one of the league's most-talented squads.
In other words, Spurs are now playing like they should, something you couldn't say after three rounds of the season left them without an open play goal. That all changed in the 28th minute, with Gylfi Sigurdsson giving Spurs a lead he doubled four minutes after halftime.
Perhaps we could see some literary irony in a hold-over scoring two goals after Spurs' prodigious summer spending (and selling), but most Tottenham supporters will look at Christan Eriksen's performance and note the impact the new signings will have. The Danish international, bought from Ajax in the last week of the transfer window, went 71 minutes and posted an assist playing as André Villas-Boas's number 10.
It's still going to take time for Spurs to gel, but every sign from Saturday hints things are turning it around. They outshot Norwich 23 to five, put seven on goal to the Caneries' one, and held 69 percent of the ball. And being able to bring the likes of Sandro, Erik Lamela, and Lewis Holtby off the bench, Tottenham showed they have even more power in reserve.