Italy had only given us two matches to judge Inter Milan and Juventus, so it was difficult to know what to expect ahead of the season's first Derby d'Italia. The Bianconeri, perfect through two rounds, had lived up to their status as preseason favorites, while Internazionale, perfect and un-scored on through two games, had been surprisingly convincing early in Walter Mazzarri's tenure. If this Nerazzurri side was for real, Inter could only give Juventus their first blemish but also establish themselves as surprise contenders in Serie A.
But Inter was not the only team off to a surprisingly strong start. Roma are also perfect and un-scored upon through two games, their own new coach (former Lille boss Rudi Garcia) making an immediate impact. Fiorentina and Napoli had also failed to drop points, and while their starts may not have been surprises in the strict season, they did round out a strong pack at the head of the table, one which sparked hopes Serie A could provide a new level of intrigue this season.
Inter's start Saturday at the San Siro fit that theme. Mazzarri's side may not have taken complete control of the match, but they quickly established that Juventus were not going to dictate affairs. For a team that finished ninth last season, being able to go toe-to-toe with the two-time champions was validating. That they went to halftime having created more chances was threatening.
That threat manifest in the 73rd minute, with the Ricky Alvarez revival playing another, unexpected show. The most maligned player from last year's squad, Alvarez is experiencing a resurgence that rivals Arsenal's Aaron Ramsey's, except the Argentine attacker is three years older. But in both cases,  young players thought to be key parts of their clubs' futures started to hear doubts only to see 2013-14 start with multiple game breaking performances.
The highlights start with Alvarez's latest contribution, setting up countryman Mauro Icardi for Inter's only goal.
[youtube http://www.youtube.com/watch?v=mD5OtC4JUgM]
Juventus's immediate response — and the fact they nearly took full points minutes later — left the defending champions feeling confident with a 1-1, and with good reason. If Inter truly becomes a fringe contender, and everything we've seen so far says they will, then Juventus's 1-1 result on the road is a good one. Perhaps it runs counter to the invincible Juve meme that's fostered over the last two years, but that's for the fans. In terms of results, this was a good one for the Old Lady.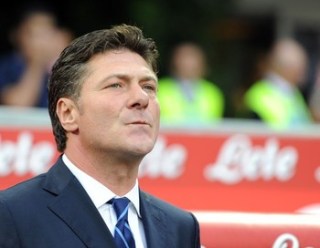 The only doubt worth some thought is how Conte's team continues to match up against Mazzarri's setups. Juve's won three of their last eight meetings with Mazzarri's Napoli, and while the Partenopei only won two of those games, they were one of the few (only?) teams in Italy able to consistently complete with Juve (taking the 2012 Coppa Italia from them). The three central defenders, wing back-formation (which went through different looks) that Mazzarri employed was thought to be part of that, able to match Conte's similar set up. With Inter taking a result in their first Derby using Mazzarri's approach, those suspicions will only grow.
With the draw, however, both teams are left chasing Napoli and potentially Roma, should the Giallorossi win at Parma on Monday. Do so, and they join Rafa Benítez's team at 3-0-0, Mazzarri's successor keeping his side perfect with a 2-0 win over 10-man Atalanta. Fiorentina, the league's other perfect side coming into this weekend, conceded late, allowing visiting Cagliari to take a point out of the Artemio Franchi.
Elsewhere in Italy: Milan needed two goals in the last 10 minutes, including a 97th (!) minute penalty conversion by Mario Balotelli to scrounge a 2-2 draw at Torino. Kaka started but left the game after 70 minutes, his team down 2-0 … Lazio bounced back from their thrashing at the hands of Juventus to post a 3-0 at home against Chievo … Alessandro Diamanti and Antonio Di Natale traded late goals as Udinese drew Bologna, 1-1… Genoa routed Sampdoria 3-0 in the Derby della Laterna … Livorno and Verona each posted 2-0 home wins over Sassuolo and Catania, respectively.