So, soccer skeptics across the globe must be lapping this up.
in his first game back with AC Milan after leaving Real Madrid on a free transfer this summer to rejoin his former club, Brazilian midfielder Kaka was forced off in the 70th minute with an injury.
After many injury-hit months in Madrid, soccer observers across the land will have been expecting this to happen sooner rather than later. But I don't think many expected this next move from Kaka.
(MORE: Kaka marks Milan return by captaining side in a friendly)
As he recovers from a thigh injury picked up in the 2-2 draw with Torino, Kaka spoke with Milan's vice-president Adriano Galliani and decided he didn't want to receive any cash while he was on the treatment table.
That's right. No cash.
"I don't want anything from Milan, except for love and support, until I'm fully fit and ready to play," Kaka said."For this reason I have decided to suspend my current pay for this period of time. The only thing I ask is for the support and help to recover properly."
And for the sake of his bank balance in the suave surroundings of the grand Northern Italian city, perhaps never a truer word was spoken by a soccer player.
"It is a difficult moment," Kaka said. "But I have started to work on getting better and I hope to get back as quickly as possible."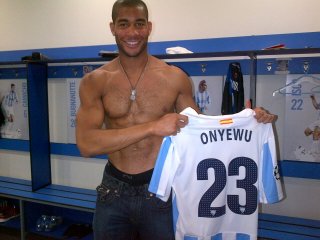 His bank manager will certainly be hoping his recovery is swift.
It is indeed a noble gesture from the 31-year-old playmaker, who already reportedly sacrificed millions in wages from Madrid to join Milan in a desperate aim to reignite his career before the 2014 World Cup in his homeland. We all know his tale of woe at Madrid, as Kaka failed to live up to the heights after joining Los Galacticos for $84 million back in 2009.
Joining Milan on a free transfer less than four years later shows how far he has fallen, and even though the Brazilian won't be short for cash after his mega move, deferring wages while injured is still an incredible good will gesture that is sure to get the adoring Milan fans behind him. Even though they already are.
But hold on… wait a minute. I believe Kaka is pulling an 'Onyewu' here. That's right folks, cast your minds back to 2010 and U.S. international Oguchi Onyewu, who has seen more treatment tables than I've had hot dinners, played for AC Milan for free in order to try and reestablish his career with the Serie A giants.
Onyewu spent the entire 2009-10 season on the sideline with Milan and agreed a one-year extension to his contract, free of charge in a good will gesture. Needless to say at the time Milan were blown away.
"As was his [Onyewu] wish, which has been appreciated by the club, Onyewu has asked not to receive any type of wages," AC Milan said in a statement. "This is an exemplary gesture that deserves our sincere congratulations."
So, congratulations now go to Kaka, too.