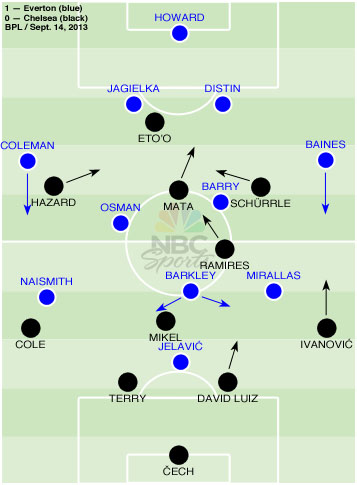 Chelsea might have played conservatively in a 0-0 tie at Manchester United on Aug. 26, but manager José Mourinho's team went for all three points against Everton on Saturday, even after going down a goal. Everton ended up winning, 1-0, but Chelsea clearly dominated the game.
Mourinho has shown a willingness to adapt to unique game situations as they present themselves, changing his team's approach as the timeline progresses. On Saturday, that meant moving from a central-focused passing strategy in a 4-2-3-1 in the first half to a more width-based 3-5-2 when Chelsea chased the game late.
Partly as a result of Everton dropping in to defend a one-goal lead, Chelsea attempted and connected more passes in the attacking third in the second half, going 70 out of 101 compared to 37 out of 56 in the first 45 minutes.
Creating central overloads, wide isolation
Throughout the game, Chelsea won the midfield battle. It completed 228 of 255 passes in the middle third, compared to Everton's 122 of 157. In the first half in particular, it concentrated its possession in the middle of the field.
With Andre Schürrle pinching in from the right side, Chelsea had numerical superiority in the middle of the field at all times. Even when Everton withdrew its wingers to defend, it left space to complete short passes in the middle of the field. Chelsea used five or six players at a time to crowd out Everton's 4-3-3 in the middle and find space to move the ball.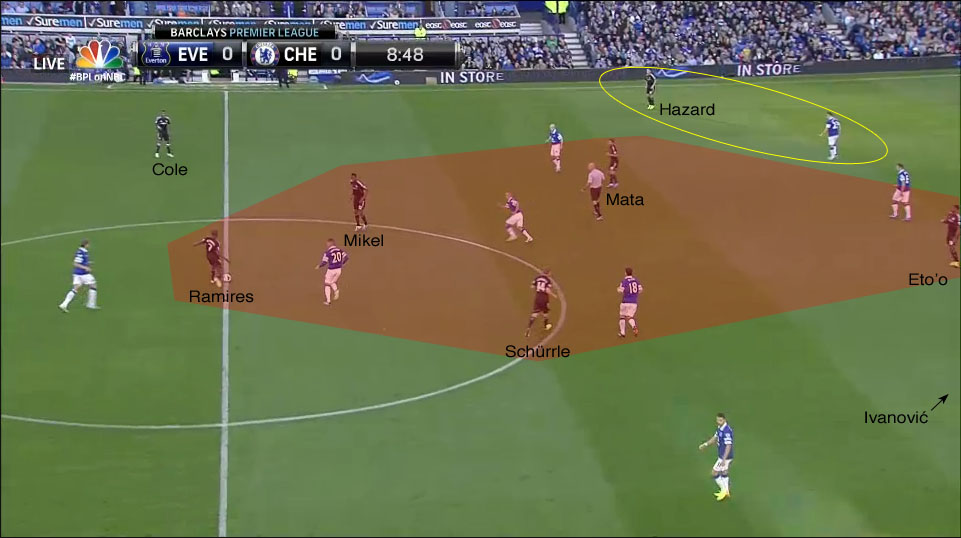 In turn, that created isolation in wide areas that Chelsea was unable to really exploit in the first half. Eden Hazard stayed wider than Schürrle, and while Branislav Ivanović overlapped Schürrle, Ashley Cole played more conservatively. Even center backs John Terry and David Luiz picked their moments to go forward.
Comfortable defending vs. getting stretched
Defensively, Chelsea dropped into a disciplined 4-4-2 when Everton possessed the ball in its back half.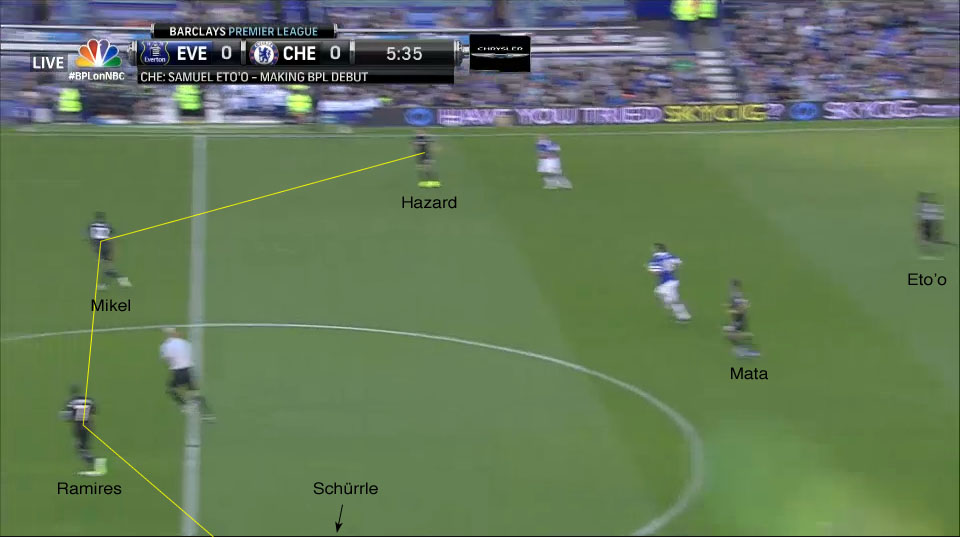 Drawing a line of confrontation around the top half of the center circle, Chelsea always had numbers behind the ball when Everton looked to build slowly out of the back, which is manager Roberto Martínez's preferred style. The danger came when Chelsea had the ball, threw numbers forward and got hit on the counter-attack.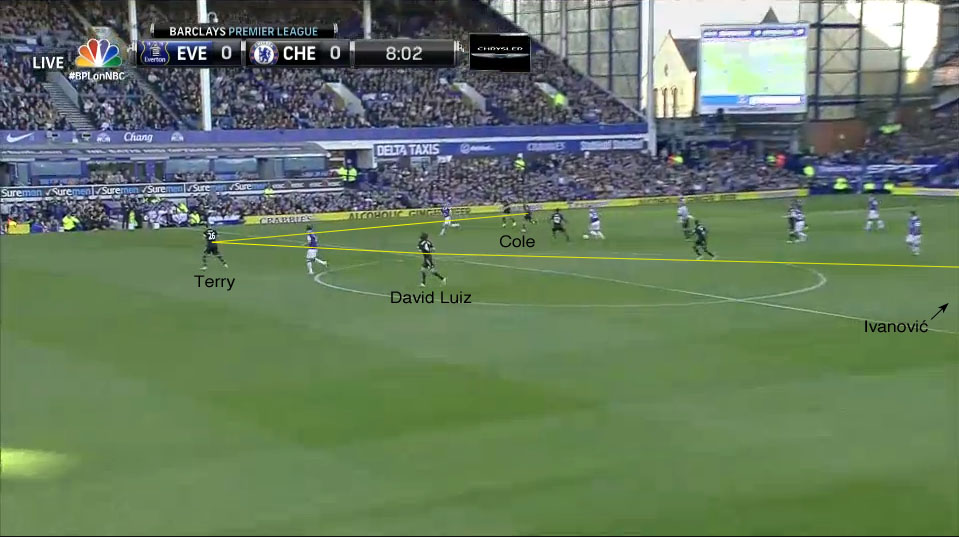 Again, only the center backs stayed home consistently (and even that depended on the situation). In this early instance above, both Cole and Ivanović have advanced, and John Obi Mikel and Ramires are too far away from the back line to effectively act as a shield.
The gaps between defenders are massive. The team is stretched. Ivanović and Cole recover in time to help Terry and David Luiz clear the danger, but Chelsea is perhaps only saved by the fact that Everton's wingers are so far withdrawn to help the defensive cause.
Only right winger Steven Naismith and target man Nikica Jelavić are in dangerous positions when Everton wins the ball.
Falling flat in late-game 3-5-2
Down a goal late in the game, tactics often go out the window, and teams start forcing long balls to get opponents on the back foot and create mistakes. However, although Chelsea's approach changed when Fernando Torres entered and Cole exited the game in the 69th minute, it did not move to long-ball tactics per se.
The remaining defenders pinched in centrally, with David Luiz moving to the left side to allow Terry to anchor a back three. The Brazilian still found moments to get forward, and Mikel and Ramires dropped back to support a numerically smaller defensive line.
From that point, the idea was to get the ball wide in attack, with Ramires and Hazard now running the wings. Striker Samuel Eto'o pulled lower than Torres and worked his way from flank to flank to support movements.
After the 69th-minute sub, despite now having two center forwards, they received only one pass inside the penalty area between the two of them, and Chelsea completed none of its eight attempted crosses, with Everton blocking two. So while the focus in attack changed, the success rate did not.
Chelsea threatened all game long, passing well through the middle of the field and having opportunities to penetrate. But in the end, the final movement lacked.
José Mourinho: 'If you don't score a goal, what you create means nothing'
Mourinho summed it up in his post-game comments (via BBC):
If you don't score a goal, what you create means nothing. It is a simple story. You have to put the ball in the net. Artistic football without goals is no good. We didn't have killer instinct. … We didn't deserve to lose because we were the best team, because we played the best football, dominated the whole game, because we had 21 shots and we risked everything we could. In that sense, it is fair to say we deserved to win the game. The other way to look at it is that a team that has 21 shots, some of them easy shots and easy situations to score and then don't score, and makes a mistake in the last minute of the first half — maybe with that, I should say we deserve to lose.
Playing proper possession soccer is difficult, especially in the final third. The combination of team movement and individual brilliance needed to score goals in that type of system eludes most coaches in the world. Mourinho's teams have proven to have that ability more times than not, but it usually takes more than four games in a season to be able to do it against top opposition.
Just as Tottenham Hotspur seemed to have found its spark last weekend, Chelsea will likely do the same. If possession is a patient game, waiting for the payoff to possession requires even more perseverance. Most managers don't get time in the modern game, but as Mourinho has proven his worth, he will get the time to make it right.
And he will make it work.