SUNDERLAND — Following Sunderland's spirited defeat to Arsenal at the Stadium of Light on Saturday, I asked manager Paolo Di Canio a pretty straightforward question after the game.
And, as is often the case with the fiery Italian manager, a long-winded, passionate and positive response came back at me.
The topic I was interested in was the form of U.S. national team striker Jozy Altidore and his partnership with recently fit-again Steven Fletcher, as the duo were paired up front together for the first-time against the Gunners.
How does Di Canio think they will fare?
"I tell you this because I have to work in a psychological way," Di Canio said, almost whispering. "Both [Altidore and Flecther] probably are thinking that they're the main man up front. Same reason… but different reason. One has already been here, scored twelve goals and one came from abroad but scored many goals last year."
So with a battle to be the top striker heating up across the Black Cats' forward line, Di Canio has a solution that will make both players better.
(MORE: Paolo Di Canio blasts ref after Altidore goal controversially disallowed)
And he also believes Altidore and Fletcher can become one of the best partnerships in the Premier League.
"If they don't turn their face but the encourage each other, they can start that togetherness," Di Canio said. "They can be one of the best couple up front because they have quality and intelligence."
He has a point.
On Saturday during a second half barrage of chances for Sunderland that saw both Altidore and Fletcher scored disallowed goals, the duo looked at each other just before a corner kick came in. 'Fletch' and Jozy embraced and then high-fived one another, the makings of a partnership is already visible. The Scottish and American double act do compliment each other very well. 23-year-old Altidore is the hold up man, with his brute strength and raw pace, he can get in behind defenses and cause problems. Sunderland top scorer last season, Fletcher has the creative nature and ingenuity to produce the passes Altidore needs to thrive.
Sunderland's Italian manager believes that the more the duo work together, the better they will become.
"One is more powerful, one is more clever in some way," Di Canio said. "They can be two very good players who play together  up front. It's important that they have to start to share the moment. The fatigue, the sadness, the happiness together. Together. And then we are going to have two very good players. Very important players."
But can the two international strikers become the best partnership in the Premier League? I have my doubts. Yet it would be great to be proved wrong. Altidore is still searching for his first PL goal in a Sunderland jersey, although he was cruelly denied by a wrong decision on Saturday, and Fletcher is feeling his way back in.
(MORE: Sunderland 1-3 Arsenal; Ramsey double puts Gunners top)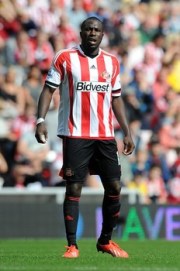 Fletcher is recovering from a long-term injury and many believed that when he returned, Altidore could find himself playing second-fiddle to the bearded Scotsman. However it seems as if Di Canio wants to play a two man front-line, with Fletcher slightly behind Altidore. But the Italian, looking my way in a calm manner, thinks they need to accept their roles in order for the partnership to pay dividends.
"They have to understand — they combined well two or three times in the second half — that they have to work together," Di Canio said. "I tell you not because it happened already, but they did not put up a wall [stop the partnership from working]. But they have to decide who is going to work harder off the ball, who is going to play deeper, because we play 4-4-1-1, and one has to play deeper and work harder off the other and near the opponents central midfielder."
It seems as if the Altidore-Fletcher combo is a work in progress, but Di Canio believes it can flourish and produce the goals Sunderland need to move up the Premier League standings.
Currently the Black Cats are bottom of the table and have yet to win a game from their first four outings. Can Altidore and Fletcher come to the rescue this season?