An even battle in the day's marque match descended into an unbalanced one near the half-hour mark, with an opening goal from Gonzalo Higuaín followed by a red card to Roman Weidenfeller tipping the scales in Napoli's favor. After Lorenzo Insigne's picturesque free kick in the 67th minute doubled the hosts' lead, Rafa Benítez's side had eased to a 2-1 victory over Borussia Dortmund, last year's European finalists scoring through a late Juan Camilo Zuñiga own goal.
It was easier than it should have been thanks to the red card, a decision that sparked a sequence that also saw Dortmund head coach sent to the stands. Already down 1-0 just before halftime, Weidenfeller charged off his line to challenge a ball being chased down by Higuaín. Elevating to try and block a chip Weidenfeller was judged to have handed the ball outside his area and was shown a straight red card. Klopp's protests to the fourth official about the call and how the ensuing chaos (which saw Matts Hummels stretched from the pitch) has handled saw him dismissed, also.
Seventeen minutes earlier, Higuain had given Napoli the opener. As Zuñiga set up to cross from deep on the left, the Argentine striker pulled away from Hummels and found space in front of goal. Marcel Schmelzer's attempts to mark the Napoli number nine came too late, with Zuñiga's cross redirected to Weidenfeller's lower-left corner for the game's opening goal.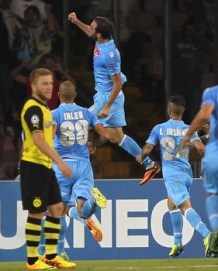 Up a man in the second half, Napoli began monopolizing the ball, eventually drawing a direct kick from 23 yards out. Even with the right post, Insigne put a textbook bend on a ball that went outside the woodwork, around the wall, and into the upper-right hand corner, giving Napoli a 2-1, 67th minute lead.
By full-time, Napoli had held 59 percent of the ball, but the game's other stats tell what the match was like before the sides were unbalanced. Dortmund ended up outshooting the partenopei, 17-15 while coming close to their hosts in shots on goal (6-7).
With those occasional threats, Dortmund were able to force late consolation – a tally that may matter in a highly competitive Champions League group. Zuñiga, with a bit of late generosity that cancelled out his early assist, added an own goal to make it 2-1.
Ultimately, however, Napoli were able to hold on for a win that leave them tied with Arsenal on top of Group F. The Gunners' 2-1 win at Marseille leaves the two victors on three points with a +1 goal difference, having scored an identical number of goals. (Arsenal would technically win a tiebreaker wit their higher UEFA coefficient.)
Still, with a valuable win over the group favorites, Italy's leaders have gotten their Champions League off to a flying start.
Goals
Napoli: 29′ Higuain, 67′ Insigne
Borussia Dortmund 87′ Zuniga (o.g.)
Lineups
Napoli: Reina; Maggio, Albiol, Britos, Zuñiga; Behrami, Inler; Callejón, Hamsik (90′ Mesto), Insigne (73′ Mertens); Higuain (78′ Pandev). Unused subs: Dzemaili, Armero, Cabral, Cannavaro
Borussia Dortmund: Weidenfeller; Schmelzer, Hummels (46′ Aubameyang), Subotic, Grosßkreutz; Sahin, Bender; Reus, Mkhitaryan (76′ Hofmann), Blaszczkowski (46′ Langerak); Lewandowski. Unused subs: Kirch, Günter, Durm, Schleber